Last month, Gadgets 360 were the first to report that a new set of videos had surfaced of The Elder Scrolls Travels: Oblivion for the PSP. It showed off what could have been, if the game had not been cancelled, likely due to budget and time constraints. The game files have found their way online, and we managed to get our hands on them and booted up our PSP to give you a better look at what this portable version of Oblivion could have been.
For one, The Elder Scrolls Travels: Oblivion looks surprisingly good for a game that was in development for the PSP in 2007. Be it light peeping through cracks in stone walls, to clean textures that wouldn't be out of place in a late PS2 or early PS3 game, there's a lot to appreciate here from a technical standpoint. Since the files allowed us to access debug commands, we enabled the frame rate counter, and barring one or two extremely busy scenes, it barely dropped below 30fps - a remarkable achievement in itself.
Granted that the PSP's technical chops meant it could not produce the lush open-world to the same degree as its full console counterparts, but developer Climax did a great job of bringing a sense of scale that Sony's debut handheld never saw.
From trading districts to underground prisons, there's visual variety and a generous field of view that makes The Elder Scrolls Travels: Oblivion appear grander than it is. And whether you're rummaging through chests or squaring off against a couple of enemies at a time, the PSP game feels close to Oblivion or even Skyrim, thanks to controls that don't miss a beat even if the PSP's lack of a second analogue stick might be seen as a disadvantage.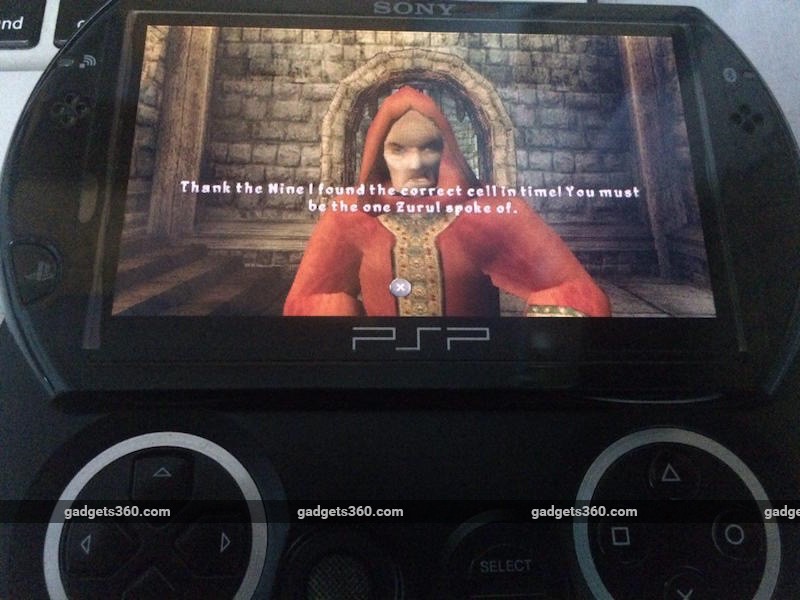 Rather, like most PSP games, The Elder Scrolls Travels: Oblivion uses the analogue stick to move and the right shoulder button to turn, while the left shoulder button lets you target enemies. It works well, almost intuitively, with tapping square to block, circle for magic, and X for normal physical attacks.
How close was this unreleased title to its bigger brothers? Close enough. Aside from combat and scale, there's levelling up and a skill point system too. Also, certain builds let us sneak as well. There's a rudimentary conversation system - which is perhaps the only area some might feel it would fall short, but barring that, The Elder Scrolls Travels: Oblivion for the PSP may have been the most convenient way to get your open-world role-playing game fix on the go.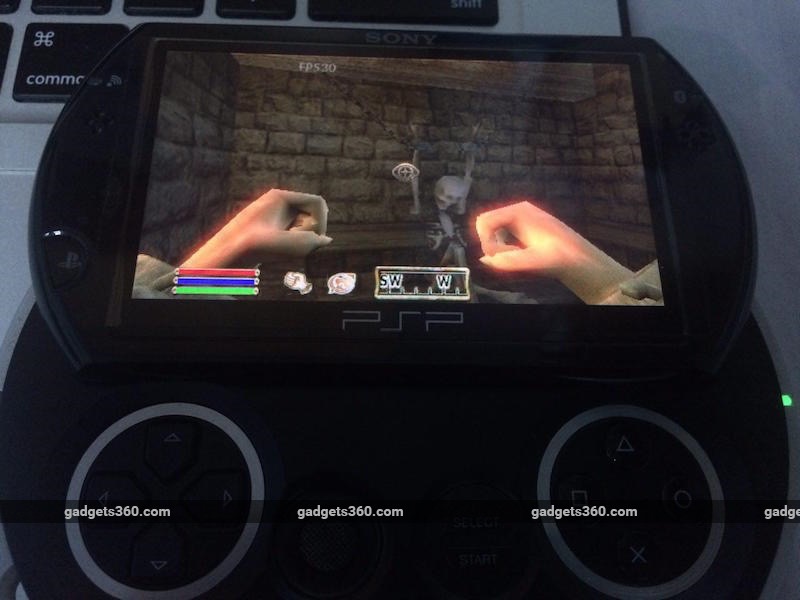 While the game was rumoured to have a fair bit of story, it seems to start around the series' familiar trope of busting your character out of certain death. Instead of dragons (like Skyrim) or royalty (like Oblivion), your saviour here appears to be a mage, who is killed within the first few seconds as for some reason, and your prison is under siege by imps, enemy spellcasters, and soldiers.
Areas from previous games, such as Moonguard, Anticlere, Glenpoint, and even Daggerfall - each with their own explorable world areas and plane of Oblivion - were promised but it was tough to ascertain if they're all present in these files. Even with a PSP Go running all the correct firmware, the game crashes frequently so our progress has been limited for now.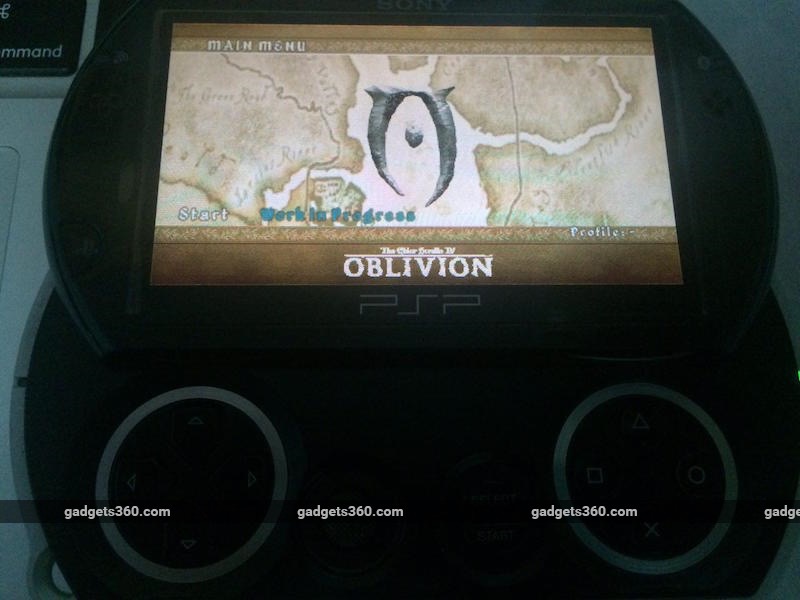 Nonetheless, the builds for The Elder Scrolls Travels: Oblivion for the PSP are by far one of the most feature and content rich versions we've seen of a cancelled game. One of versions had a splash screen for 2K Games, possibly an error as the company only published The Elder Scrolls IV: Oblivion for Windows PC and Xbox 360. Or maybe it was involved in its early stages? We doubt that we'll ever know.
But one thing we do know, The Elder Scrolls Travels: Oblivion for the PSP is ridiculously fun. Even in its unfinished state you can tell that the Climax team knew what they were doing, replicating core functionality of PC and home console Elder Scrolls games on the little handheld. So much so that it's tragic that this game never saw the light of day. Not only could it have revived the PSP's flagging sales but it could perhaps even have taken handheld gaming in a direction that's different from endless runners, card games, and well, Angry Birds. One can only wonder what could have been if an Elder Scrolls game saw a commercial release on the PSP or even PS Vita.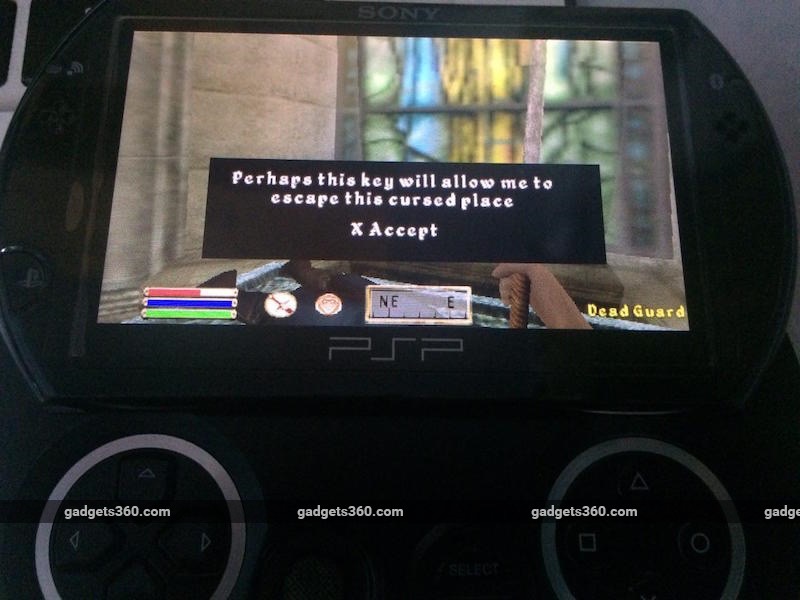 "Well it would certainly be possible to create a game in the spirit of TES, but not official unless Bethesda were behind or backing it. It's their game," says a Redditor who claims to be the lead designer of The Elder Scrolls Travels: Oblivion for the PSP. Though we wouldn't keep our hopes up considering that any video related to this project was swiftly removed by Bethesda.
Seeing how well Fallout Shelter did for Bethesda, you'd think the company would revisit its cancelled projects for a portable variant of The Elder Scrolls in the future. But with a collectible card game set in The Elder Scrolls universe called The Elder Scrolls: Legends due this year for iOS, don't expect a full-fledged handheld version of a home console or PC Elder Scrolls game anytime soon or to even take the same shape and form.
After all, E3 2016 will probably see Skyrim remastered as well as sequels to Wolfenstein, Prey, and The Evil Within, leaving little space for anything related to handheld or mobile devices.