The Division is a third-person shooter with an emphasis on multiplayer, particularly of the cooperative variety, and nothing highlights this more than its first expansion pack, Underground. The game is set in a near-future New York that's struggling to deal with a killer virus known as Green Poison. We found the base game to be one of the better shared-world experiences, merging solid gunplay with controls in the mould of Gears of War and the many cover-based shooters that followed.
(Also see: The Division Review)
Despite how good Ubisoft's first attempt at an online multiplayer-focussed game of this scale was, there was ambiguity surrounding its Season Pass. At the time, it just promised more content with no real explanation of what to expect.
Fast forward to now, and The Division: Underground is the first piece of downloadable content for the game. It continues where the story left off. The gangs you've defeated are now back again, regrouping below the city and it's up to you and your friends to defeat them.
Unlike the base game which could be played alone for most part, The Division: Underground is a strictly cooperative affair. You'll partake in randomly generated missions that take place at a variety of locations such as clubs and sewers of differing length and objectives, but you'll need to play with friends to get the most of it. That's because if you die in a mission you'll have to start all over again from your base, losing everything you've acquired along the way. So, if you're the sort who prefers The Division as a solo experience, you'll do well to avoid Underground.
In addition to this, streamlines the process of getting into a mission. You won't be aimlessly running around New York looking for things to do. Rather, you'll follow a yellow dot on and get to the action. This is a helpful change that now lets very little come in the way of the game's combat.
(Also see: Here's What You Can Expect From The Division During the Year)
However, Underground is let down by a few questionable design choices. The content is inaccessible to lower level players. While this is fair enough, what isn't fair is that it brings a whole new levelling system to the table. So whether you've played 100 hours of The Division or zero, you'll start at the same place as everyone else, essentially making it a grind to play through, and a badly balanced affair as well.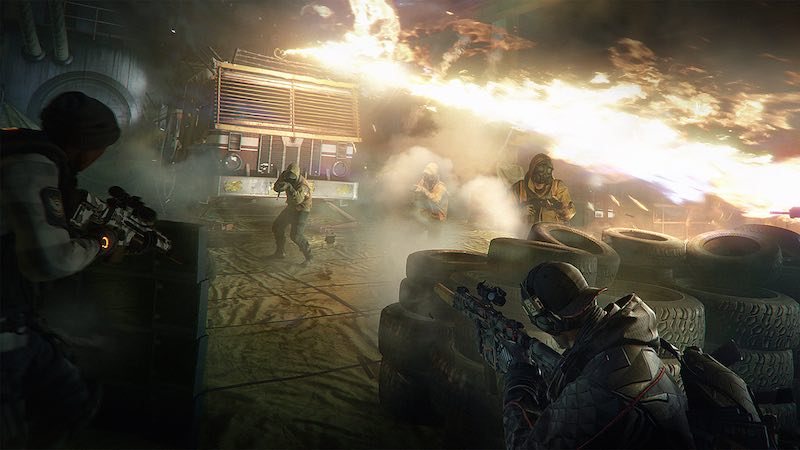 What this means is that higher level players will blast past Underground's content while newbies will struggle, and since the game's matchmaking doesn't account for what gear your character has, it makes for an uneven experience for both types of players.
Furthermore, there's very little in way of variety. There are no new enemy types, and obstacles such as jammers that prevent you from using your special skills, and alarms that call in enemy reinforcements, do little to spice things up. Environmental hazards like gas leaks and electrical wires exist but after a few rounds, you've seen it all. The new end-game content, or incursion as its called, adds some challenge with a host of different rooms and remote controlled exploding cars, but there's very little you haven't seen or done in the base game.
(Also see: The Division Is Best Played on PC. Here's Why.)
As it stands, if you were expecting The Division: Underground to do to the game what The Taken King did for Destiny, you're in for a massive disappointment. With no meaningful additions to its lore, it's a slog that tries to play up the game's great combat but does very little to make the proceedings feel perceptively different. Unless you have a ton of friends still playing it, you're better of avoiding the first expansion to The Division.
Pros:

Streamlined approach to getting into a mission

Combat is upfront and centre
Cons:

Not enough is new

Progression system makes it a needless grind

Not recommended for solo players
Rating (out of 10): 6
We played a review copy of The Division: Underground on the PS4. This expansion is available on the PC, PS4, and Xbox One.