The biggest villain of The Division isn't a zombie or an alien. Instead, it's human greed. You're up against a lab-manufactured killer virus called the Green Poison unleashed amidst the chaos of Black Friday sales. This leaves the city of New York as a bleak, dystopian wintery mess ravaged by looters and rioters. If there's a sordid tale telling us to skip out on discounts, this is it.
You're an agent of the titular Division. It's a secret organisation of sleeper agents activated as a last line of defence when all else fails. Of course, it's your job to bring back some semblance of civilisation as well as trying to contain the pandemic at hand.
To do this, you'll be hiding behind cover, a lot, and gunning foes down from a distance. Drawing inspiration from Gears of War and every other cover-based shooter, the core of The Division's moment to moment gameplay is nothing new. Plant yourself behind a wall, duck your head out every few moments and try to shoot an enemy between the eyes. Rinse and repeat over the course of 30-odd hours or so and you have The Division.
(Also see: Is There More to The Division Than Meets the Eye?)
Thankfully, the fine people at Ubisoft Massive realise that this alone would make for monotonous gameplay. So, layered over the enjoyable-though-derivative shooting mechanics is a system inspired by role-playing games (RPGs) such as Diablo. Numbers fly over the heads of your opponents as you hit them, experience points are gained granting your character more power, and most importantly, a steady, consistent flow of loot is made available. Every few times you cap a street thug, you'll find new items of weapons and armour of varying degrees of rarity and effectiveness, allowing you to customise your playthrough.
These items augment your stats as well. There's your attack or DPS (short for damage per second), health points (HP as its usually known), and skill power which regulates how often you can use your special abilities - such as being able to put up a turret or planting a sticky bomb. Over and above this, you can gain new skills by upgrading your base of operations. Your HQ is an abandoned post office that hosts three wings pertaining to medicine, security, and tech. Upgrading them grants new perks and talents such as reducing recoil when in cover or the ability to revive all allies nearby.
It's this combination of gunplay and RPG elements makes The Division a satisfying experience even 30 hours in. The stream of loot and resources was steady enough to make us wonder what could be a scarce commodity in this simulated viral apocalypse. And then it hit us: it's the narrative that's run short.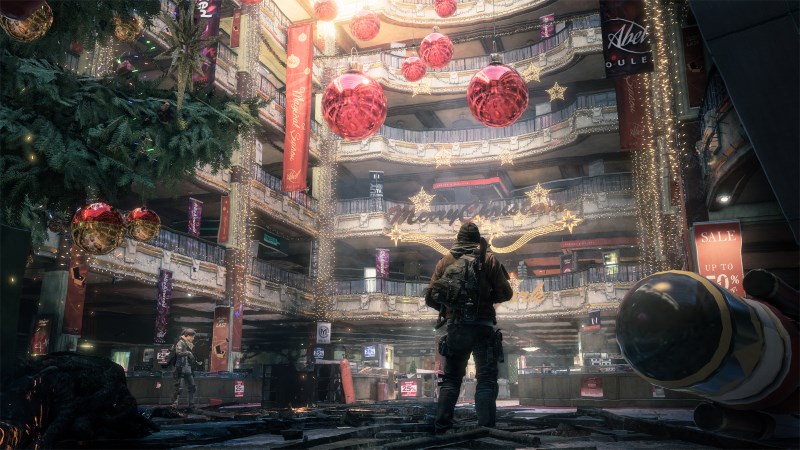 (Also see: New to The Division? Try These 5 Tips)
Don't get us wrong, there's an earnest attempt at story-telling from Ubisoft in The Division. Some of its non-playable characters are an absolute treat to interact with, particularly those leading up the game's tech, medical, and security wings. However it fails to make an impact on the proceedings in other areas. The main quest line involves putting an end to the game's three factions - the Rikers, Cleaners, and Last Man Battalion - but the game world acts as if nothing has changed when that's done.
Plus, there's little in the way of why they're so eager to shoot you in the first place. There's a slew of incidental details to uncover such as information on other Division agents and logs of life just as Green Poison hit, but there's very little in it to keep you hooked. If you were expecting a grand plot, look elsewhere.
Thankfully, aside from the aforementioned polished gameplay, there are some more things to like about The Division. Each mission can be taken on with friends and they're a blast to play in co-op. From tense rooftop encounters to prolonged gunfights across wide, open areas, there's more than enough to keep your interest piqued. Even more so when you consider the Dark Zone - the game's best gear is available here, as are its toughest combatants.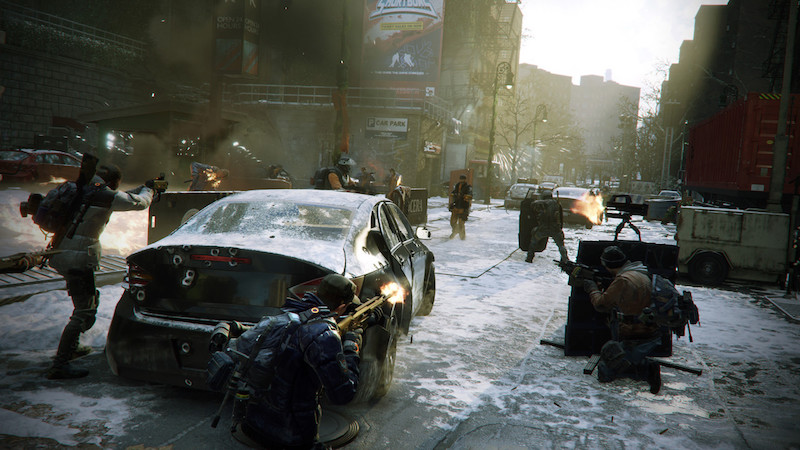 (Also see: The Division Might Not Officially Support Mods, But There's Already One for It)
While not mandatory, going with a group of friends is recommended. This is because in order to claim what you find in the Dark Zone, you need to call in a helicopter. Doing so attracts even nastier opposition that can kill you in a couple of shots. Coordinating the evacuation of your items is crucial to success. Setting up a perimeter, strategically hiding behind cover, having the right combination of skills all play a part in the Dark Zone.
But it can just as easily be all for naught as your friends can go rogue by shooting at you and stealing all your newfound wares. It's a smart addition that keeps you and your friends wary not just of the elements of the Dark Zone, but of yourselves, making human greed a bigger threat than being rushed by a horde of AI-controlled troublemakers. It's a brilliant albeit deviant add-on to a game that's already bursting at the seams with content.
The Division is surprisingly good despite its lean plot. With so much to do and all of it fantastically executed, there's no reason to miss out on it.
Pros:

Solid gunplay

Robust RPG mechanics

Dark Zone is deviously brilliant
Cons:

Rating (out of 10): 9
We played a review copy of The Division on the PS4. The game is available on the PS4 and Xbox One for Rs. 3,499 and on PC for Rs. 1,799.