Very few games based on movies - Indian or otherwise - are worth your time and attention. This was the case when games were being made for PCs and consoles, and this has not changed even in a time when tie-in games are mostly being made for smartphones.
The latest mobile game based on the Salman Khan starrer Sultan was thus an unexpected surprise - a smartphone game based on a Bollywood movie which isn't terrible - and a far cry from the last game based on a Salman Khan movie - Prem Ratan Dhan Paayo.
However that is not to say it's a perfect game. The game is full of flaws and some seriously annoying decisions around monetisation, but despite these issues, we found ourselves coming back to play just one more round.
At its core, Sultan is a pretty simple fighting game; it has to be simple to be playable on mobiles, but there is enough left to still provide an enjoyable experience to anyone who wants to spend some time with the game. Unfortunately, this is wrapped in layer after layer of bloat - some of that comes from the movie this game is tied to, and some of it comes from the monetisation strategies being followed by the developer.
The game is split into 60 levels - there's a title match every 10 levels, and you can earn three stars at the end of each match. The first couple of levels are just tutorials so you'd imagine that by the time you actually get to the real fights, you have a fair idea of how to do a good job of the game. That isn't the case unfortunately - while the tutorials show you the moves, they don't do anything more than that, and you're left to figure out how to actually use those moves you just learned on your own.
The controls are pretty simple - tap the screen to attack, swipe for a heavy attack, and hold the screen to block. Land enough attacks and you charge up a special move that can be triggered by tapping the corner of the screen.
The problem is that you can mostly work your way through the levels by doing nothing more than just frantically tapping away at the screen. The tutorial doesn't really teach you when it's better to use a light attack, and when you should use a heavy attack - and after a few hours with the game, it's still hard to make up our own minds about that. The special attack is straightforward enough, thankfully, but there are no cues to tell you that you should block either.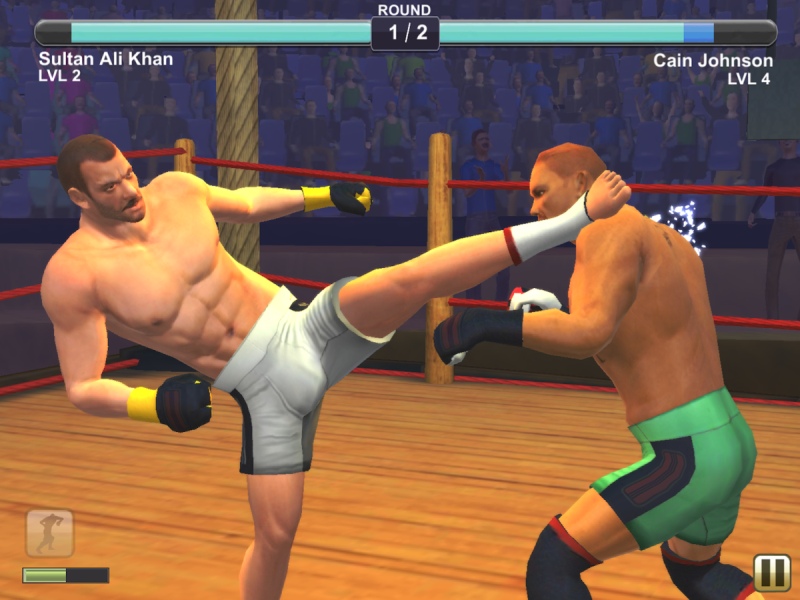 And you do need to develop a strategy beyond a point, unless you're happy to get one-star results all the time. Blocking well, timing your attacks, building up specials and using them to take your opponent down forms an enjoyable gameplay loop, but it wasn't until around level 20, with a lot of trial and error, that we'd worked out the basics of timing. That's a failure in design that should have been addressed right at the start of the game.
But there is some tweaking that also needs to be done to the core gameplay - for one thing, the block doesn't always engage and you're left standing around while your opponent turns your face into a mashed potato. At other times, swipes are registered as taps, and vice versa. The most annoying is when you let go of the block button after the animation for an attack has clearly ended, only to take a hit anyway, because the game clearly thought the attack was still happening. These are all small issues, but mark the difference between a game that's merely fun, and a game that's actually great, such as The Executive.
Another area where Sultan really doesn't communicate enough is in terms of the stars you get at the end of each level. What are these stars for? They're not tied to either of the two currencies of the game, so they appear to represent a simple rating. With two currencies (money, to buy upgrades, and energy, to start levels) already vying for your attention, there's little value to the stars system. Worse yet, the game doesn't clearly say what you get the stars for - there are no clear cut goals or targets and it's only after playing for a while that you'll realise that the stars are linked to how much damage you took.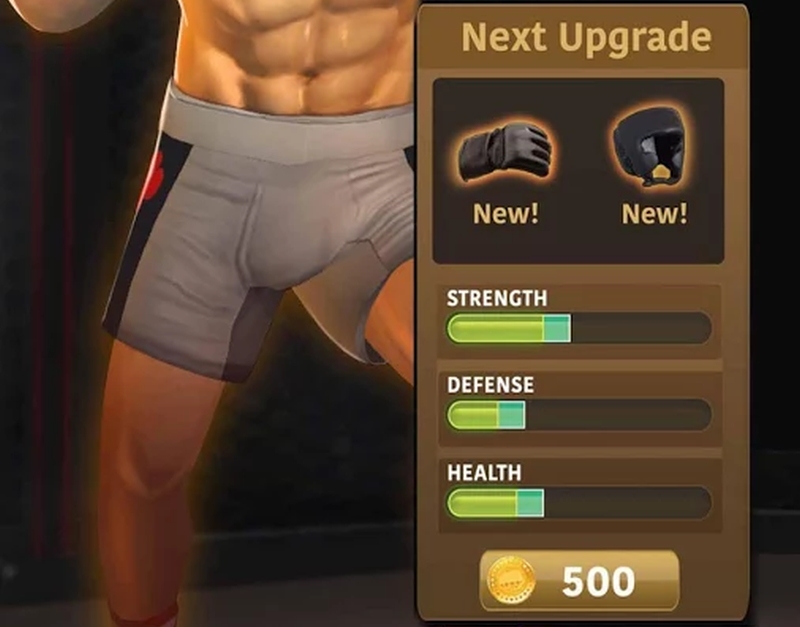 The upgrade system is another area that can be improved upon in this game. You have to pay coins to raise your level, to boost your health, attack and defence stats in a fixed progression, and you can't select which stats you want to upgrade either. You're gated at arbitrary points by the huge difference in stats between yourself and the next opponent, and while a skilful player can still get around any opponent, it gets annoying, particularly as the amount of coins you have to pay for each level increases exponentially, while the coins you earn from winning fights go up in a much more linear fashion.
The energy currency on the other hand is generous almost to a fault. If the game doled out less energy (making for shorter sessions) and more coins (making for faster upgrades) it might actually be more enjoyable, but that notwithstanding, the game is fun. As it stands though, the upgrade system and the number of levels starts to feel like unnecessary bloat to pad out the length of the game.
Visually, it looks like a high-end 3D game on smartphones should in 2016 - there isn't too much on the screen, and the focus is clearly on the two fighters, but their designs are detailed and the various moves are animated nicely. Sultan (Salman) looks good, and there is a fair bit of variety in the opponents you fight as well. The backgrounds show a lot less care, but that's not a huge failing. The one quibble we do have on this front is that Sultan only has a single victory animation. We don't know whether this is a result of some IP agreement, or just a way to save money, but it's still slightly annoying.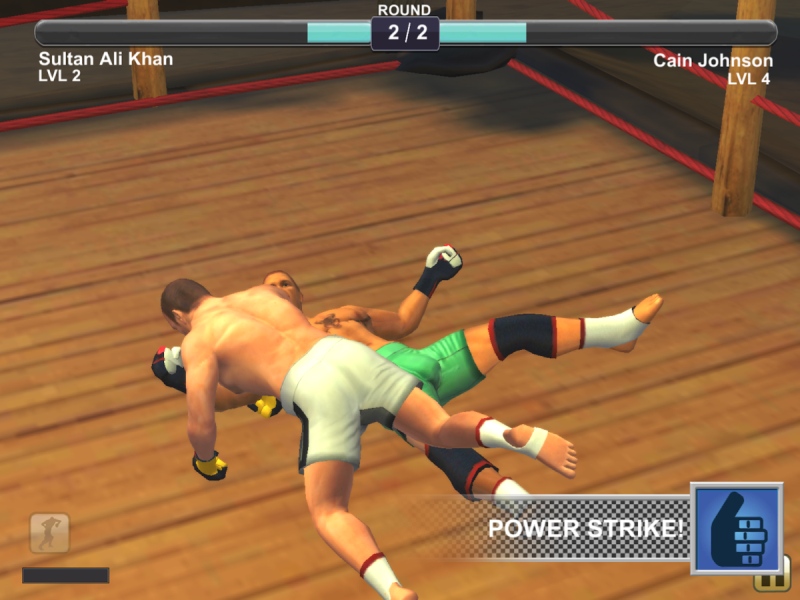 Speaking of slightly annoying - the background music is a track from the movie, and by now we've got the whole thing memorised. If the designers had stuck to just the instruments, or gotten a few more tracks so that they could vary the background audio, then we wouldn't have turned the music off after just about 10 levels. It is too repetitive and jarring.
But the worst excesses are certainly in the area of monetization. For one thing, there is an ad after every single fight. Having an ad after some fights makes sense, but after every single one, it just gets intrusive and jarring. Apart from that, the title sessions have an ad displayed next to them on the level select screen as well, which while not as jarring as the interstitial ads, might still take some people out of the game.
This is compounded by in-app purchases - the game is free to play but considering that it's got a heavy component of advertising, having so many IAP options feels excessive. You can watch a video and earn a few coins, but for any reasonable amount, you're going to have to spend money. You can spend up to Rs. 200 to get a 35,000 coin pack, or to get a 350 energy pack. The latter refills quickly so it isn't really necessary, but the coins are required to take what are almost mandatory upgrades, and the demand for coins starts to feel excessive by the time you're half way through the game.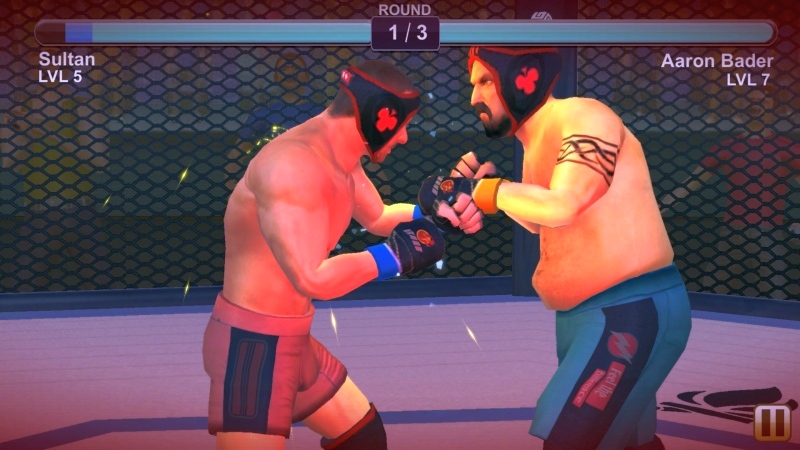 Between the excess caused by monetisation, and the padding out of levels and ads, what could have been a really good, lean game, starts to feel bloated. Instead of packing a punch, Sultan packs a paunch.
At its core, there is still a fun game that you can enjoy. If you're a fan of the film or its star, then there's absolutely no reason to skip this game, as it's free on Android, and even if you're not particularly interested because of the movie connection, you should still give this a shot.
Pros
The game has nice looking visuals.
Core gameplay is simple and satisfying.
Cons
There are too many ads and IAPs.
The controls are a little imprecise for a fighting game.
The tutorial doesn't tell you enough.
Rating (out of 10): 7