How would you describe Quantum Break? "Almost". It's the only word to explain Windows 10 PC and Xbox One exclusive Quantum Break. For most part, it comes astoundingly close to achieving what it sets out to do, but falls short nonetheless. This is not a bad thing, but a mere indication of how grand its ambitions were to begin with.
The grandest ambition is Quantum Break's story. You're playing as Jack Joyce, a late 20s/ early 30s slacker who finds himself back in his hometown of Riverport at the behest of his best friend Paul Serene. One lab accident later, Jack discovers he can manipulate time, and that attracts the attention of the shadowy Monarch Corporation. Without spoiling much, it's an enthralling adventure.
Quantum Breaks seeks to mix gameplay and story at every level, marrying exploration, cut-scenes, live-action episodes, and a heady amount of player choice and replayability via Junction sections that put you in the role of the game's villain. It's something we touched upon at length in our first impressions piece. For most part, all these different elements come together well. It feels like a seamless, organic experience. Watching its cast in-game and also in real video cutscenes is not jarring. Instead, it helps enhance our understanding of the background, motivations, and political machinations of the characters - all of whom stand out with their own quirks and personalities.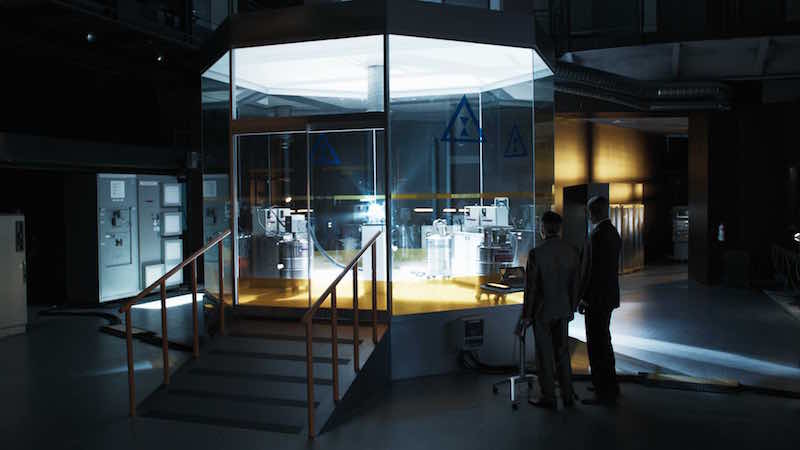 (Also see: From Emails to TV Shows: Here's How Quantum Break Tells Its Story)
But while we're still in awe of the game's narrative brilliance, we're not the biggest fans of its delivery. This is because the game's live-action videos are not on disc. Instead, you're stuck streaming them at 1080p (the quality doesn't go lower to compensate for slower connections) or downloading them, which adds up to 75GB. If you bought the game digitally, this adds up to a total of 120GB of downloads. Those on Windows 10 PC have it worse, as there is no download option, and the episodes stream at 4K.
Although Remedy claims you can play Quantum Break without watching its live-action episodes, we disagree, as this would mean losing out on a lot of context and story. In some cases, you'll probably be unaware of the existence of certain characters and be puzzled when they show up out of nowhere, if you don't watch the episodes. It will end up leaving a lot of what happens in-game unexplained, especially towards the end. What makes matters worse is that even with a 50Mbps line, there was a good amount of buffering before the videos would play.
It's also a little worrying in how much you need to be online to enjoy the game. A single-player game with online dependencies defeats the purpose of a single-player experience. It makes us wonder why Remedy and Microsoft didn't consider shipping the game with a second disc or at least allowing players to download these videos in a lower resolution. That many people will not have an easy way to access a big chunk of Quantum Break's (excellent) story is a big drawback, and something that you need to consider before you buy the game.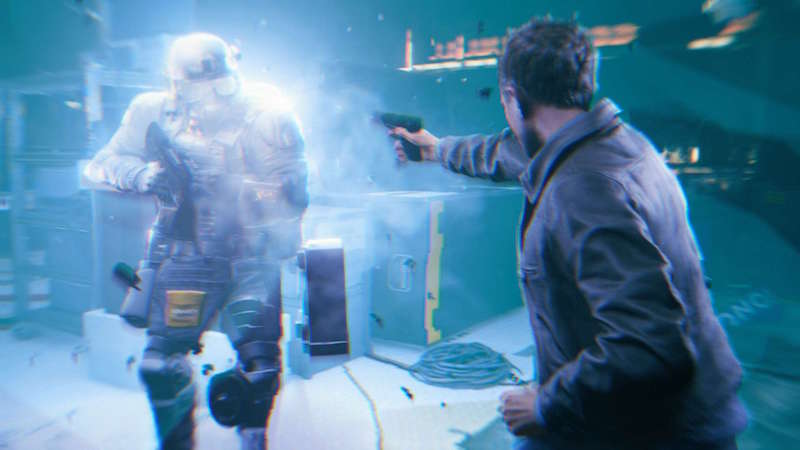 (Also see: Quantum Break, Dark Souls III, and Other Games Releasing in April 2016)
While the delivery of the story has some issues, the game's visuals are top notch. Much has been said about Quantum Break's limited technical chops on the Xbox One but though we didn't individually count every pixel, we're happy to say it looks good, particularly in motion. From bullet trails whizzing past your head to the lifelike animations of its varied cast in-game, Quantum Break might not have the requisite number of pixels to make a full 1080p or even 900p experience, but that doesn't make it any less of a stunner.
Coupled with great looks is slick combat. Apart from uncovering the game's plot points, and watching the episodes play out, you'll spend your time defeating a host of foes. Though there is lot of cover to cower behind, you're playing Quantum Break wrong if you spent most of your time hiding. The powers at your disposal are varied and useful, and allow for a far more dynamic style of play. You can slow down time, deflect bullets mid-air, and freeze people in their tracks. And you can combine them one after the other to unleash a relentless barrage of attacks. While turning time to a halt, you can sprint as well, gunning down or punching enemy soldiers as you go along.
With the fast pace of battle and a great set of abilities at your disposal, there's an almost hypnotic charm to the proceedings. There wasn't a single section where combat felt like a drag thanks to the power set at your disposal. Traipsing through the game world allows you to gain access to skill upgrades aside from expanding on the already fantastic narrative. This portion seems underdeveloped as most of them simply allow you to use your powers for a longer period of time. It would have been nice to have different ways to manipulate time as you go along. And because you can stack your powers one after another, this is a game that begs for a combo system of sorts similar to Sunset Overdrive or Vanquish, but that too is amiss.
(Also see: Quantum Break Coming to Windows 10 PC and Xbox One on the Same Day)
However, there's more than enough going for Quantum Break to warrant a second playthrough. Thanks to the Junction system you'll want to give it another go just to see what changes. And from our experience, a lot does, with the addition of new characters and plot twists, making it well worth diving in again.
With astounding production values, powerful story-telling, and rewarding combat, Quantum Break is a stellar game. But due to an underdeveloped upgrade system and poorly thought out content delivery that demands heavy bandwidth, it isn't exactly a game we can recommend to everyone wholeheartedly. Make no mistake though, if you have the means to play it as it was meant to be, it's worth experiencing.
Pros:

Ambitious story

Satisfying combat

Gorgeous visuals

Junction system allows for replayability
Cons:

High speed Internet requirement

Ability upgrades seem underdeveloped
Rating (out of 10): 8
We played a review copy of Quantum Break on the Xbox One. The game will be available on Windows 10 PC and Xbox One from April 5. While the Windows 10 version has no price for India yet, you can get it on the Xbox One at Rs. 4,000.