Our phones are getting more and more powerful, and looking at games like Bastion and XCOM running on your iPhone shows just how far things we've come since the days of playing Snake on a Nokia phone. The catch is that games like Angry Birds or Threes are a lot more fun than playing most typical genres on a phone because while a full touchscreen is great to look at, virtual buttons and virtual thumbsticks are a nightmare to actually use.
Half the screen gets obscured by your fingers and you spend more time repositioning your thumbs than actually playing leading to a highly compromised experience. Some games, like Epoch or Infinity Blade can find a middle ground between the high action games that we're used to on consoles, and finger friendly controls that will work on a mobile phone or tablet, but they're a compromise that falls short on the innovation that is possible with mobile phones, and the twitchy control that come with a real gamepad.
We tried out the Phonejoy controller which just started delivering gamepads to their Kickstarter backers, and came away pretty impressed. The controller costs $79.99 (approximately Rs. 4,806) to order, and takes between one to two weeks to reach India.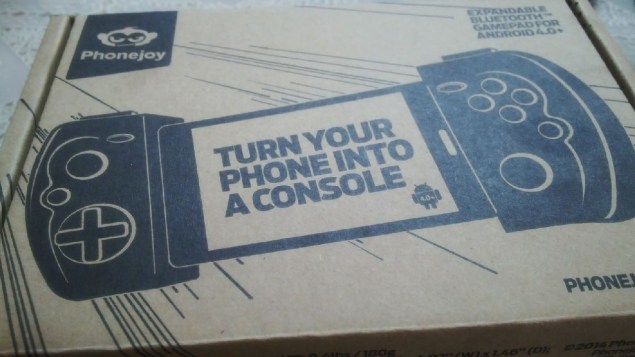 The packaging for the Phonejoy is actually pretty clever in its own right - everything is packed away into foldout compartments, and the box has a ruler on the side which you can hold against your phone, to see if it will actually fit inside the controller. That'll be a lot more useful if this gamepad is ever available at retail here, but for quick reference, you can easily fit a 5-inch phone in there; we were able to put a Sony Xperia Z inside the Phonejoy, and also a Samsung Galaxy Note 2.
If you're using something even bigger than a Note though, this might be a problem, because the Phonejoy is stretched from the middle to accommodate your phone, and larger devices probably won't fit. Of course, since the connection is taking place over Bluetooth, you could just prop the phone (or tablet) in a stand, and play with the gamepad in your hand. It looks like it would be too small to hold comfortably in that mode, but having spent a fair amount of time gaming on the iPad in just that fashion, it's safe to say that the Phonejoy is comfortable to use even without a phone.
Design and Build Quality
The Phonejoy is small, slightly chunky, and does not look like it would be very comfortable to hold. It's very slightly taller than a PS Vita, and about twice as thick. The width is adjustable, but with a 5-inch phone inside, this thing dwarfs the Vita.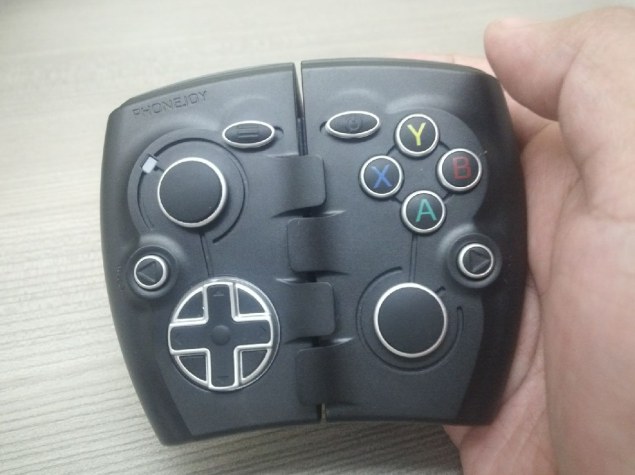 The buttons and analogue sticks are laid out in the same placement as an Xbox 360 controller. The left analogue stick is high with a direction-pad below, and to its right is the right analogue, and the four face buttons are above that. On top there are two shoulder buttons for each side.
In the middle, the design has a toothed pattern - this is where the two halves of the Phonejoy meet, and as you can see in the top picture, there's a steel backing that's held together with springs. For now, the Phonejoy closes quite smoothly and holds the Xperia Z very snugly, though this could actually be the one weakness in what is an otherwise impressive build, as over time, the spring might possibly weaken. For now though, it's looking very solid.
The build quality of the gamepad is actually pretty impressive - it feels more durable than a Playstation 3 gamepad and the buttons and sticks look great and feel great too. The shell is made with from pastic, but all the buttons are bordered in chrome and topped with a layer of rubber, including the analogue sticks and even the power and invert toggles. The effect looks pretty good and feels comfortable to use as well. The analogues are very shallow and you might feel a little uncomfortable using them for extended periods of time, as compared to a full sized controller, but it's a necessary sacrifice if you want to be able to take the Phonejoy and slip it into your pocket when you're not actually gaming.
The direction pad also feels a little spongy and if the designers had followed Sony's lead and made each direction a separate button the way it is in the Vita, the pad might have been more comfortable, but there weren't any issues when playing sidescrollers.
Connectivity and Performance
To use the Phonejoy, you need to first pair it with either your Android or iOS device over Bluetooth. While a future version which uses iOS 7's controller has been talked about, the version we reviewed and which is currently available instead uses the iCade profile to pair with an iOS device.
To use, you must first switch on the Phonejoy (the battery has a life of eight hours between charges, and takes about one hour to charge) and set it in the correct mode. To connect to an Android device, you must push the back button and the X button, while you need to hold the back button and B, to switch to iCade mode. There's an LED next to the left stick, which glows blue in Gamepad (Android) mode and red in iCade mode, so it's easy to keep track of this.
Once you've paired, it's simply a question of installing the correct games and playing. This is actually the biggest problem with most controllers - you have to scour websites to find games that are compatible, and solving this is one of the biggest accomplishments on the part of the Phonejoy team. They've released a free app you can download that shows you a list of supported games. You can also tap on those games to go to their Play Store pages and install them. There's also an Installed Games tab in the Phonejoy app, which shows the games on your phone and you can launch the supported games directly from the app too.
There was no discernable lag when playing games like Reaper and Dead Trigger, and the controller was comfortable to use for a long period with an Xperia Z fitted in the middle. The thumbsticks in particular were a pleasant surprise because they looked too shallow to be comfortable. This is close to, if not slightly better, than a PS Vita. The face buttons and shoulder buttons also perform well, but the direction-pad felt weird. Playing Reaper, it worked fine, but there was always a niggling sense of something being a little off, one area where the Vita really rules in comparison.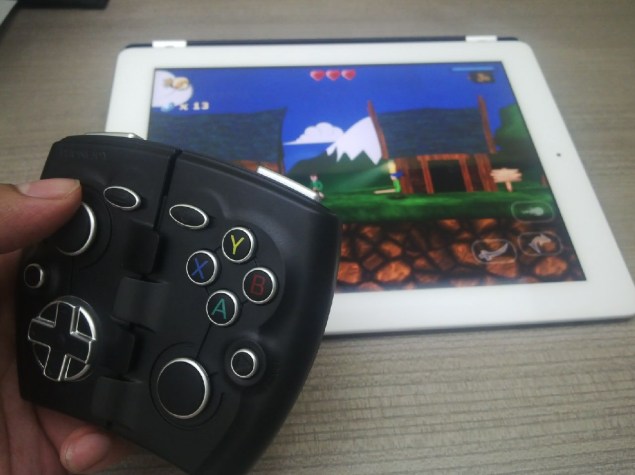 The big draw of this gamepad though is the flexibility it gives you. You can stretch it and use it with an Android phone, then prop up your tablet and use it to play Swordigo (we did) or use it to play games on your PC later. It's unlikely that a PC gamer won't already have some full sized gamepad already but the ease of use with multiple devices certainly makes the Phonejoy more tempting. The catch is that while there was a sort of iCade craze in between, it's got limited support, and most new games support the MFI standard instead, which this gamepad does not work with.
Verdict
The build quality and design of the Phonejoy are top-notch, and for an Android user who enjoys games, there's no real cause not to buy one. Aside from the games in the Play Store, a lot of popular emulators also support the Phonejoy (and can be found in the app) so if you're looking for some classic gaming experiences, then this is a great option - as long as you don't mind spending nearly Rs. 5,000 on a controller. Right now, you can buy a PS3 controller for around Rs. 1,000, while Xbox 360 controllers cost approximately Rs. 2,000. Personally, it seems like a good buy, but it won't feel that way to everyone. If you're an iOS user then it is worth holding on for now, and waiting for the MFI version, although that is not likely to support Android at all.
Price
The controller costs $79.99 (approximately Rs. 4,806) to order from Phonejoy's website, and takes between one to two weeks to reach India.