For the longest time, EA Sports has dominated the world of branded football games. With standalone versions such as 2014's FIFA World Cup Brazil, or the UEFA Euro 2012 expansion for FIFA 12, the video gaming giant has given them an arcade flavour to appeal to a wider user base. With the UEFA Euro 2016 on the horizon, this is the first time Konami has gotten the chance to try its hand at creating something fun and exciting for fans of Pro Evolution Soccer (PES) with PES 2016's UEFA Euro 2016 expansion pack.
The results are mixed. Just over half the European member nations are present, and out of those, 10 are unlicensed - so you won't get to see your favourite players in the game. You can choose from any of the 34 available teams, and pick a fight in an international friendly in Exhibition mode, or begin your quest for European glory in the Cup mode. While the friendly games are as straightforward as they come, Cup mode allows for a bit of customisation. Aside from allowing you to play with your friends in co-op, you can also increase the number of teams in the tournament that are user-controlled, so as to increase the number of games in action.
Where the game disappoints is in the variety of game modes on offer. Apart from the aforementioned two modes, there is nothing else to do in the new expansion. With Cup mode, all you get in terms of play time are the group stages (three matches) and four knockout fixtures, including the final. You could theoretically increase it by playing with more teams, but you'll end up having to pick one country over the other beyond the group stages. Moreover, Konami has only bothered to create only one stadium out of the 10 venues planned for this summer's tournament in France, in the form of 81,000-seater Stade de France.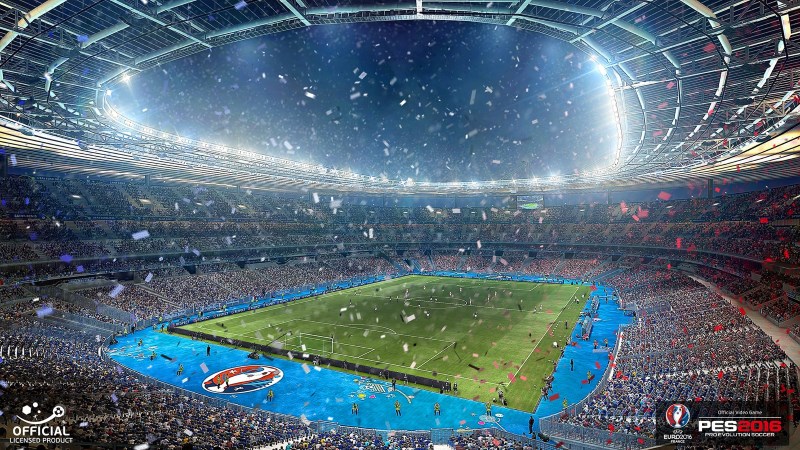 (Also see: I Hate FIFA and I Can't Stop Playing It)
That's quite a let-down when you compare it to the experience you get with the FIFA games. EA Sports went the distance in ensuring you felt you really were playing in the host nation's stadia, providing all eight venues for the UEFA Euro 2012 expansion for FIFA 12. It supplemented that with commentators talking about the history between two teams in past competitions, who's on track to win the Golden Boot, and so forth. It also had the unique Expedition mode, which allowed you to create a fantasy team with one superstar and roam the entire continent of Europe - playing all 53 nations in the process - while building an unmatched European squad. And then there were the online challenges, which thrust you into crucial moments from the qualifying campaign. To be fair, that EA-made expansion wasn't entirely great either - the Expedition mode was overly repetitive and the fact that it cost $25 (roughly Rs. 1,300) was a poor decision - but it did have a lot more to offer than PES 2016's latest effort, as evinced.
UEFA Euro 2016 DLC's best feature is the fact that it costs absolutely nothing for owners of Pro Evolution Soccer 2016. Otherwise, there's hardly anything to be even remotely excited about. Sure, there is a bit of eye candy in the menus, modelled after the colours of the French tournament, which basically translates to a whole lot of blue. But even the Stade de France isn't fully decked out in the tournament's colours and drapes, and the game depends on a single branded video to highlight the big moments, such as at the start of the competition or qualifying from the group stages. All in all, there's a half-baked feel to the entire thing.
What ultimately saves Konami's Euro 2016 DLC is that at its core, it's still PES 2016. There's still a great fast-paced football simulator here that produces enjoyable matches over and over, and forces you to be creative in creating goal scoring opportunities. The PES franchise has never been known for its bells and whistles (that has always been FIFA's forte) but if you're looking for an afternoon full of European national team action, the bare minimum content will serve you well.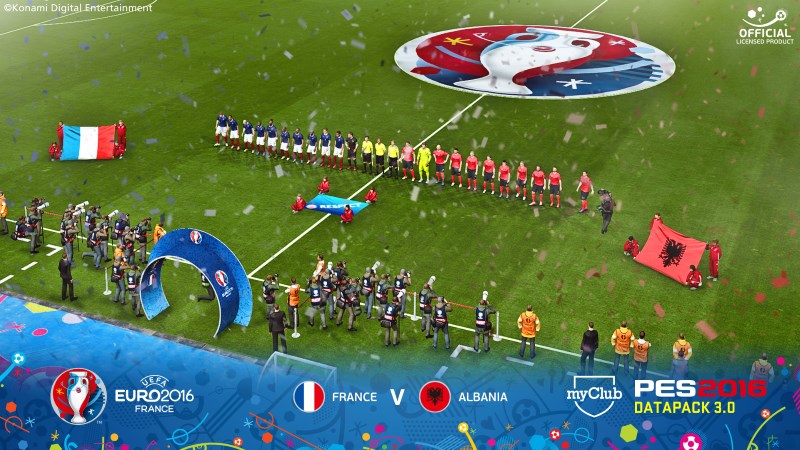 (Also see: Top 5 Games to Play With Friends on the Same Console)
As for the unlicensed squads, you can always depends on PES' highly active community, which is sure to deliver complete and updated squads (something Konami again doesn't) to go with highly detailed textures, kits and bodies, replete with tattoos. But while PC fans can easily mod their game files, not everyone will have equal access to the user-generated content.
But even that won't be able to help with the utter lack of new content for PES fans on display here. Konami is giving the Euro 2016 DLC a retail release for the PlayStation, which is pretty much an old book wrapped in a new skin. This has to be a missed opportunity for Konami, which has perennially struggled against EA Sports' FIFA in terms of sales. Tournament-themed games have a huge ready-made market, and EA's efforts - while never extraordinary - have done quite well in the past. But the UEFA Euro 2016 expansion for PES 2016 brings very little to a seven-month-old game, and that's unacceptable.
But hey, at least it's free.
Pros
Free of cost
Option to increase number of teams in Cup mode
Based on PES 2016, which is great
Cons
Just two ways to play
The little new content is half-baked
Unlicensed teams have outdated squads
Rating (out of 10): 6
We played a review copy of Pro Evolution Soccer 2016: UEFA Euro 2016 on the PC. The expansion is available for free through an in-game update, or as a standalone retail release for PS4 and PS3 on April 21 at Rs. 1,499.