There is no set blueprint in life. While your parents are heavily involved in the formative years, the majority of it is what you choose to make of it. No Man's Sky, a first-person space survival game that gives you the keys to a procedurally generated universe of 18 quintillion planets, is a bit like that. No Man's Sky is about finding and making your own way through a vast universe, with little to no guidance on how to fulfil your potential. And doing a lot of the same work over and over, to achieve what you crave.
No Man's Sky is a work of art built on a lot of marketing hype. Since its initial reveal a little over three years ago, video clippings from stage presentations and media houses have told of a universe that holds the promise of awe-inspiring and never-ending exploration. But after playing for a week, the reality is far from that. While each and every planet is one of a kind, they all start to look familiar once you've visited two dozen. Unique doesn't necessarily mean interesting or enjoyable, and nowhere does that hold any truer than with the gazillion planets of No Man's Sky (and the various lifeforms therein).
They all feel the same after a while and no matter how much you fly around, a feeling of weariness sets in half an hour into a planet. It doesn't obviously help that a majority of the planets have rocks upon rocks that come across as dull, spotty plant life haphazardly located, and animal life that is rarely beautiful, and mostly looks like an ungodly mess of procedural generation. The flora and fauna contained within are derived from a mathematical equation rather than shaped by the needs of the environment, and appear designed, rather than evolved. What No Man's Sky stands guilty of in this regard is that the sheer quantity of visual marvel - while ensuring endless variety - does not guarantee continued curiosity.
Warping to a new solar system is always an exciting prospect, but the repetitive nature of your work on any planet can turn you off after a few hours. There isn't enough to do and no one to share your joy with. It's a lonely journey for the most part and despite its bold approach, the developer Hello Games pigeonholes you into thinking and behaving the way it wants.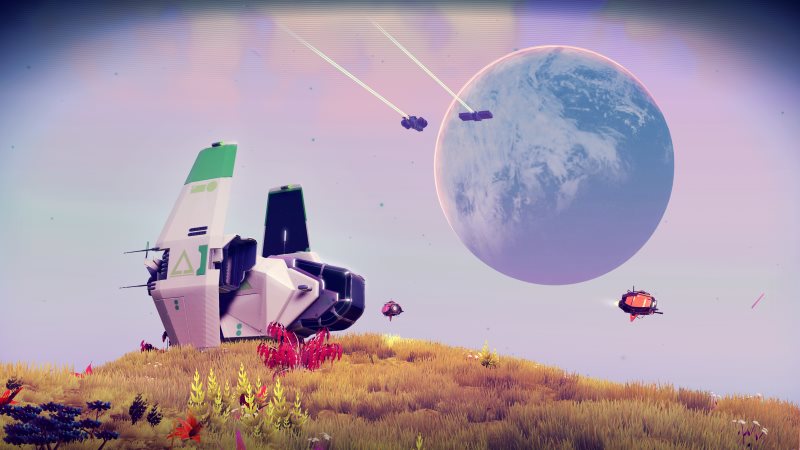 (Also see: No Man's Sky: Gather-Build-Repeat in First Three Hours)
This is what you do in No Man's Sky
The game begins on a different planet for every player, with a crashed starship that you must repair to get going. This involves gathering resources from your environment, with the help of a multi-tool that shoots out a mining beam. For your tutorial mission, you'll have to get carbon, plutonium, heridium, iron, and possibly zinc. Post that, you'll come across titanium, platinum, chrysonite, iridium, aluminium, gold, and emiril. Once you take off for the stars, you'll come across thamium9, copper and even more. Resources are an important part of No Man's Sky, and that's because you need different ones to make different things, from fuel for your ship, to recharging your life support system.
Making sure you've enough of each is important too, but it can be quite an infuriating balancing act. The thing is you can't just take on as much of whatever you want and go on your merry way. These resources take up space in what are known as inventory slots. Both your exosuit and starship have limited inventory slots, particularly at the start of the game, before you can find upgrades. That leads to a non-stop juggle between the dozen or so resources, not counting other precious objects and artefacts you'll want to carry for financial good. Inventory management becomes a task unto itself for a large portion of your early game, and deciding what to keep and what to discard on the rather poorly designed menu screen turns into a mini-game of sorts.
Why even bother to keep mining, you ask? The answer to that is two-fold. The first part has to do with survival, for which you must have a continuous supply of elements like plutonium and oxides (iron, zinc, titanium). The second deals with getting rid of inventory slot frustration, which entails paying for exosuit or starship upgrades. To achieve this, you will need to involve yourself in tedious routines such as mining precious elements for hours and crafting objects using resources that fetch a good price at the Galactic Market or facilitating as the middle-man in a transaction, buying and selling goods to turn a profit.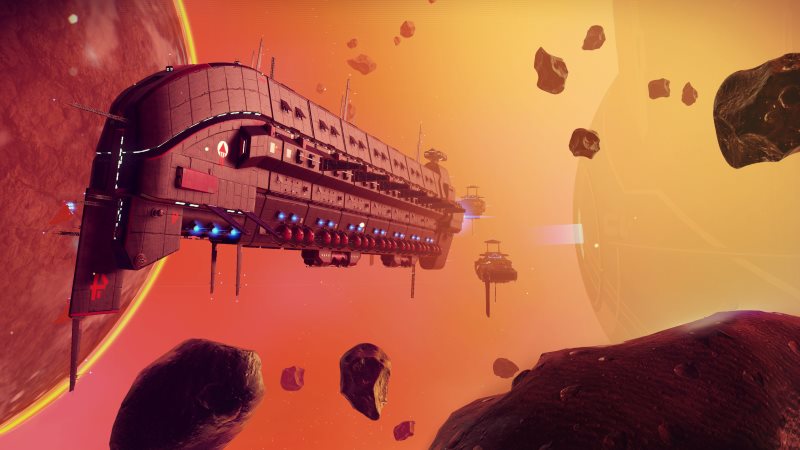 (Also see: No Man's Sky Tips and Tricks to Help You Get Started)
For what it's worth, No Man's Sky doesn't ever tell you to do any of this. You could choose to not spend hours mining to buy a bigger and better starship (while trying not to be envious when you see others fly into the Space Station) and stay away from space pirates for whom you will make an easy target. But doing so will result in a slower game experience, as your existing hyperdrive can only jump one star at a time. Putting players in such a vicious loop is an example of poor game design and for a game that promised space exploration, this rightfully sounds like a bore.
Combat in No Man's Sky happens mostly with the Sentinels, a universe-wide peacekeeping force, who will trouble you if you play fast and loose with the environment, break down reinforced doors or attack a ship in outer space. Sadly, it doesn't add any excitement - enemies lock onto you with laser-focus precision and space pirates - who come alone or in groups of three - lack any individuality. Making things worse is the jarring movement, which has yet to be fixed by a patch.
For all its sleep-inducing emptiness, the game has to make your journey worthwhile, which No Man's Sky tries to achieve by introducing a thinly layered plot revolving an entity called the Atlas and three alien races you met called Gek, Korvax and Vy'keen whose interactions turn pedestrian too soon; and by peppering your journey with easily achievable milestones, because otherwise nothing of note is actually happening on an hourly basis. The main quest that Hello Games spoke of before release - going to the centre of the galaxy - represents a metaphorical ladder of our lifetime. With players starting thousands of light years away from the centre (in our case, it was around 175,000) and the starter ship capable of moving 50-60 light years in one warp and about a 1,000 using a black hole, the word progress loses meaning.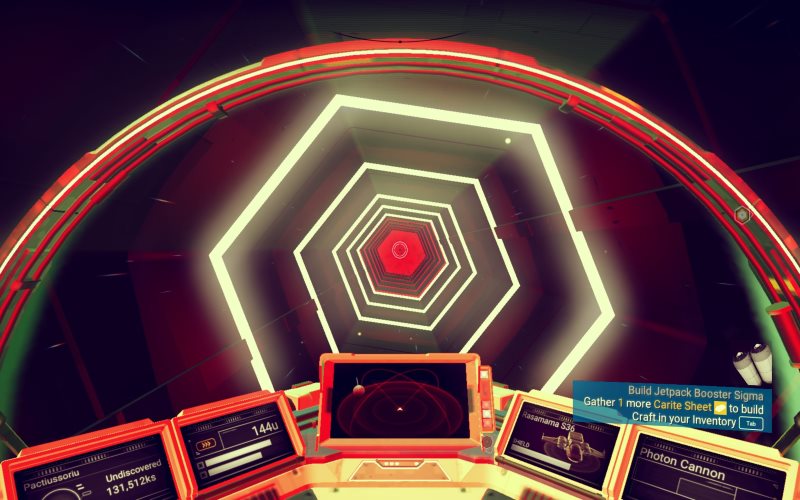 (Also see: No Man's Sky Could 'Fundamentally Change' on PS4 Neo, Says Sean Murray)
A few pale pixels
Over 100 billion humans have lived and died on planet Earth. In that time, we've scaled the tallest peaks and gone to the very depths of the ocean surface. We've stepped on the Moon, installed a Space Station, and developed the Large Hadron Collider. We're also responsible for the extinction of species. We've gone into innumerous wars that culminated in the biggest of them all 70 years ago with World War II. We've achieved nuclear fission, and put an end to diseases such as the small pox. We've sent space probes billions of kilometres into the void, including NASA's Voyager 1 which took the famous photo that has come to be known as the Pale Blue Dot. And as astronomer Carl Sagan so evidently pointed out, in the scale of things, our accomplishments and our bickering are but a speck.
If there is a takeaway from No Man's Sky, it is this. All the time you spend bettering your tools and spacecraft, visiting planets and going on to other solar systems, even if theoretically you were to keep playing for years, doesn't matter. Your impact on the in-game world would be negligible. It's humbling, to say the least. And it echoes mankind's presence here on Earth.
When Hello Games and founder Sean Murray first presented the game, people's reactions after the incomprehension of what it meant to have limitless variety was: so what do we do in No Man's Sky? And while they did manage to answer that, it's nowhere near as interesting or enjoyable as we all imagined, looking at clippings on YouTube. The developers could have done so much more, but their decision to limit their creation and players' choices to what is for the most part a mining and trading simulator, displays a lack of imagination. The largely solitary experience of No Man's Sky is monotonous, easily frustrating and loses its charm way too early. For a game with the promise of all the wonders of the universe, it delivers so little.
Orbital, the Gadgets 360 podcast, revolved around No Man's Sky this week as well. Give it a listen below, or subscribe to it either via iTunes or Feedburner.
Pros:
Everything is unique, and only seen by you
Following the Atlas gives purpose
Cons:
Not enough to do in the game
Overly repetitive, and turns into a grind
Variety of planets is superficial
Rating (out of 10): 6
We played a review copy of No Man's Sky on the PC. The game is available on PlayStation 4 at Rs. 3,499 and through Steam for Windows PCs at Rs. 1,799.
Affiliate links may be automatically generated - see our ethics statement for details.