The Wii U is Nintendo's capitulation to the screen, the tyrant of the digital age. As the follow-up to the original Wii - the nearly 100-million-selling, get-off-your-couch console that upended the video game industry six years ago - the Wii U does not deliver the sensation that its predecessor unleashed, the sense that something new had been wrought upon this earth. It was not always routine for grandparents and grandchildren to gather in front of the television to wield plastic sticks and pretend to bowl.
Instead, the Wii U feels like an accommodation to the new mode of living that Apple's iPhone and iPad have introduced. That lifestyle was evoked by a New Yorker cover this summer that featured family members posing for a beach vacation snapshot while engrossed in their personal devices.
The Wii U, which is to be released on Sunday, works with the motion-control remotes you probably already own from the original Wii, and it plays most of the original games. What's new - beyond high-definition graphics and some Internet-enabled features that won't be turned on until Sunday - is the Wii U GamePad, a roughly 10-by-5-inch touch-screen controller. With a six-inch display surrounded by thumbsticks, buttons and triggers, the GamePad is the offspring of an iPad Mini and a traditional video game controller.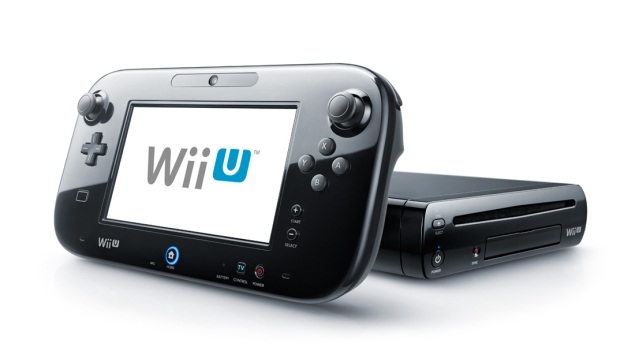 In its marketing buildup to the Wii U introduction, Nintendo emphasized the benefits of two-screen gaming, particularly competitions in which the player with the GamePad sees something different from what the other players watch on the television. In so doing, Nintendo played down a simpler concept, one more easily understood by casual players and Apple fans: the touch screen.
By merging touch-screen gaming with a video game system that is designed to live next to your TV set rather than be carried around in your pocket or purse, Nintendo is not merely acceding to the cultural tide. It is also trying - valiantly, perhaps quixotically - to stem it. After creating a world in which we are no longer bowling alone (because we are all Wii-bowling together), Nintendo is seeking to invent a new way for us to commune with our screens. The company's hope is that the Wii U will bring families together in their living rooms for touch-screen gaming rather than leave them isolated with their tablets and smartphones.
Touch has always been a part of gaming, of course, because the physical interaction between player and device is central to the medium. But in recent years the growing complexity of the standard controller has become an obstacle for new players who did not grow up adapting to each iteration: the shift from one button to two buttons to four, or from one joystick to a directional pad to two thumbsticks and a directional pad - not to mention triggers and bumpers and start and select buttons. Easy, right?
Simplicity was a large part of the broad appeal of the first Wii, and though playing with the Wii U is not quite as uncomplicated as standing up and waving your arms around, the touch screen is straightforward compared with the controllers used with an Xbox 360 or a PlayStation 3. Selecting songs in Sing Party, a karaoke game published by Nintendo, is done by swiping through tiles on the GamePad's touch screen and then tapping the song you want. The same goes for Ubisoft's Just Dance 4, with the added wrinkle that a player can use the touch screen to choose dance moves, midsong, for the other players to perform.
In Balloon Trip Breeze, one of the mini-games bundled on the Nintendo Land anthology that comes with the $350 Wii U deluxe edition, the player uses a stylus to make quick swipes - familiar to anyone who has played Angry Birds or Fruit Ninja - to make a character pop balloons on the television. In Takamaru's Ninja Castle, another Nintendo Land game, similar swipes hurl martial arts stars at cartoonish cutouts. In Pikmin Adventure, from the same disc, enemies are defeated by tapping on them as they appear on the GamePad screen. In Yoshi's Fruit Cart players scrawl a path on the touch screen and then watch a character follow it on television.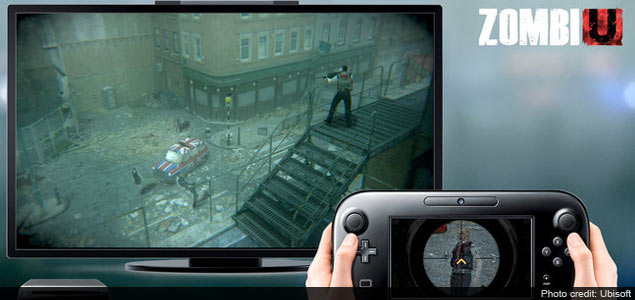 The touch screen also allows the GamePad to morph swiftly into a TV remote control; you can adjust the volume on your set or quickly check the score of a football game without reaching for a separate device. And if you like what you see on cable, or if you want to allow someone else to watch TV in the same room, you can switch from playing a game of New Super Mario Bros. U on television to watching it unfold on your GamePad.
As that last trick indicates, the GamePad is more than just a touch screen, and Nintendo Land provides a sketch of other possibilities. The camera inside the GamePad is used in the game Octopus Dance to project the player's genuine, human face onto the television, a merger of the virtual with the corporeal that goes by the name "augmented reality."
Lightly blowing into the GamePad's microphone in Donkey Kong's Crash Course turns a windmill that moves a cart skyward. The GamePad can be used as a viewfinder in Metroid Blast and the Legend of Zelda: Battle Quest to target enemies for destruction. And in some other Nintendo Land games, characters can be moved by turning or tilting or lifting the GamePad into the air, another technique borrowed from mobile and tablet gaming.
Equally promising, if not more so, are the possibilities the GamePad presents for intensive, single-player gaming. In Ubisoft's ZombiU, the GamePad transforms, if not eliminates, some of the metaphors gamers are accustomed to: The map is no longer a tiny icon in the lower-right corner of your television, nor a menu that must be reached by punching a sequence of buttons. It is something you hold in your hands and look down at, something that draws your attention away from the world (of zombies) around you.
Your inventory - the items you carry - also becomes less abstract as you peer into your GamePad to see what's in your backpack and then physically move, say, a pistol into your hand by sliding it with your finger into an open slot. Similarly, digging through lockers, file cabinets and suitcases in the game world becomes closer to a genuine interaction.
Then again, when the first Wii console felt new, as with Microsoft's Kinect more recently, many decreed that motion controls would be swiftly and widely integrated into long, narrative games. Surely the intuitive interface of Wii Sports would be merged with storytelling ambition. By and large, that didn't happen. So, spoiler alert: I have no idea what the Wii U augurs, or whether it will permanently alter how we play, alone or together.
But it's a pretty nice present.
© 2012, The New York Times News Service