Metal Gear Solid V: The Phantom Pain has been in the news for everything but the game itself. There have been allegations of mistreatment of staff and a soaring development budget of $80 million; the spectacle behind series creator Hideo Kojima's final game at Konami is palpable.
In a way, it's kind of tragic to see a game like this being overshadowed by the real life drama surrounding it. At Gamescom 2015 NDTV Gadgets managed to get a lengthy hands-on with what appeared to be a final build of Metal Gear Solid V: The Phantom Pain. From what we experienced, this could very well be the best game you play this year.
Play your way, no matter how ridiculous it might be
The mission available for preview involved infiltrating a base in the desert. We had to find the commander of the base and kill him. The first time around, we played the mission like rank newcomers, running towards the base at the speed of sound. Obviously, alarm bells went off and we found soldiers surrounding us at every corner. Thanks to the intuitive control scheme and wealth of gadgets at our disposal, we still managed to defeat these foes with relative ease.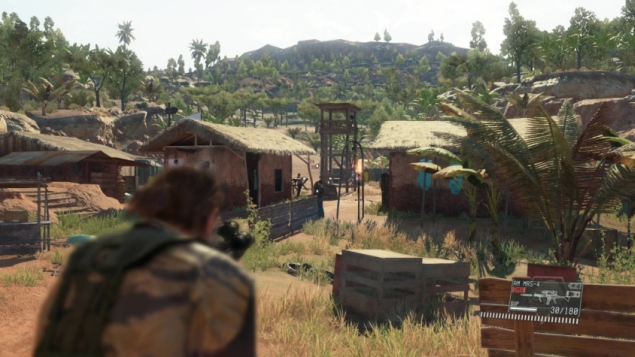 The feeling of firing the guns is realistic, with pistols and rifles sporting the requisite heft and recoil you'd expect from a series that is notorious for attention to detail. The game's fast melee combat ensured a quick end to soldiers who were unwise to walk near us. Digging through our options in the game's menu we couldn't pass off an opportunity to summon an airstrike and then a robot. Yes, we controlled a bipedal robot with a gatling gun (or a 'walker' as the series refers to it) in a stealth game. The result was an entertaining romp which would make most summer blockbusters seem like low-rent day time soap operas.
Play it the way it should be intended
We played the same mission a second time, with the intention of playing it like ninjas would; silently and stealthily. Since the mission takes place in an arid, desert region, we stayed close to the ground, carefully using the game's tagging system to mark out where enemy soldiers would be patrolling. Instead of running and gunning with lethal firearms and explosives, we used a tranquilliser gun instead, using it only twice. Rather than laying waste to the entire camp, we managed to tag our target and monitor his patrol route. And instead of killing him like the game wanted us to, we decided to render him unconscious to be whisked away by the game's Fulton recovery system.
(Also see: Cuphead Is Possibly The Most Beautiful Game You Will Never Finish)
Amass an army by making kidnapping soldiers
Metal Gear Solid V: The Phantom Pain lets you manage Mother Base, your location of operations. To do so, you need soldiers. And to do this, you need render enemy soldiers unconscious through quick melee attacks, stun grenades or using a tranquilliser gun, and then you can kidnap them with a tap of the button to use the Fulton Recovery system - a real life method that allows you to strap a harness and a self-inflating balloon to unconscious soldiers. They are then whisked away to Mother Base, and put to work as cooks, cleaners, or even counsellors. Combined with the resources you can find in missions that can be used to augment your base further, building up Mother Base becomes more than just a gimmick.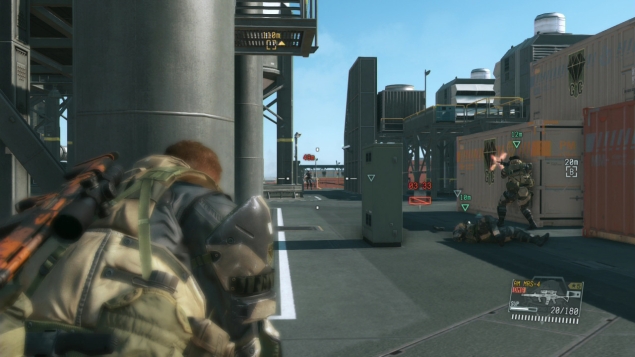 (Also see: Fable Legends Shows You Don't Have to Kill to be a Hero)
A sense of scale
Konami claims that Metal Gear Solid V: The Phantom Pain is 200 times bigger than Metal Gear Solid V: Ground Zeroes, the prologue chapter of the game which was released earlier. And they're not wrong. The map we played was huge, sporting a varied landscape, a host of encampments and you can even use a horse much like you can in The Witcher 3 to traverse the region. There's a day and night cycle too that impacts how you approach the mission and enemy AI behaves differently too. With no loading screens within the level, you'll never feel a break in the immersion either.
(Also see: Metal Gear Solid V - Ground Zeroes Review)
It looks amazing
Metal Gear Solid V: The Phantom Pain is a treat for the eyes. We played it on a debug PlayStation 4 (PS4) console and it looked fantastic. From slick weather effects, to the way protagonist Snake runs, every inch looks pixel perfect, or at least close to it. With the PC version due on Steam on the same day as the console release (September 1) and a physical PC release to follow, it will be interesting to see how a game that looks this good on the PS4 utilises the excess horsepower available on PCs.
With thoughtful design that allows for accessibility to newcomers who have never played a Metal Gear Solid game in their lives and stealth gameplay mechanics that would appease even the most demanding fan, Metal Gear Solid V: The Phantom Pain seems to be a treat for fans and newcomers alike. However, it's important to remember that while our initial impressions have been overwhelmingly positive, they're based on a single mission and not the game in its entirety. Nonetheless, we can't wait to see how Metal Gear Solid V: The Phantom Pain pans out, when it hits the shelves on September 1.