The Lego video games have become an institution famous for childish humour and a cartoonish representation of the characters and the worlds they inhabit, delivering some highly enjoyable entries for people of all ages. Series developer Traveller's Tales even managed to infuse humour into Batman and Superman's adventures, two heroes known for providing some of the darkest moments for comic book film audiences. Joss Whedon's take on the Avengers naturally lent itself to off-the-wall jokes, so you would think the developer has a winning combination on its hands - but the game adds little that's new to the films.
Lego Marvel's Avengers follows the exact course laid out by its two namesake films: 2012's The Avengers and 2015's Avengers: Age of Ultron. It starts with the opening sequence from the latter, introducing the team of superheroes as they try to get their hands on Loki's sceptre (again), an artefact fitted with the Mind Stone and capable of enslaving others. After that, the game jumps back in time into the Avengers' storyline and has some set pieces brought in from standalone films in the Marvel Cinematic Universe as well, such as 2011's Captain America: The First Avenger. The game seems designed to capitalise on the existing market provided by the success of those films, but manages to muck it up.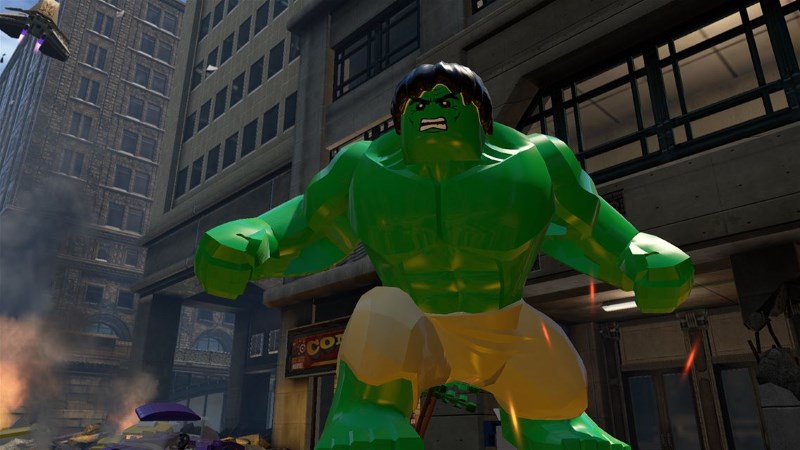 (Also see: Lego: Star Wars: The Force Awakens Leaked, Will Explain Events Between Episode VI and VII)
That's thanks to its complete dependence on the material Whedon brought to screen, including each and every line spoken by any of the superheroes. That may seem a good thing on the surface, but it can become boring before long. The rehash of existing dialogue may be down to budgetary concerns but it definitely detracts from the experience here. It also feels remarkably uninviting for anyone who's avoided the film world but would love a crack at some Lego-based Avengers action. Avengers: Age of Ultron is universally marked as A:AOU; no attempt is made to establish existing relationships between characters or explain S.H.I.E.L.D. and its purpose. This then is clearly a game made only for fans, but there are a number of factors that point towards a lazy attempt at converting well-made movie scenes into puzzle-based scenarios.
Primary of those is a Lego series staple: mining objects for coins. Destroying everything from a container to a traffic cone just to achieve a higher score seems utterly pointless after a while, and it delays storytelling too. Events that took two minutes on screen in the two Avengers' films drag on for 10 minutes in the name of level design. For example, remember Agent Coulson paying Tony Stark a visit at the Stark Tower in The Avengers? What served as a tiny part of setting up the Avengers initiative is converted into puzzles in Lego Avengers, with the added nuisance of having Tony Stark - not Iron Man, mind you - kick his furniture just so you can get more coins. It just seems like unnecessary padding to extend the game's length.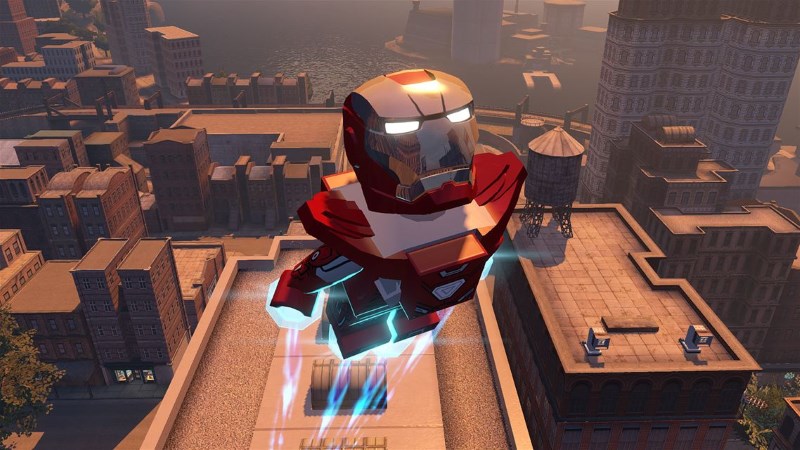 Nonetheless, there are genuine moments of fun to be found amidst all this. Most of them are delivered while Iron Man is on screen, using the Stark-patented "repulsor" technology to fly around, and blowing things out of the sky. Rampaging with Hulk through the game environment is pretty satisfactory, and having the Cap and Thor combine for a hammer and shield combo makes you feel powerful and smug. Between those, you will have the most fun in Lego Avengers. Co-op action has been integral to the Lego series from the beginning and characters are mostly paired or found in threes in Lego Avengers' levels to bring about friendly competition and teamwork. Sadly, combat can be laughable at times, making some of Marvel's superheroes feel inadequate.
In the beginning, Captain America on his own gets blown to smithereens a bit too easily. And sure this is a game made for the younger ones, but when a foe just stands there, watches as you beat up his partner and awaits his turn - it does feels foolish. Controls can be a bit clunky and dodgy as well, and you never quite know if you're doing the right thing until you get hit and lose a life.
The technical issues in Lego Marvel's Avengers are compounded by the number of times you get lost thanks to a lack of instructions. Unclear objectives in combination with a crowded environment can be mind-boggling, and will have you tinkering with everything you see to find the way forward. That can mean spending an unhealthy amount of time in levels that are already longer than they ought to be, hoping to run into the solution while you smash everything around you. And respawning bots just adds to the frustration. Camera problems too tend to get in your way, as you literally can't see what you're supposed to be kicking or shooting at in some areas.
Change is needed
There is a diminishing effect of Lego's charm and cuteness with every new iteration, and Traveller's Tales' heavy reuse of the Marvel Cinematic Universe makes playing Lego Avengers feel like flipping through a physical copy of an Avengers encyclopaedia. Plus, going through the events and listening to the exact same dialogues from The Avengers four years after release contributes to the tiredness.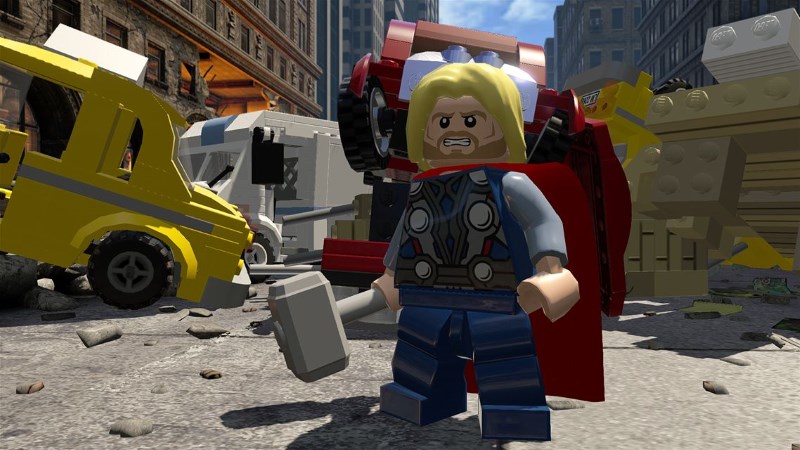 (Also see: Netflix Unveils Original Anime Perfect Bones, New Trailer for Daredevil)
Unfortunately, the game's good moments are few and far between, and even they find themselves suffocating under the unnecessary tall pile of repetitive gameplay mechanics. Instead of letting you feel the rush and pace that made the first Avengers film so exciting to watch, the game completely breaks down the flow by stuffing puzzles and coins in every nook and cranny.
Lego Marvel's Avengers is likely to impress no one except diehard Marvel fans, ones that have adorned their walls with posters of Captain America and wear Iron Man costumes for Halloween. And if all you're looking for is a bit of Lego-infused action, there are unmistakeably half a dozen better entries to choose from; the game's own predecessor - 2013's Lego Marvel Super Heroes - one of the more entertaining options.
Pros:

Iron Man's suit and its abilities
Working together for combo attacks
Lego's blend of off-the-wall humour
Cons:

Repetitive, and rehash of the Marvel Cinematic Universe

Obsession with coin collecting
Unclear objectives
Rating (out of 10): 5
We played a retail copy of Lego Marvel's Avengers on the PC. The game is available digitally on Steam at Rs. 1,499, on PlayStation 4 at Rs. 3,999 and Xbox One at Rs. 3,500. A physical copy will cost you Rs. 499 on the PC, and Rs. 2,499 for the PS4 and Xbox One.
Affiliate links may be automatically generated - see our ethics statement for details.