Horizon Zero Dawn is an action role-playing game. That isn't a genre you'd expect from the studio responsible for Killzone — Sony's answer to Halo and one of the better, more consistent PlayStation exclusive franchises in recent times. But this is what Guerrilla Games decided to make next. After a prolonged development period spanning six years, Horizon Zero Dawn is finally going to be available from February 28 in the US, and March 1 in India and Europe. Before that, we've managed to spend some time with the final build of the game. Here's what you need to know.
Visually, we're yet to see a better game on the PS4 or PS4 Pro. We've seen the likes of Uncharted 4, DriveClub, Infamous: Second Son, and The Witcher 3: Wild Hunt make full use of the console, and yet Horizon Zero Dawn somehow takes it a step further. It uses the Decima engine — the same tech that powered Killzone: Shadowfall and Until Dawn - but it looks a whole lot better than either of those games. We're hard pressed to think of something else that comes close. Character animations in Horizon Zero Dawn are fluid and its wide environs are varied, ranging from rundown underground installations to sprawling villages. What's notable is the lack of any loading screens, with seamless transitions from one area to the next, ensuring you're never quite far from the action.
Horizon Zero Dawn takes place in a world overrun by robots. There are several primitive human tribes, all resorting to one form of worship and philosophy or another. These include the matriarchal Nora, hunters who are forbidden to leave what it describes as 'Sacred Land'; the sun-worshipping Carja with a history of slave sacrifice; and the shamanistic Banuk, famous for their robot-hunting skills. These diverse groups and how they govern themselves work well within the game's overarching plot, which has you play as Aloy — a hunter and outcast of the tribe of Nora. A lot of the plot has her uncovering the mysteries of this brave new world and her past. Without spoiling much, it seems to hold promise as one of the better stories we've encountered lately.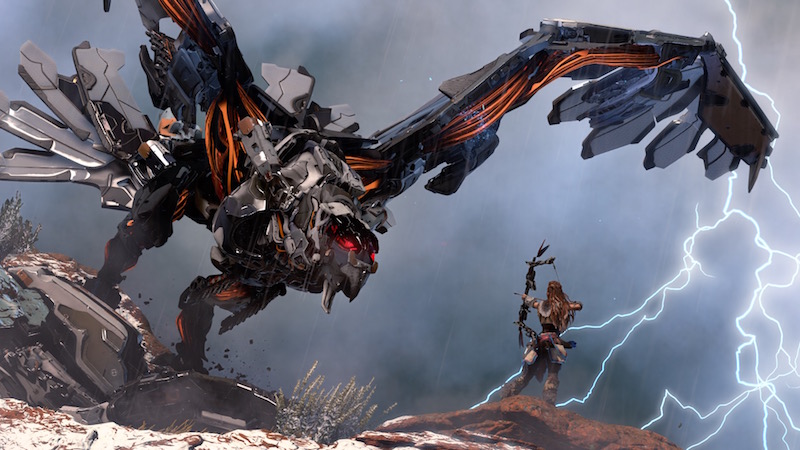 From a gameplay standpoint, Horizon Zero Dawn has more in common with Far Cry and the Batman Arkham series than anything that Guerrilla has ever done. It borrows the skill trees and levelling up system from Ubisoft's long-running open-world shooter series, allowing you to power up Aloy as you see fit. From slinking past mechanical beasts to taking down barbarians in a single hit, there's a lot of ways to progress, in order to suit your play style. And regardless of how you play, there's the Focus — a wearable computer that lets you track quests, identify sentry paths, tag enemies or simply access voice logs in the environment. The latter does a fantastic job of fleshing out the game's lore.
Early on we found ourselves in an underground shelter whose inhabitants were long deceased. Instead of finding an exit point which the game tried to coerce us into doing, we were more inclined to tag every corpse and listen to every log of the day to day trials and tribulations of those from a bygone era. Be it unrequited love to darker thoughts of suicide, these did a fair bit to add colour to what was essentially a tutorial area. This sense of immersion in exploration lent itself to the game's later sections as well. And while the likes of BioShock and Fallout have exploited this technique expertly in the past, Horizon Zero Dawn's combination of believable voice acting and fresh vistas easily trounces them.
Exploration aside, much like most open-world games these days, in Horizon Zero Dawn too you can choose how to tackle the many foes in your way. With tall grass in abundance, it's easy to sneak around enemies or simply hit them with a silent strike that lets you take them down in a single blow. For most part, skulking around giant robot beasts and bandits is satisfying. But combined with the Focus which lets you chart their movement, makes it seem easier than it should be, particularly if you're used to the likes of Metal Gear Solid or Dishonored.
The actual combat in itself is entertaining, and a bit more of a challenge. There's no way to lock on to an enemy while attacking with a spear, which is your melee weapon. Ranged combat fares a bit better with the tripcaster that lets you lay traps, and the assortment of bows and arrows that enable you to confuse mechanical opponents having them attack each other, or set them on fire, or just eliminate them.
All of these result in encounters that are best described as emergent, particularly against bigger enemies. You could take them head on with the tools at your disposal described above, resulting in a colossal firefight, or you could just learn to tame them, making them attack other foes.
While we're not totally sold on some aspects of its combat and stealth, the wealth of options and an intriguing premise make Horizon Zero Dawn an interesting proposition. We will know better after having spent some more time exploring the game's mechanics. Stay tuned to our full review later this week to see if it indeed lives up to expectations.