The initial moments of the third instalment of this year's Hitman reminds us of 2012's Hitman: Absolution. No, not in its oddball grindhouse feel, but rather with a sprawling, densely atmospheric level design that's reminiscent of Hitman: Absolution's China Town, which was filled with a host of non-playable characters (NPCs), assassination opportunities, and a whole lot more. But does it go beyond that? Surprisingly so and here's why.
After Hitman: Episode 2 - Sapienza, also known as World of Tomorrow, Marrakesh plays host to this month's playground of death. In this mission, titled Gilded Cage, you must assassinate Claus Strandberg, a corrupt banker responsible for stealing millions from Moroccan citizens; your other target is his patron, Reza Zaydan, an army general who is fuelling public outrage to allow for a coup d'etat. In terms of a premise, it's a whole lot more dramatic than the previous two episodes were, with a sense of scale to match. With this mission set across a crowded marketplace, the Swedish consulate, and an abandoned school that's now a makeshift army base, there's a real sense of variety when you play.
(Also see: Hitman Episode 1 - Paris Review)
From impersonating a cameraman for a news channel that has an exclusive interview with the banker to uncovering a secret passage running underneath the city's bazaar, the means to get to your targets are aplenty. This doesn't make it any easier though. Due to the sheer number of characters in the game world, you'll have to pick and choose your moments to snag a disguise or scale a wall lest you have half of Morocco baying for your blood. If you're the sort who prefers using disguises to get your way around Marrakesh, you'll find yourself changing them often as the AI seems to be gifted with heightened awareness this time around, what with being able to spot an impostor from the bustling masses with ease.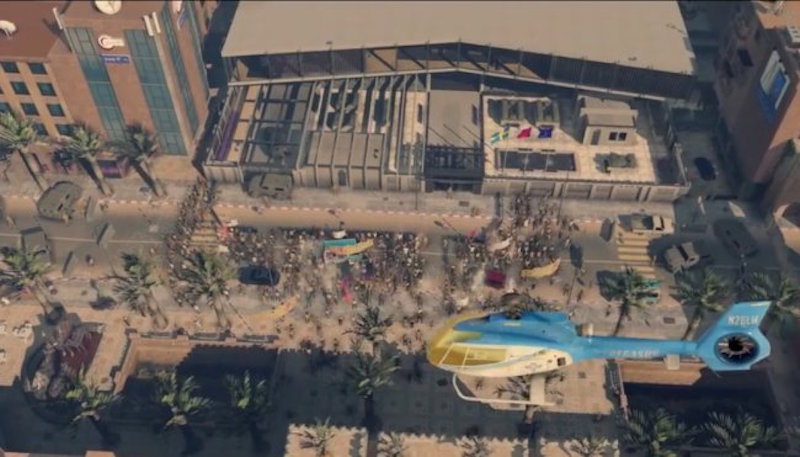 You'll always be on your toes, watching out for innocent bystanders or heavily armed troops walking in on your nefarious deeds, more so than the two prior episodes.
There are some unique methods to set up a kill. In our playthrough we got close to Strandberg by posing as his masseuse, before delivering the deathblow. As for Zaydan, we donned the disguise of a printing crew tasked with posting inflammatory posters across the city on his orders to get within killing distance. But these were just some of the ways we could have carried out the mission; we discovered other measures such as faking a fire emergency to flush out our targets. Needless to say, you'll have a lot of different ways to meet the objective.
With a huge world brimming with detail and a stunning amount of visual splendour to boot, Marrakesh builds on the thoughtful design of Sapienza and Paris. At the same time it inherits some of the glaring concerns of the two earlier entries.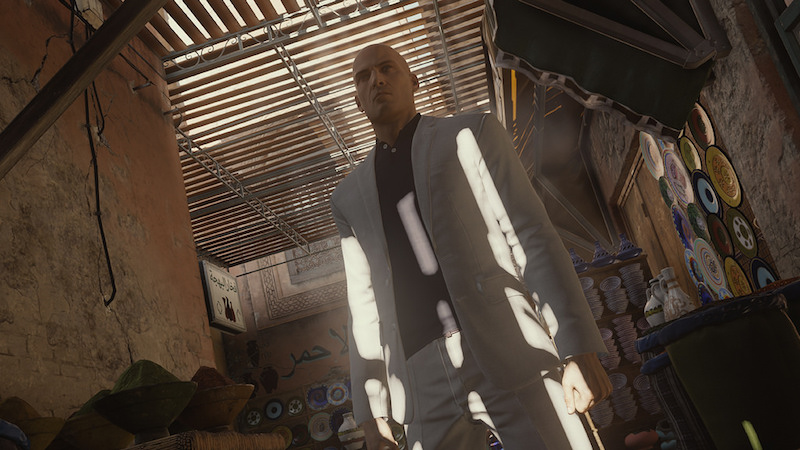 For one, the overall plot doesn't seem to develop as much as we'd expect, and Sapienza was also very lean in this department. Without spoiling much, there's a cutscene at the end that tries to bring some sense to the events that have passed, and to keep us hooked with what to expect next month. However at this point in time, it appears to be running parallel to what you're doing with next to no context in-game, unless you manage to stumble upon the odd hidden reference or two.
Also, while the frame rate is stable for most part, there were a few visual inconsistencies that tended to ruin the immersion such as hookah pipes exhibiting gravitational properties akin to a skipping rope in use, moving with no NPCs in sight. And yes, the game still needs you to be online to unlock content. While the servers have been stable for the duration of our playthrough, it's an annoyance all the same.
Existing grievances aside, Hitman: Episode 3 - Marrakesh sets a rather high bar with what to expect next from developer IO Interactive. The consistent level design and wealth of options from previous entries is ramped up exponentially here with a welcome sense of scale. Although we'll have to wait to see how the entire series pans out, its current direction is promising and there's no greater proof than Agent 47's Moroccan adventure.
Pros:

Great sense of scale.

Ample assassination opportunities.

Smarter AI.
Cons:

Has an always online requirement to unlock content.

Graphical inconsistencies.

Overarching plot underdelivers.
Rating (out of 10): 8
We played a review copy of Hitman: Episode 3 - Marrakesh on the PS4. It is available digitally right now with three more episodes slated in the months to come. It will be out on disc early next year.