Games like Hitman make us wonder how the decision making process at big studios takes place. From its reveal to release and later, it's been a tangled mess of confusion. First it was announced as a game where you'd be paying full price for content drops through the year. Then developer IO Interactive reneged on that to state it would be episodic instead. All the while we were kept in the dark on whether the game has a story or if it would simply be a set of missions starring everyone's favourite modern day assassin, Agent 47.
Thankfully, the beta assuaged most of these fears. And the first episode (dubbed The Showstopper, which takes place in Paris) makes us think that this should have been the direction taken by IO Interactive and publisher Square Enix to begin with. That's until we were booted out of the game several times after being disconnected from its servers.
Yes, much like Just Cause 3, Hitman needs you to be connected to the Internet to play the game. It's optional on all the platforms - Windows PC, PS4, and Xbox One - but given how it is implemented, we feel that IO and Square Enix are pushing the boundaries of what "optional" actually means.
If you're playing Hitman offline, you lose access to the game's progression system. This means you won't earn experience points or ratings for missions. You won't be able to unlock weapons, costumes and gear, and you won't be able to discover and use new starting locations for missions. Apart from that, you can not partake in bonus challenges over and above assassinating the targets the game has tasked you with. It's a despicable state of affairs because it locks a lot of the single-player content behind an online wall. You'd think that after the Just Cause 3 debacle developers would learn their lesson, but this does not seem to be the case here.
And it gets worse: if you start the game online and find yourself disconnected from the game's servers (which at this point are as reliable as John McAfee's claims of being able to unlock an iPhone) then you are kicked out of your mission and have to go through it again from the start. IO does mention that save files for online and offline play are different, but throwing players out of their own game in the middle of a session is in no way user-friendly. Even more so when we blitzed through a level and completed all the objectives in two minutes flat, only to find ourselves having to restart it offline and not earn anything in the way of progression simply because the servers were acting up. Needless to say we were not pleased, and you won't be either.
The tragedy in all this is that beneath all these incredibly stupid measures lies a fantastic game. While we touched upon the training levels at length in our beta impressions, the Paris mission is an absolute gem. You'll find yourself immersed in details and opportunities. We found ourselves playing through the level several times just to see how many different ways we could assassinate our targets - two leaders of a spy ring called Iago, who were masquerading as clothing brand magnates at a fashion show. There's a welcome amount of incidental storytelling to be discovered and the pay off for exploring every option is generous, at least until IO Interactive finds a way to lock that behind an always online requirement too.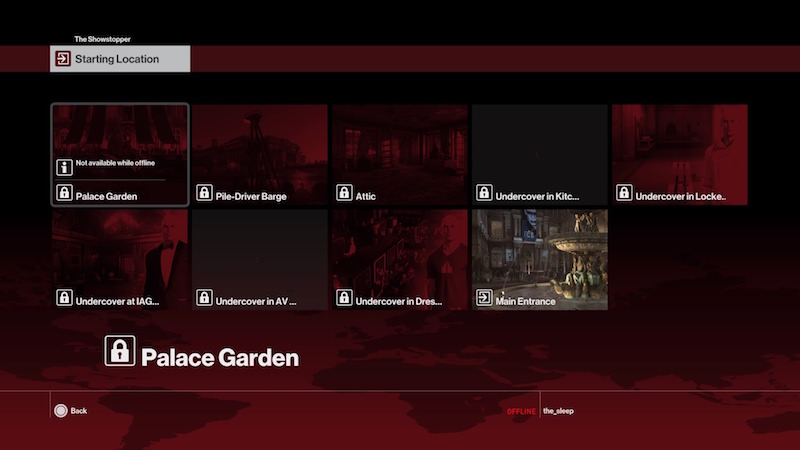 We spent around five hours playing through the level again and again, discovering new ways to go about ending our marks. From dressing up as a waiter to poison their drinks, to hijacking the garb of the event's guest of honour, thereby getting access to almost every square inch of the mission's sprawling palace grounds, there are a host of different methods you can employ, living up to the game's promise of a world of assassination. There a few quirks though: the gunplay is remarkably weak and the game's hint system - perhaps to cater to newcomers to the series - ends up doing more handholding than most purists would like. Thankfully, it can be turned off.
Technical issues still remain though. Hitman's first episode can barely handle 30 frames per second, let alone 60. The option to cap it at 30fps exists on all platforms, but it still manages to go below that in certain situations. The PC version promises DirectX 12 effects but truth be told, it doesn't look much better than what we experienced on the PS4. Loading times are also an issue on all platforms, unless you have a solid state drive on your PC.
At its core, Hitman is a worthy entry in a series that's been consistent. However it's hamstrung by way one glaring problem. The game's need to push you online and punish you for playing without an Internet connection is appalling. Coupled with frequent server disconnections, there's no way we can recommend Hitman at this point in time. Hopefully IO Interactive and Square Enix get the message from the slew of negative customer reviews on Steam and public forums and fix things. Until then though, you're better off waiting.
Pros:

Fantastic amount of detail

Seemingly infinite choice

Promising plot
Cons:

Always online DRM locks out single-player content

Poor frame rate

Weak gunplay
Rating (out of 10): 6
We played a review copy of Hitman on PS4 and a retail copy on PC. The first episode is available digitally right now with five more slated in months to come. It will be out on disc early next year.
Affiliate links may be automatically generated - see our ethics statement for details.