It's extremely likely that regardless of the score at the end of this review, you already have an opinion on FIFA 16. Publisher Electronic Arts (EA) put out a demo earlier in the month, the full game was available this week as a free 10-hour trial via the Xbox One's EA Access program, and street date breaks resulted in copies available early in many a retail store (which is how we got our copy). This is why some of you already know if you are going to buy FIFA 16 or not, if you haven't already. If you're looking for validation or a reason to rage, go straight to the score below. As for the rest of you, who are still deciding whether you want to play FIFA 16, keep reading.
(Also see: FIFA 16 Player Ratings: What You Need to Know)
Every year, developer EA Sports tries to justify the need for you to buy its latest football game. We've seen a lot of these annual changes, both big and small. From the monumental jump between FIFA 08 and FIFA 09, to the subtle presentation-focused improvements of FIFA 15 over FIFA 14, there's always something afoot.
The big difference this year is the game's pace. FIFA 16 is slower. Even after installing the day one patch that EA released. Fans of the series might feel it's a step down from what they've been accustomed to. During our marathon sessions across game modes, we've come to the realisation that this change gives you a little bit of extra time to think in FIFA 16. It is crucial as it lets you consider different ways to approach your game.
(Also see: FIFA 16 Could Make It to India on Time)
This is a far cry from older entries in the series that had you passing the ball from one player to the next, almost ricocheting off them as if it were a game of pinball, with the sole objective of blistering through the pitch and knocking the ball through the back of the net.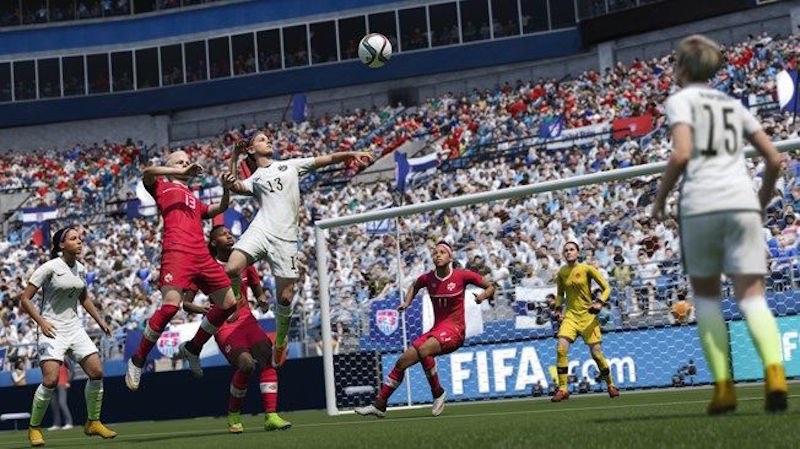 With FIFA 16, you are rewarded for building up an attack carefully. Regular passes are slower and you can opt for a faster pass with the trade-off being that the receiver will find it tough to control the ball. Rather than trying to best your opponents with a sheer burst of pace, you'll have to outthink them, making crosses, passes, and tackles more important than just running past the opposition. You'll spend a lot of time fighting for possession in the midfield, making each move count.
(Also see: FIFA 16: Why EA's Newest Belongs to the PS4 or Xbox One, Not PC)
In the past, you could cobble together a team based a player's speed attributes alone. Now it feels like the other statistics, such as strength, finally play a role, and are actually more important at times. Defenders with high strength attributes like John Terry can finally hold their own against quicker players like Theo Walcott.
Previously attempting a sliding tackle left you with just one opportunity to get it right before your opponent left you in the dust. A well-timed tap of the tackle button again lets your player pick himself up and take another chance at intercepting the ball. Your teammates will cover gaps as you chase down the ball and block points of attack. Thanks to tweaks to the defensive AI and an expanded move list, having an advantage in terms of pace alone isn't enough to get the better of a defender.
Compared to the demo, crosses and headers aren't as laser-guided or precise as they were. That's a much needed improvement in our opinion, as it ensures your attacks aren't overpowered. Taking on the goalkeeper in one-on-one is challenging as well, making for tense encounters. Though we should point out that it is still possible to score goals from unlikely angles at a rate that's way higher than in the real world.
Apart from this, FIFA 16 has a trainer option we liked. Click the right analogue stick in a game and it shows you button prompts for various moves. You can configure it depending on your skill level, to show basic moves like a short pass, or more complex things, like a chipped shot or a nutmeg. EA Sports has managed to implement this in a way that never clutters up the screen. Of all of the changes, this perhaps makes FIFA 16 the most appealing to newbies. And if you're the sort who has been playing FIFA over the years, you just might learn something new.
One of the bigger additions this year are women's teams. They play a lot faster than their male counterparts, making it a completely different game altogether. They're restricted to offline tournaments and online friendly matches. In spite of their inclusion, you won't be able to use them in career mode or in any other portion of FIFA 16 which seems kind of silly. With only 12 teams to choose from and restricted to compete against other women's national teams, how EA Sports further builds on the introduction of women's teams in next year's iteration will be a point of interest. At the moment it seems like a cursory attempt at adding as many bullet points to FIFA 16 as possible.
(Also see: It Only Took 22 Years but FIFA Will Finally Have Women Players in FIFA 16)
Aside from enhancements to core gameplay, and adding women's teams, FIFA Ultimate Team (FUT) is back. This is a feature that lets you put together a ragtag team and turn it into a championship winning outfit. But doing so takes a lot of time and energy and involves acquiring players through card packs. Not so with another mode, FIFA Ultimate Team Draft. This mode lets you experience the best of FUT in just a few matches. You'll build a team, filling out each position and play four matches in a row to win rewards for your club such as rare players, boosts to attributes and coins that you can use in FUT.
In theory, it sounds great. FUT Draft seems like the football equivalent of side-quests in a role-playing game, letting you level up your club with sweet items in between rounds of FUT itself. The reality is a lot more disappointing. For one, everything is randomised. This also includes your in-game team formation. You simply may not be able to choose specific types like 4-4-2 or 4-5-1 because FUT Draft selects them at random. Secondly, the loot for playing is often pitiful. We won all four games of our initial FUT Draft offline and received a pittance of 2,000 coins and a few measly card packs that did not amount to much.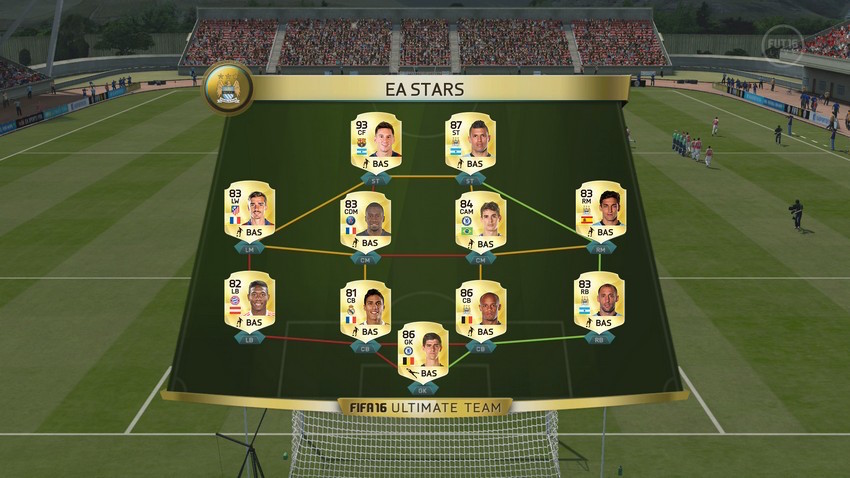 Playing online yielded equally poor results. The random nature of the mode combined with your skill level determines the coins you earn per match, but the experience did little to inspire confidence in its long term sustainability. Furthermore, due to the poor rewards, the entry cost of 15,000 coins or 300 FIFA points to play FUT Draft didn't seem justifiable, and left us feeling that the mode was a grabby, pay to win system. Hopefully this gets fixed with an update.
The career mode is still fun to play with some nice details like extra training for your team and friendly tournaments before the start of the season. Playing online was equally entertaining thanks to it being a smooth, lag-free experience with surprisingly fast matchmaking, though that was probably because not everyone has the game yet. Will it be the same a few weeks later? That remains to be seen.
FIFA 16 is an interesting beast. The core gameplay veers towards simulation with thoughtful ways that retool some of its most basic actions and your approach to a match, if you're a fan of fast, frenetic pace of play, this is not for you. However it's hamstrung with flawed execution to some of it's headline features like FUT Draft and women's teams. If you can look past these you'll find a competent football game that's worthy of your time and attention, at least until FIFA 17.
We played an early retail copy of FIFA 16 on the Xbox One. The game retails for Rs. 3,999 on PS4 and Xbox One, Rs. 3,499 on PS3, Xbox 360, and PC
Pros:

Balanced core gameplay
Smarter defence
Player stats actually make a difference
Trainer mode makes it accessible
Cons:

FUT Draft is unrewarding
Token addition of women's teams
Change of pace may not be for everyone

Rating (out of 10): 8