Far Cry 4 is an open world, first person shooter with two stories.
One is the narrative the game forces down your throat. This story is all about how you, as Ajay Ghale, a native of the fictional Himalayan kingdom of Kyrat returns to disperse your mother's ashes only to find yourself embroiled in a civil war. You end up siding with the Golden Path, a band of rebels against the kingdom's despotic leader, Pagan Min. While intriguing, this narrative pales in comparison to the second story, the one that emerges out of the choices the game gives you.
Suppose you were to take over a camp filled with enemy soldiers? You could do it in a stealthy fashion, picking off one by one. Or you could just go in guns blazing like in every other game. Or you could go crazy - hover above an enemy camp on a gyrocopter, jump out and parachute to the ground while the 'copter crashes into a bunch of soldiers. Amidst the chaos, sneak into an elephant cage and enrage a pachyderm to break free, goring anyone left standing - and in the chaos, hijack a nearby rickshaw, putting explosives in it and jumping out at the last moment as it hits a cluster of shacks.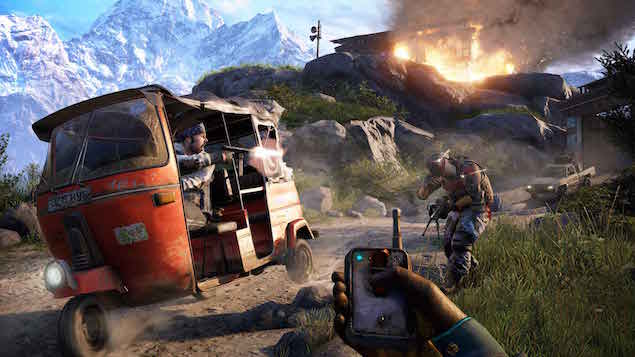 The ability to craft your own methods of succeeding in the game's many missions make each experience personal, fun, and a lot more immersive than the game's actual story, which in our opinion exists simply to let loose in a gorgeous open world replete with opportunities.
What Far Cry 4 lacks in linear storytelling it makes up for in sheer enjoyment. All of the game's many paths come together in a fashion that allows for emergent experiences which make it a huge, sprawling playground instead of your standard single-player campaign. The number of things you can choose to do make even bog-standard quests like rescuing hostages or laying waste to the seemingly endless hordes of foes, anything but repetitive.
The first thing that you will notice however, is how good Far Cry 4 looks. From the sunlight to the water effects, every single inch of Kyrat is glorious to behold. There are very minor instances of texture pop-in but by and large, it's a very good looking game, and quite possibly one of the better looking titles this year. Yes, the best parts of Far Cry 4 come from Far Cry 3. But that doesn't mean there isn't anything new or different.
Fresh setting, fresh experiences
There's a sense of freshness thanks to the game's mountainous setting. Earlier games in the series took us to tropical islands and the war torn African continent. This time around it's the fictional Himalyan kingdom of Kyrat. It's a land of forests, snow, and lakes liberally peppered with the crevasses and hills that you'd expect from such a region. There's a diverse range of flora and fauna, ranging from plants that can be used to make items, to bears that can kill you with a single swipe of their paws.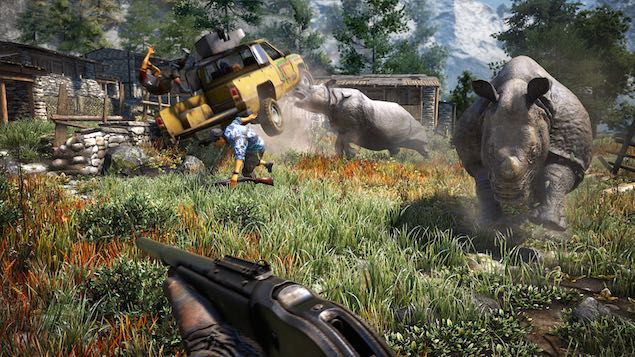 There's a nod to India as well with foes swearing the choicest cuss words in Hindi whilst under fire, autorickshaws to drive, the liberal use of Devanagari script in menus, and what sounded like Bhojpuri music.
New locale aside, the game also differs from Far Cry 3 in terms of liveliness. In Far Cry 3, captured areas became stagnant, and left you with no reason to return. In Far Cry 4, outposts that you capture can be retaken by the enemies, so it is important to keep coming back to areas and maintaining control to territories, and their crucial fast-travel locations. This isn't all. As you progress through the game's many missions you'll earn experience points that you can use towards unlocking new abilities. Most of these follow Far Cry 3's template to the letter such as letting you brutally kill your foes from a height with the tap of a button or allowing you to craft more potent healing syringes.
There's very little that's new or different in this respect, and the same applies to the missions themselves. You'll liberate camps, rescue hostages, and run riot along enemy bases. But this doesn't get stale, because you have the freedom to do so in a way that's completely up to you, whether it is by using stealth, going in guns blazing or using the environment to your advantage.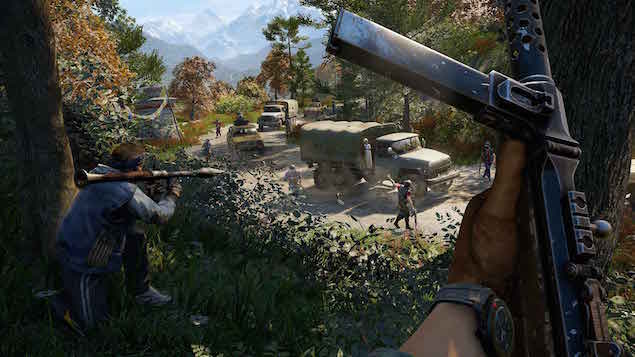 Each aspect of the game seamlessly integrates with the other parts. Whether it is the host of wildlife present or the myriad of transport choices available from the get-go make, Far Cry 4 is a vibrant experience that makes Kyrat a land ripe for the taking, even more so than Rook Islands from Far Cry 3. Where it really shines though, is how traversal from one area to the next is streamlined, versus prior entries.
From the beginning, gyrocopters, jeeps, rickshaws, and dirt bikes are all at your disposal, making travelling from one point to the next a cinch. With random events taking place across the game world that allow you to gain more experience and access to better items, you'll prefer spending time on the road instead of simply fast travelling from one point to another. Every element of the game is in sync with each other to make for a more refined experience. It doesn't evolve the core mechanics we know and love but polishes them to the point of perfection.
Karma coma
Far Cry 4 offers plenty of plot choices as well, which aren't just black and white. As you go about liberating Kyrat from the tyrannical Pagan Min, you'll end up having to choose sides between Amita and Sabal, the two leaders of the Golden Path rebels. Doing so opens up a specific set of missions and influences the game's story.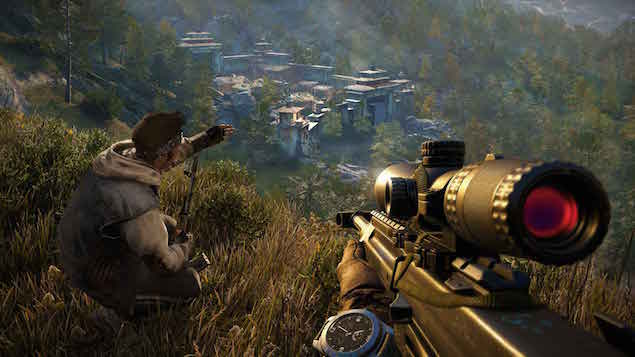 It's an interesting mechanic as it ensures variance and replayability. There are a lot of choices that come up as well - do you save your soldiers from certain death in the face of elite enemy troops or do you hunt for intel that could be crucial to your cause? This is just one of the game's many tough decisions it forces you to make. Choosing one makes you forsake the other. It isn't a binary black or white decision as it is in other games such as Fable and Mass Effect.
What is black and white though is the game's karma system. As you run and gun through the Kyrati wilderness, you'll be judged. Kill enemy soldiers harassing civilians and you gain karma. Needlessly slay friendlies and you'll lose karma. Good karma ensures better weapons, cheaper ammo, and lets you summon reinforcements to even out some of the game's tougher battles.
Verdict
With so much to do and so many ways to do it, you'll never get bored. It might not be the most original entry in the series but it's definitely the most fun. After all, isn't that what video games are about?
We played a retail copy of Far Cry 4 on the PlayStation 4; Far Cry 4 is available on the PC at Rs. 1799; Xbox 360, PS3 at Rs. 2999; and PS4 and Xbox One at Rs. 3499.