With Sony, Nintendo, and Microsoft having a gargantuan presence at Gamescom 2015 and grabbing most of the attention, it's easy to forget that the PC can hold its own. One such game that bears testament to this is Dreadnought. It's a space combat flight simulator by Yager, the developer known for Spec Ops: The Line.
The game puts you in the role of a captain of a variety of ships, ranging from nimble corvettes all the way up to the titular dreadnought, which is slow but deathly in the hands of a capable player. We spent some time with Dreadnought's deathmatch mode demo at Gamescom 2015, and came back impressed.
(Also see: Gamescom 2015 Day 5: Super PCs, Dreadnought, Video Games Live, and Retro Fun)
One of the biggest pain points in space games is allowing for vertical movement, and letting the player ascend and descend at will. The first thing that hit us when playing Dreadnought was how easy it is to control the ships. In addition to this, each class of ship is easy to get the hang of. We started our session piloting a fast-moving corvette. The ship is equipped with a "warp-drive" that lets us teleport across short distances of the map.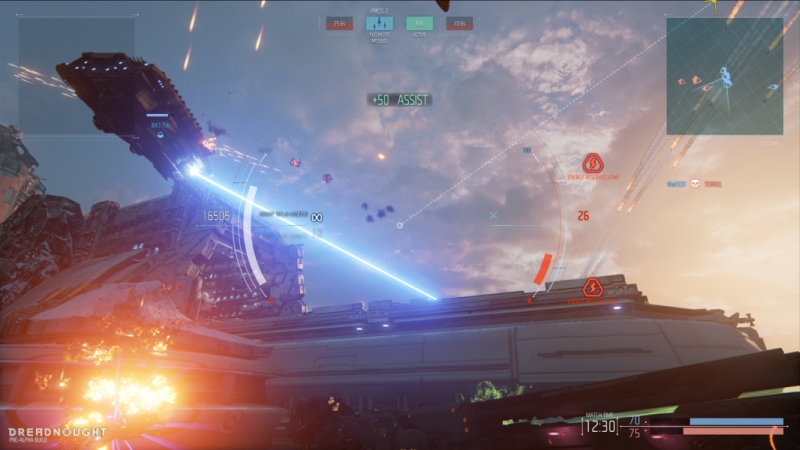 Being the quickest ship in the game, we found ourselves regularly getting up close and personal against our slower opponents, engaging in hit and run tactics with ease.
Later though, we checked out the dreadnought class ship. It moved at a snail's pace across the map, but we devastated every other ship with well-timed nuclear strikes and heavy flak turrets. The corvette and the dreadnought are the two extremes of ships you fly in this game, and both were a treat to pilot, thanks to responsive controls and a user interface that does a solid job of teaching you how to play.
(Also see: Just Cause 3 Preview: Everything Is Better With Explosions)
And interesting aspect of Dreadnought is that the pacing is much more deliberate than most deathmatches, and it gives a fighting chance even to those who don't have the fastest reflexes in the galaxy.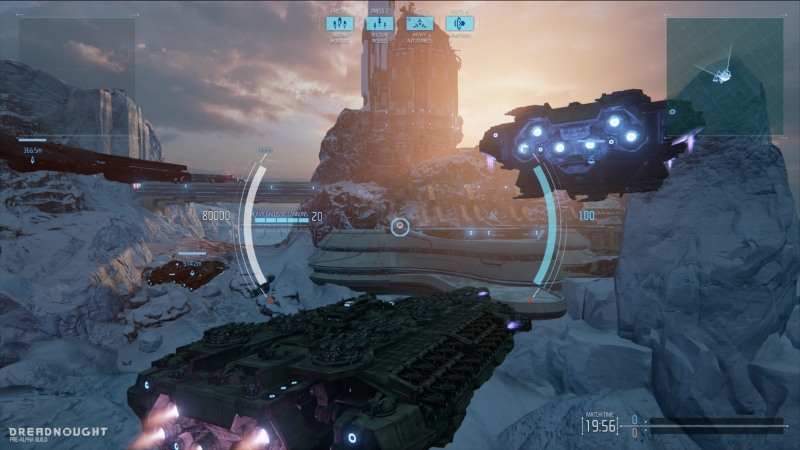 Due to the slower pace of combat, you'll be forced to think more strategically. You have to know where you want to go on the map, and how you're going to approach different scenarios, before getting there.
The Gamescom demo had only one playable map, and Dreadnought is still in alpha, but we still had a lot of fun playing the game. There was a Team Fortress 2 type of quality to the proceedings, with each class having unique properties but all of them being fun.
Although there was a lot to see at Gamescom, this game was so engaging, we found ourselves getting back to the start of the line to play it a second time.
(Also see: Mafia 3 Is Out in 2016. Here's All You Need to Know)
However there are still some unanswered questions. The game is slated to be multiplayer first, but there is an episodic single-player campaign as well, with the narrative helmed by Dan Abnett of the Guardians of the Galaxy fame. This was announced in 2014, but we've heard or seen very little since.
This aside though, Dreadnought's multiplayer mode was evenly balanced and had us clamouring for more. After all, Team Fortress 2 in space is never a bad thing.