2016 is the year of the first-person shooter. We've seen the likes of Superhot and Battleborn grace our screens already, with titles such as Overwatch, Battlefield 1, and Call of Duty: Infinite Warfare are yet to come. But there's one name that stands out above the others - Doom.
An entire generation grew up in the 90s playing the brutal first-person shooter series developed by id Software. Does this year's Doom live up to the franchise, or is it another damp squib looking to make good off a nostalgia-starved audience craving for something from their youth to hold on to?
Doom is a reboot of the series following the lukewarm fan reception to Doom 3. Much like prior games, the premise is simple: demons have made their way to Mars and it's up to you to stop them before they find their way to earth. Preferably with a shotgun to the face. There is a wealth of lore to immerse yourself in thanks to a massive codex that gains entries as you explore the game world, but it's completely optional, as is most of Doom's story. Having said that, if you choose to follow the narrative, you'll find it a whole lot more intricate than in prior titles.
But if you're playing Doom for its story, you're missing the point. It's all about the gameplay - there's a fantastic sense of speed and movement at your disposal. Much like the multiplayer beta, the rest of the game is deceptively fast. Also, there's welcome amount of air control, allowing you to change direction mid-jump, and you can double jump as well, which lets you access some of Doom's harder to reach areas. All of this results in a surprisingly fluid sense of motion, and makes Doom a joy to play.
And this isn't all; every classic weapon we know and love also make an appearance. The BFG, rocket launcher, plasma gun, and most importantly, the super shotgun, are all present and accounted for. They all have their own recoil and feedback, making every weapon feel unique and satisfying to use. After all, there's nothing quite like exploding an opponent into gibs with a few well-timed shots from a rocket launcher.
A wide arsenal aside, there are weapon modifications as well. Barring the chainsaw, super shotgun, and BFG, every other gun can have additional functionality. From the shotgun doling out explosive rounds, to being able to lock-on to targets with the rocket launcher, there's a wealth of options to customise your killing spree.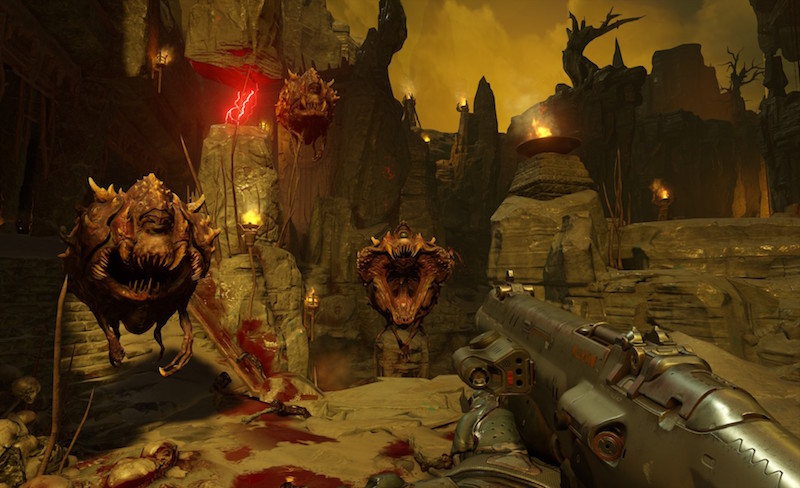 Or if you're an old-school fan, you can ignore them completely, as you can with the game's upgrade system which lets you max out your ammo, health, armour, or dexterity (to let you swap weapons faster) among other things. Another new feature is the glory kill system. As the name implies, it lets you eliminate foes in a fashion deemed as notable. And for a game like Doom, that usually means feeding a hulking monster its own organs.
When you whittle down a monster's health, it turns blue. Get close enough and it turns orange. With the tap of a button (or pressing down the right analogue stick) you can execute a glory kill. The benefit of doing this is gaining health, which is obviously useful when you're up against the hordes of hell. We found it to be an interesting feature that amps up an already ultra-violent game. It adds another dimension to the tried and true run and gun formula. At the same time, we can't help but feel that it makes the game a bit easier than it should be. That could be something the fine folks at id think as well, as you can turn off enemy highlights in the settings.
On the topic of monsters, there's a smorgasbord of them to defeat. From imps that serve as pistol fodder to grotesque cyberdemons that are a mesh of flesh and machine - Doom's enemy design never failed to leave us surprised. We'd seen some of these before, but seeing them in the id Tech 6 game engine makes them all the more impressive.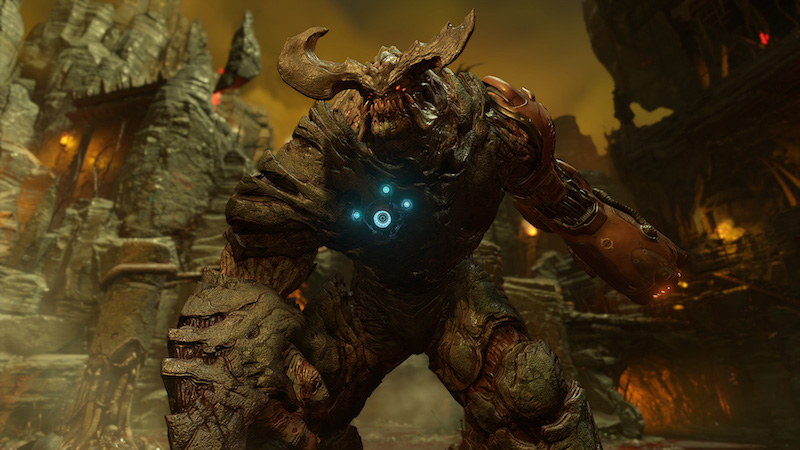 While the likes of John Carmack, John Romero, and Tom Hall - the original creators of Doom - have moved on from id, it's clear that the studio has enough employees who are fans of the series. From the sprawling environments of hell to claustrophobic corridors of research labs of Mars, the world of Doom is an absolute wonder to explore. The sense of pacing is consistent. There's a seemingly endless supply of monsters to kill in locales both small and big, each of them peppered with power-ups, health packs, and armour. These arenas are punctuated by areas that require you to find items such as key cards or skulls, which allow you to progress. There's a steady ebb and flow of platforming, exploration, and gunplay, which, coupled with guns aplenty and slick movement, give Doom a personality of its own. It rewards mobility and offensive play over crouching in a corner waiting to take shots at your foes.
What's remarkable is how Doom holds up even in its busiest sections. Despite being surrounded by multiple foes, all firing at us or chasing us down, the frame rate did not drop. And quite similar to our experience of the multiplayer beta, there was no tearing either. Instead, Doom on the PS4 looks fantastic in motion or otherwise.
Clocking in at roughly 16 hours, Doom's single-player campaign is long, and could be even more if you decide to uncover every secret it holds. Our only grouse is its price. With most games falling in the range of Rs. 3,499 on the PS4 and Xbox One, the asking price of Rs. 3,999 for Doom is on the higher side. The PC version fares a little better at Rs. 2,999 but is still double of what you'd pay for other new PC games.
Bethesda had the right idea in mind when it brought back Wolfenstein, and reviving Doom back after a prolonged spell in development hell is just as welcome. The game offers more than enough for fans to sink their teeth into, while it injects some purely-optional new ideas to keep in-step with modern games. All in all, Doom is a big, bloody gore-filled romp that is well worth experiencing.
Pros:

Wide variety of weapons.

Fantastic sense of speed.

New additions (like glory kills) are optional.
Cons:

Expensive compared to games from other publishers.
Rating (out of 10): 9
We played an early retail copy of Doom. It's available in-store and online for PC at Rs. 2,999 and on PS4 and Xbox One at Rs. 3,999.