By now you would've read our Doom review. You haven't? Go ahead, give it a read while we wait for you here. No seriously, we will. All done? Let's resume where you left - right at the beginning.
Like many early classics, Doom started its life on the PC. But we had every reason to be worried if 'Doom 4' will come to the platform, and if it does, how it will perform. Reason being, every chance it got, Bethesda showed off the game on the PS4. Granted it's a fantastic looking game on Sony's black box, but for many a gamer, it's how it plays on PC that matters.
Here's what you need to know about how Doom plays on the PC.
The system requirements are on the higher side
No surprise here, games developed by id Software have had a tendency to be intensive on hardware. Doom is no different. You'll need at least an Intel Core i5-2400 or AMD FX-8320, 8GB RAM and an Nvidia GTX 670 2GB or AMD Radeon HD 7870 2GB at the very least.
The recommended Doom system requirements are obviously even more beefy, what with an Intel i7-3770 or AMD FX-8350, 8GB RAM, and an Nvidia GTX 970 4GB or AMD Radeon R9 290 4GB needed to get the most out of it. In both cases you'll need at least a 64-bit edition of Windows 7, and 55GB of hard drive space.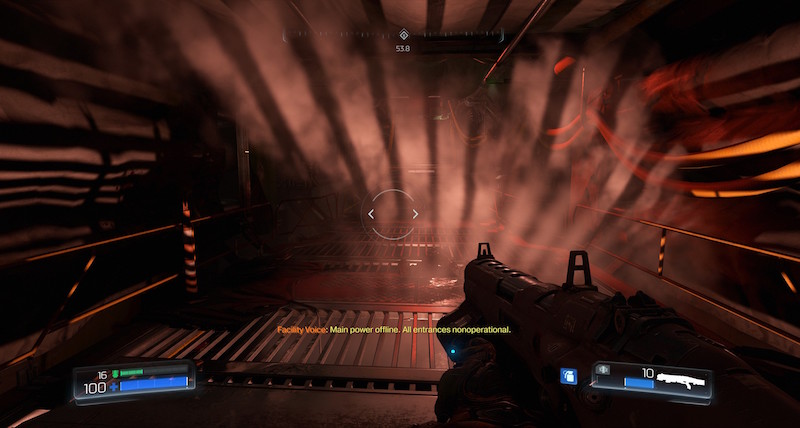 (Also see: Doom Review)
Like Fallout 4 and Metal Gear Solid V: The Phantom Pain, buying it on disc is useless
For some reason, only 5GB of data occupies the PC DVD that comes with Doom's physical copy, forcing you to download around 45GB of data. In the past publisher Bethesda has claimed piracy to be the reason for this, and while we have our doubts (as the game uses Denuvo DRM that's known to be uncrackable), it makes things a whole lot more annoying if you don't have a fast enough Internet connection and plan to play Doom on PC.
It has a wealth of settings
id wasn't kidding when it said PC gamers would be taken care of. On firing up Doom we were treated to a host of options. You have obvious ones such as anti-aliasing and field of view (FOV), which defaults at 90 and goes up to 130, allowing you to see more of the game world. There are also some welcome additions such as colourblind mode and the ability to turn off the game's heads up display (HUD) and UI altogether for a more immersive experience. That aside, you'll be able to tweak shadows, lighting, reflections, and even choose what filter you want to apply such as giving it a grittier or cinematic look aside from the default option.
Those with weaker PCs chasing a stable frame rate will find the resolution scale option to be extremely helpful. What it does is render the game at a lower resolution that is then upscaled to current resolution you have the game set at. There is a penalty to image quality but it won't go amiss considering how busy things get with monster and gore galore.
Doom is gorgeous on high-end machines
This time around our test PC fielded the following components:
Intel Core i7-6700K CPU at stock speed

Asus B150 Pro Gaming/Aura motherboard

Galax Nvidia GeForce GTX 980Ti HOF 6GB

2x8GB of Kingston 2666MHz DDR4 RAM

256GB Samsung SSD 950 Pro SSD

Corsair RM650 power supply

BenQ X3501 monitor

Windows 10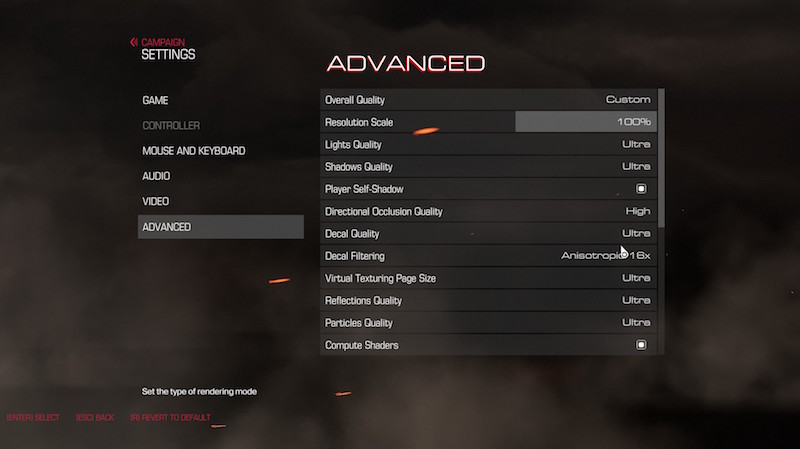 Firing it up at 1920x1080 with all settings maxed out resulted in a game that looked on par with its console counterparts. However it felt a lot more fluid thanks to a frame rate that hit a high of 170, dropping to around 155 in busier sections. At the monitor's default 2560x1080 resolution we saw a steady 100fps for most part, which dropped to the mid-90s when the action spiralled out of control and there were explosions everywhere.
Using Nvidia's Dynamic Super Resolution allowed us to render the game at 3620x1527 pixels at roughly 55 to 60fps, hitting 49 when a lot was going on screen. Taking it up a notch, playing the game at 5120x2160 (squarely in between 4K and 5K resolutions) we got a respectable 35fps, dropping to a low of 27 at the very worst. Still quite playable. Doom looks a lot better the moment you pass the 1440p resolution threshold, complete with intense lighting and smoke effects that are muted on its console counterparts. Combined with a consistent frame rate, it appears that the id Tech 6 Game Engine scales remarkably well.
On PC, Doom is almost perfect
Like nearly every PC game these days, Doom isn't perfect. Although it is close enough. Some niggles include its menus. They are not as easy to navigate with a keyboard and mouse as they are with a controller, which allows you to skip between sections with the tap of the button. Instead you have to use the mouse to click on the icons of each section such as your map, arsenal, and runes. It's not intuitive enough and does make the entire process of checking the codex or upgrading weapons cumbersome.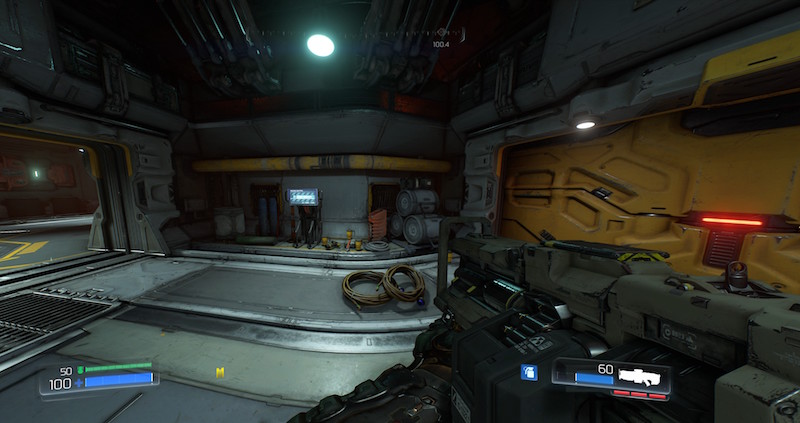 In addition to this, we noticed some image distortion when increasing the FOV. Setting it beyond the default of 90 resulted in squishy, distorted geometry of the game's architecture and aesthetics, something we hope gets fixed sooner rather than later. This was not an issue when we bumped up the FOV on the PS4 version of the game (yes, console games have an FOV slider now).
As it stands, Doom on PC is one of the more competent efforts we've seen in a long time. There's a more than tangible increase in terms of frame rate and image quality, and a slew of options to customise the experience if your rig can't max it out. Compared to earlier games based on previous id Tech engines such as Wolfenstein: The New Order, Doom is a pain-free, near flawless experience. If you have a choice between playing it on PC or console, the former should be the obvious choice.