With a month to go until Doom finally releases, we managed to spend quality time with the game's multiplayer beta. Like the E3 2015 trailer promised, the Doom beta delivered gameplay that harkened back to a simpler era of first-person shooters.
From blood-filled dungeons to cramped military installations, Doom looks like a shinier version of well...classic 1993 Doom (and to an extent Quake). Shards of armour, health, and ammo are strategically placed around the environment, and the speed of play is a whole lot faster than what you'll see in more modern games such as Battlefield or Call of Duty.
All classic weapons we know and love also make an appearance. The rocket launcher, plasma rifle, and most importantly, the super shotgun are all present and accounted for. They all have their own recoil and feedback, making every weapon feel unique and satisfying to use. After all, there's nothing quite like exploding an opponent into gibs with a few well-timed shots from a rocket launcher.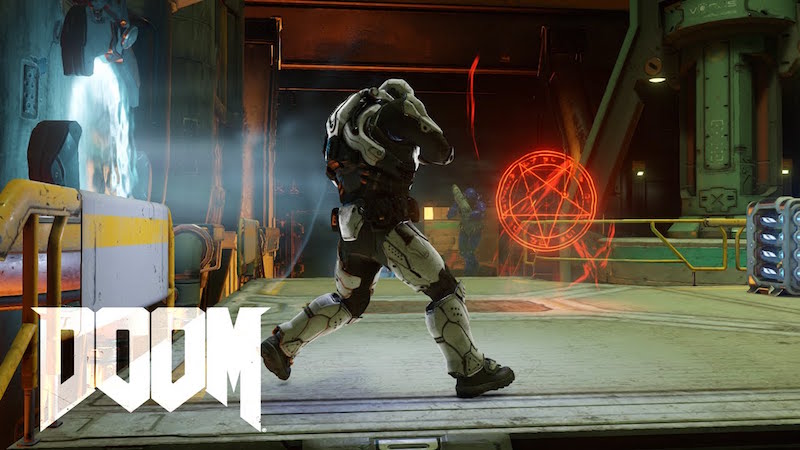 Furthermore, there are some new additions to the ancient, almost forgotten formula. This time around, you can clamber to higher areas, a first for the series. With consoles getting the game on day-one, this was possibly added to make traversal easier on the PlayStation 4 and Xbox One. In line with the changing state of multiplayer shooters, Doom (2016) limits you to two weapons (much like Halo) and lets you customise your load out, allowing you to pick a set of guns before respawning (not too dissimilar to Call of Duty and Battlefield).
This isn't all, there are Hacking Modules to augment your play style. When they were announced, we feared that these could devolve into a microtransaction-based layer that many full-priced games have today. But considering what they do, this doesn't seem to be the case. The hacking modules give you the ability to know how much health your opponent has, or simply to point you in the direction of bigger power-ups for a limited period of time. We found ourselves using the latter to set up ambushes for players hunting for power-ups.
One of the bigger draws of Doom is that its multiplayer mode gives you the ability to play as the series' iconic monsters by snagging a demon rune. Doing so allows you to turn into the Revenant, a gigantic rocket-launcher-toting, jet-pack-using abomination with buffed up health. To even things out, there are power weapons like the gauss cannon. Picking up one of these allows you to decimate the opposition with a single shot. Between runes and power weapons, id Software's found an entertaining way to balance the ebb and flow of a match, ensuring you're never quite out of the fight.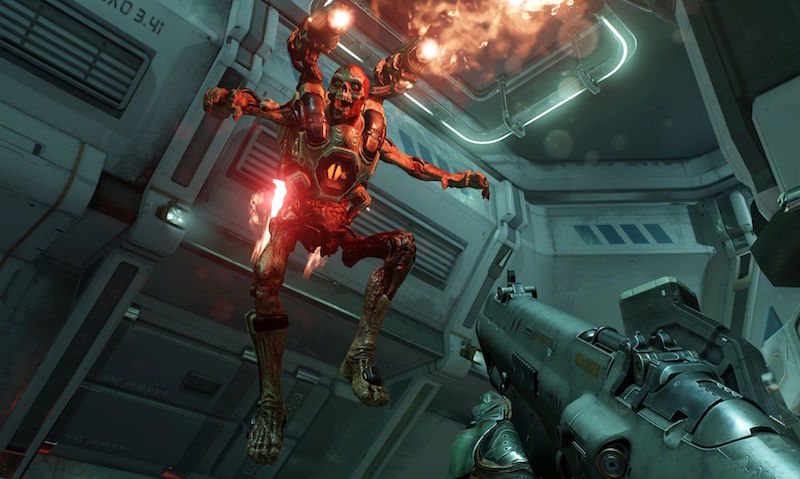 But while Doom appears to do a smart job of levelling the playing field, we wish we could say the same of the game's performance across the PS4 and Xbox One. On the PS4 we were treated to fluid, seamless gameplay that was for most part, a flawless experience. While the Xbox One kept up in terms of frame rate, we were on the receiving end of a copious amount of screen tearing resulting in a subpar experience. It might be 1080p and 60fps but didn't look as good as it did on the PS4. Hopefully this will change when the game is available at retail.
It seems that id Software still has employees from the era when multiplayer was synonymous with Doom and Quake along with Unreal Tournament, and that's not a bad thing. Our time with Doom's multiplayer left us optimistic about what to expect when the game hits next month. Hopefully id and Bethesda are aware that it isn't enough to simply release a game with a multiplayer component anymore. Rather, a steady flow of events, content, and modes are needed to keep the community interested. Right now, there's been no such announcement from either party. Doom is fast and fun, but in a world where Halo 5, Call of Duty: Black Ops 3, and Star Wars Battlefront rule the roost, is its old school charm enough to keep us coming back? We'll know for sure on May 13.