Dangerous Golf is Burnout Paradise without the cars, licensed soundtrack, or an open world. In place of those elements are flaming golf balls and rooms crammed with things to break. And yet, it's the closest to a Burnout game we'll get for now.
That's because Dangerous Golf embodies the Burnout franchise's penchant for chaos and destruction, mixed in with some highly stylised fun. From an American diner kitchen laden with pies, to an Australian petrol station, you're tasked with decimating everything in sight, much like Burnout's emphasis on crashes and car pile ups.
(Also see: Here's Why We Won't Be Getting a New Burnout Game Anytime Soon)
Playing Dangerous Golf is deceptively simple. Line up your shot, tap the button to swing, and you hit a golf ball with the objective of breaking as many items as possible, bearing witness to the spectacle. From chandeliers to gas pumps, they're all meant to be destroyed, and doing so increases your score. Cause enough damage, and the game opens up more areas for you to wreak havoc.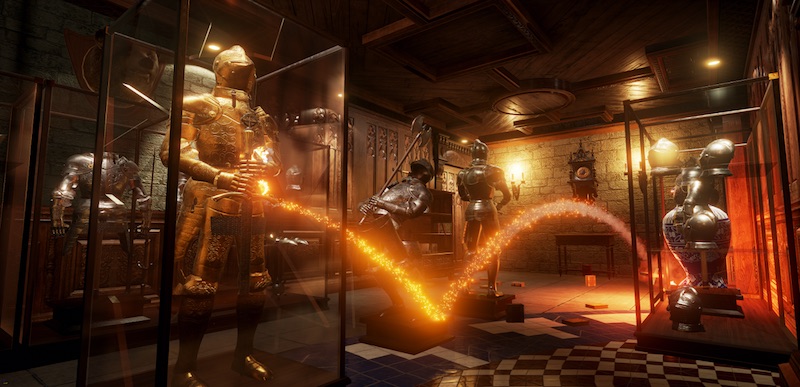 Your end goal is to destroy as many items as possible, with the least number of strokes for the highest possible score. Each course doesn't last longer than a few minutes but they're always filled to the brim with action. You'll scope out your environment, figure out where the flag is, and decide your approach. The way items are placed allows you to trigger a series of explosions like a giant puzzle made out of highly unstable nitroglycerin.
It's kind of like a Rube Goldberg machine but with a blazing ball and fragile furniture. The next shot after teeing off is usually a Smashbreaker. It lets you compound the damage by giving you a fiery ball with the physics and handling of a... rather bouncy tank. From closed doors to statues, nothing can stand in the way of a perfectly placed Smashbreaker.
This is coupled with the Smashwave - a new feature added in a very recent update for the game. The Smashwave allows you to cause more mayhem just before putting the ball into the hole, making it useful if there are obstacles in the way to the flag. Also included in the update is a tutorial, useful if you can't wrap your head around what to do in Dangerous Golf.
There's more than enough in Dangerous Golf to keep your interest piqued long after the initial few courses. Each stage has a different set of objectives aside from reducing everything to shambles - from lighting up a chandelier in a room, to ensuring a set number of pies in the kitchen are flung off a countertop. Meeting these goals adds to your final tally. To aid you are abilities that unlock as the game progresses, which include laser dot sights to help you putt better, and specific challenge modes to hone skills such as trick shots and ricochets, both of which go a long way in helping you cause chaos wantonly.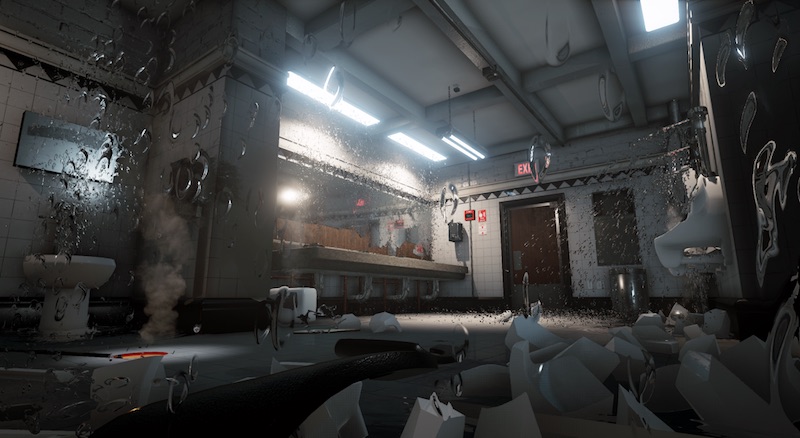 The steady pace of unlocks combined with a fantastic amount of destruction gives Dangerous Golf an almost primal dimension. There's a sense of raw destructive energies available to you, akin to Burnout, which makes it tough to put down. No surprise since the team behind it, Three Fields, also worked on the Burnout games. Controls feel appropriate for an arcade-like take on golf like this. For example, you can't adjust the power of your putt, and the ball blasts into holes with laser precision. It leaves you feeling that pressing a button causes explosive things - not bad for a game of golf. The absurdly exaggerated physics help this, what with pinball-like ricochets and hefty Smashbreaker handling.
Our only grouse is its loading times. Getting into a game takes a bit longer than we would have liked. Although waiting to retry a level isn't as time consuming.
With over a 100 courses across four locations, Dangerous Golf is a bombastic romp well worth its asking price. It might not have the feature set of bigger releases or their sense of scale but laying waste to a Hall of Mirrors in a French mansion never gets old.
Pros:
Easy to pick up and play
Glorious destruction
Surprisingly addictive
Cons:

Rating (out of 10): 8
We played a review copy of Dangerous Golf on the Xbox One. It's available digitally at Rs. 1,120 on the Xbox One, Rs. 1,480 on the PS4, and Rs. 565 on PC via Steam.