Listening to user feedback seems to be a recurring theme for video games this year. Be it grandiose statements from game makers at events like E3 or posts on Steam, it appears to be the buzzword of choice at the moment, on par with "micro-transactions", "free-to-play", and "open-world" as one of the more overused words in gaming today.
But what does this have to do with Call of Duty: Black Ops 3? Well, the game's developers at Treyarch have actually listened to what the fans were saying and there's no greater testament to that than Black Ops 3's campaign. Most games in the series limited the campaign to a quick five to six hour romp, meant to be a tutorial for the multiplayer, but Black Ops 3 has a much more engaging campaign for you.
(Also see: Call of Duty: Black Ops 3 - Everything You Need to Know)
The story missions are bigger than what we've come to expect from a Call of Duty game, and our playthrough lasted 15 hours. On finishing it, we were greeted by a secondary campaign known as Nightmares. It remixes the 11 sprawling missions we just played through, into a zombie apocalypse story. That's a bit of a cliche, but to our surprise, it was every bit as engaging as the main campaign.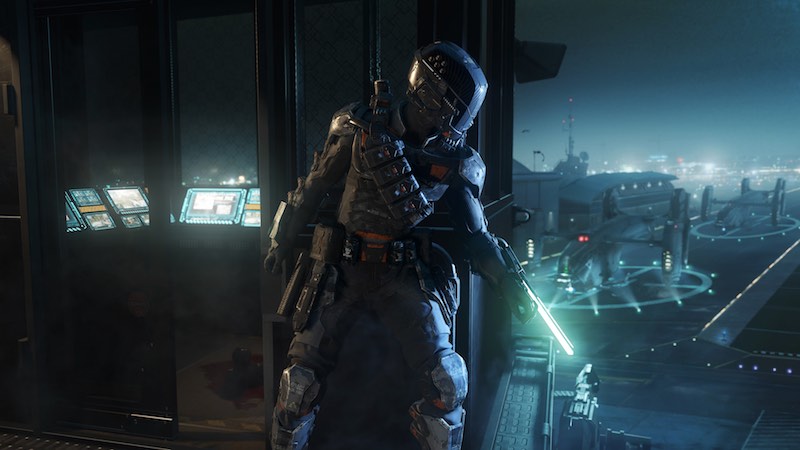 The campaign is also loaded to the brim with epic set-pieces and action sequences that live up to the series' reputation. Just when you think a mission would end, you'll realise there's an adrenaline filled third act to go. The best part? You never feel that its dragging its heels. In terms of pacing, Treyarch has done a great job. It rarely misses a beat and gets even crazier towards the end.
Without spoiling much, the plot starts off as your stereotypical military romp but evolves into something a lot more meaningful that manages to hold your attention as it progresses. The only criticism is that the voice acting is hopelessly deadpan - the actors (you can play as either a male or female character) barely seemed to emote.
(Also see: You Will Need a PC, PS4, or Xbox One to Play Black Ops 3 Single-Player)
Along the way you'll be treated to gameplay that's a mix of old and new. The guns work as they should in a Call of Duty game - you'll aim down the sights, lob grenades, and make use of cover. It is as fast-paced as previous entries in the series, and this is augmented by 'Cyber Core' powers. Black Ops 3 takes place in a world where soldiers are more machine than human, and this opens up new gameplay options. You can hijack turrets, make robot enemies explode, or send a swarm of nanobots, to blind other soldiers. The game also features improved traversal mechanics. You'll jump further, run off walls, and slide under obstacles with the greatest of ease. Compared to last year's Advanced Warfare, your character in Black Ops 3 feels a lot more agile.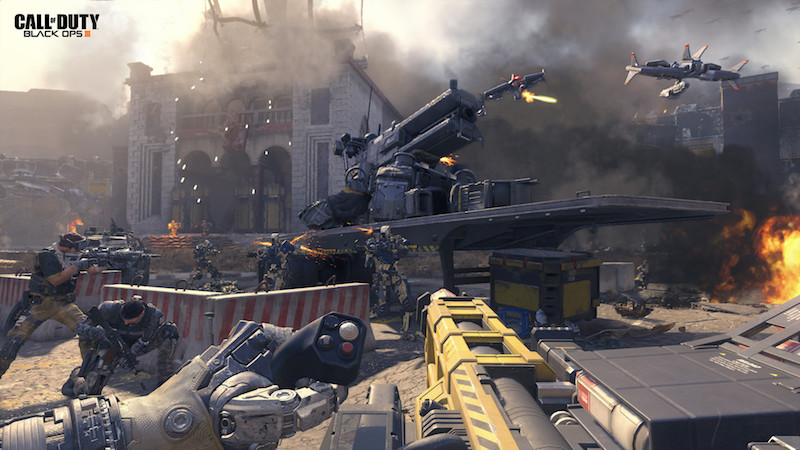 There's a sense of player empowerment as well. Earlier games in the Call of Duty series saw you sprinting from one check point to another to see what happens next. This is not the case here. You can pick your approach to an area with stealth being a viable option in more than a few instances, or you can pick off your foes from a distance, or simply use the environment (which seems to have exploding barrels aplenty) to your advantage. Along the way, you'll gain experience points that grant you access to new gear and guns, as well as the ability to unlock new Cyber Core abilities.
All of these additions, combined with familiar gunplay make Call of Duty: Black Ops 3 a deep experience. Our one grouse is the way Cyber Core abilities are implemented. Rather than tapping a single button, you need to use both R1 and L1 triggers. This stymies the pace of play because using the abilities means you can't shoot. This doesn't break the game, but it does make combat feel a little less immediate than it should be.
(Also see: Activision Expanding Call of Duty E-Sports Competition)
While the campaign was a surprisingly solid affair, the game's cooperative Zombies modes were equally entertaining, albeit with a single caveat: you really need to play this with others. Although they ooze charm thanks to stellar voice acting and elaborate presentation (unlike the main campaign) there's only so much variety in fighting through infinite zombie hordes. Playing it solo is dull and dreary. Throw in three friends though, and it's a blast through and through.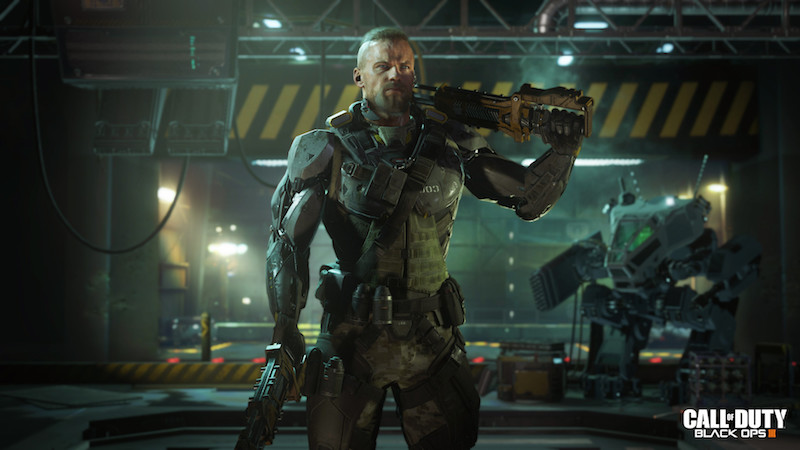 Speaking of friends, Black Ops 3's online multiplayer modes were what we've all come to expect. You'll go through the usual process of picking your weapons and abilities, and your 'Specialist', the character you're using (each of which has different Cyber Core powers). In multiplayer, you can't access your Cyber Core powers as many times as you want, and there's a waiting period between each use of a power.

Much like Destiny's super moves, these Cyber Core powers recharge over time, and have the potential to change how a match plays out. From being able to turn back time to giving the player explosive arrows, there's enough of a difference and personality to each of the specialists to give them all a try. The maps are a bit of an annoyance though. They lend themselves well to the improved traversal mechanics but reward tactics like camping (staying in one spot in an attempt to gain advantage over others) all the same.
Matchmaking itself was a hit or miss. Granted the game is only hitting most regions now, but even getting online, forget connecting to a match, was not always possible. And when we did get online, matches were fraught, thanks to bouts of stuttering. At one point while connecting, we were booted back to our PS4's menu complete with an error message indicating the game had crashed. To make matters even more annoying, if you find are playing the campaign online, then you cannot use the same save file to play offline.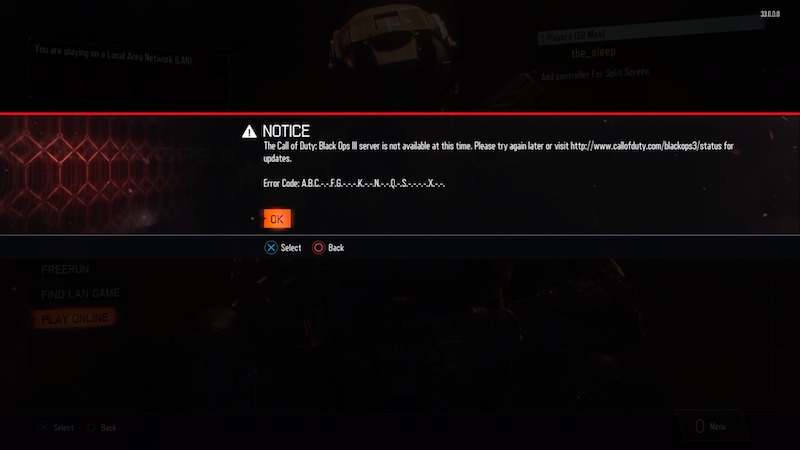 At the time of this review, this error on trying to connect online has been widely reported on Treyarch's forums. Hopefully, there's a fix soon.
(Also see: Futuristic Black Ops 3 on Mission to Boost 'Call of Duty' Franchise)
The online experience was a mixed bag, but Black Ops 3 is perhaps the most comprehensive Call of Duty game we've played in years. Buoyed by fantastic visuals and a steady frame rate, it's a gorgeous game that is fun to play. Whether you're a veteran of the series or a newcomer, there's more than enough content to warrant checking out Black Ops 3.
Pros

Sprawling campaign
Rewards different playstyles
Charming Zombies modes
Loaded with content
Cons

Cyber Core powers could have been implemented better
Online experience needs some work
Rating (out of 10): 8
We played a retail copy of Call of Duty: Black Ops 3 on the PS4. The game is available on PS4 and Xbox One at Rs. 4,399 and on PC at Rs.3,599. You can also play it on the PS3 and Xbox 360 at Rs. 3,499 but keep in mind you lose out on the game's campaign on those platforms