Brothers in Arms 3: Sons of War is one of the nicer looking iPad games we've seen recently. It is a freemium game, and that's a term that is going to have a lot of people wincing and losing interest already. But the good news is that the microtransactions aren't bad enough to take you out of the gameplay experience, unlike some other recent games from the publisher.
(Also see: In Defence of Games With In-App Purchases)
The implementation of in-app purchases isn't perfect here, but it is still possible to enjoy the game on its own merits. The first thing that you will notice about this game is just how good everything looks. Still images don't really do it justice, as you're able to focus on flat textures and odd lighting, but when you see the game in motion is looks amazing.
Set during World War II, Brothers in Arms 3: Sons of War follows a predictable and easily ignored story that sees you shooting, stabbing and blasting your way through huge numbers of Nazis, with an ease that would make Captain America envious. The settings and characters you come across are all predictable, but the quality of the graphics, coupled with how smoothly the game runs, is an accomplishment in and of itself. Considering that the game is free to install and play, it would be worth downloading just to check out how it looks in motion.
The actual gameplay on the other hand is very rudimentary. Although the player can move freely - using a virtual joystick on the left side of the screen - Sons of War plays out more like shooting gallery games such as the futuristic robot shooter Epoch. These games are also described as "on-rails" shooters, because the action proceeds along a fixed path like a train track, so that you can focus on lining up your shots instead.
The levels in Sons of War are small - typically lasting just about two to five minutes each, which is convenient for the start and stop gameplay you'll have on a mobile device. While they're often depicted as open spaces, trenches, fences and hedges will line the sides of your screen, locking you into a small, straight corridor. That's handy because movement in the game is fairly awkward. You control your movement by using the virtual stick, and while it works well for moving forwards and backwards, moving from left to right feels both slow, and imprecise. You can't outmanoeuvre your enemies, flanking them to deliver death, but despite that, the action feels solid.
That's because, once you are near a piece of cover, you automatically crouch behind it, and then you can swipe anywhere on the screen to aim the crosshairs, and line up your kills. Shooting is actually very satisfying, with nice audio design and a good selection of guns that all have their own characteristic sound, recoil and general feel when used.
These sections of the game shine, and the touch controls are simple and forgiving enough that even if you're not a gamer, you can play the game and enjoy the missions. Lining up headshots earns you more experience and uses less ammunition, but it's not difficult to do, and you can quickly get the hang of this.
While the game is put together nicely, it starts to come apart a little when you look at how it handles monetisation. As we already mentioned, Sons of War is a freemium game that is free to download and play, but there are multiple different freemium elements to the game. For one thing, starting a mission costs energy - you start off with a big energy pool and this keeps growing as you progress as well so it doesn't seem like a problem to start with. As you progress through the game though, the energy cost of missions goes up, and the enemies get tougher. Dying and restarting missions costs energy too, and, after a while, you'll likely find yourself short on energy.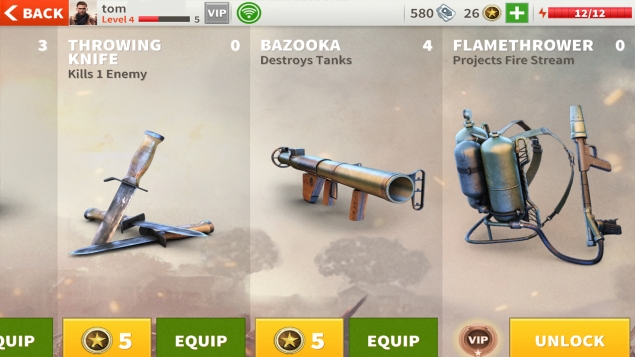 Some missions also require you to be carrying specific weapons - you can buy these weapons using currency earned in the game, but unlocking the weapons or upgrading them this way takes time. So, whether you want a mission to start right away or a weapon to upgrade quickly, spending a little money quickly becomes the solution. There are three different types of currencies in the game, and keeping track of all this becomes an inconvenience.
For publishers, IAP today represent an important monetisation strategy, but it's a fine balance between not making enough money, and ruining the player's experience. With Sons of War, the IAP is definitely prevalent enough to be annoying, but it's not game-breaking, and if you usually only play games for short sessions, then the different timers are not really a problem.
All told, Brothers in Arms: Sons of War is a fine looking game with very basic but enjoyable mechanics. It falls a little short in terms of its monetisation policies, but despite this, we would certainly urge you to try it out. You can download the game for free from the App Store.