An amusing fact about Battlefield 1's inception lies in EA's initial disbelief in the premise that a World War I game could be relevant. Nonetheless, thanks to the insistence of its developer Dice and a reveal trailer that won near universal acclaim, peppered with the odd leak or two in between, seems to have proven the publisher wrong. Well, at least initially, with a jittery multiplayer beta later putting EA on the back foot. Does the final release deliver on the hype or is it destined to join the AAA graveyard? Read our Battlefield 1 review to find out.
The first thing that hits you is how good Battlefield 1 looks. Regardless of your console of choice (or a PC, if that's your scene) you're treated to fantastic visuals that rival anything we've seen recently, which is no mean feat considering this year has seen Forza Horizon 3 and Gears of War 4 oozing eye candy. While the aforementioned games bring something different to the table thanks to their unique art styles, Battlefield 1 throws out all the stops to merge gritty photorealistic environments with stellar weather effects. 

(Also see: Battlefield 1 Open Beta PC Impressions: War on Error) 

From wisps of smoke emanating from guns to the subtle hues of dusk, there's a sense of freshness about the proceedings. This is due in part thanks to the proven Frostbite Engine and the premise itself that allows for a sense of variety beyond your bogstandard military shooter. Although we've seen games like Mirror's Edge Catalyst, Need for Speed, and FIFA 17 use the Frostbite engine with middling degrees of success, Battlefield 1 pulls out all the stops. 

The grandeur isn't restricted to looks. Much like Star Wars Battlefront, it sports excellent sound design. Be it the rattling fire of a machine gun or the ominous creaking of a tank in your vicinity, Battlefield 1 does a great job of putting a sense of urgency to the game. 
 Speaking of urgency, it's a term that applies to the single-player campaign as well. Taking place across several theatres of war, you'll take to desert lands, foggy forests, and even snow-capped mountains. Rather than tying you to a single story, each of Battlefield 1's missions have different protagonists. 

At its best you'll be assisting Lawrence of Arabia up against the Ottoman war machine including an armoured train, and at worst, you'll be scouring German camps in the countryside for parts to get your tank up and running as a British soldier. The sense of pacing is a tad inconsistent, with some frustrating sections that mar a polished effort. Coupled with some fantastic cut-scenes that string the narrative together, and an underlying sense of grimness, make Battlefield 1 a curious, multidimensional affair.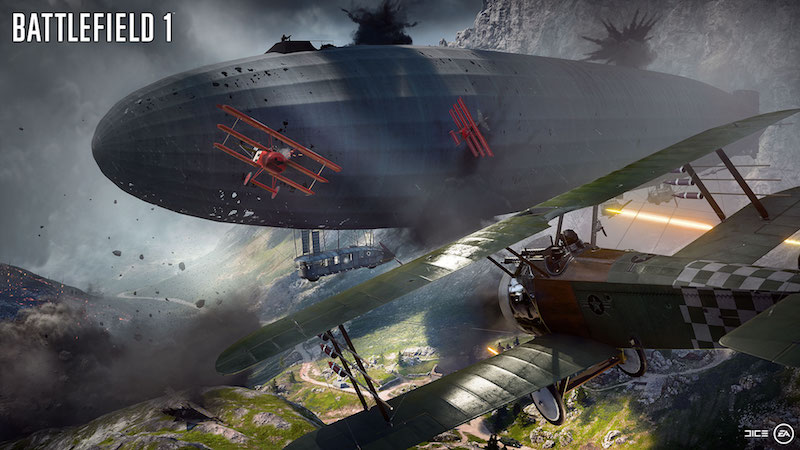 Instead of hyping up the enemy like other war shooters, Battlefield 1 prefers to shift the focus on humanising conflict by shedding light on its heroes - be it man, woman, or pigeon (yes, you even play as a carrier pigeon) - who face seemingly insurmountable odds. Borrowing stealth elements from Battlefield Hardline and sporting levels that seem well thought out, Battlefield 1's a solid effort that clocks in around six hours depending on the difficulty level you choose. 

(Also see: Battlefield 1 Price Dropped for India) 

When you're done with that, there's Battlefield 1's multiplayer. It comes with a host of modes including the usual favourites Team Death Match and Conquest, which has you capturing sections of the map. But the standout multiplayer mode is Operations, which takes place in actual World War I settings and stitches the action across multiple maps. One team is tasked with defending a location while the other has to complete a set list of objectives. The loser gets access to massive weapons of war the game refers to as Behemoths. These include zeppelins and armoured trains to level the battle field. There's a narrative to string together the passage of play, adding context to the action, much like the original Titanfall, except it feels a lot more fleshed out. 

With pressure on either side to up the ante - the last round's victor has to contend with reinforced opponents, who have to prevent all out defeat - what you get is a relentless back and forth between teams, making it a tense, yet completely compelling experience. 
 While it's yet to be to seen how the game's netcode plays up when subject to a larger audience, there's very little amiss with the multiplayer mode we experienced, which has responsive controls and a host of customisation options. Old-timers will notice the series' signature pace of play that hasn't diminished too much, while newcomers won't take long to get up to speed. Suffice to say, it's accessible enough without being pandering. And even when you are losing, the sheer chaos, great gunplay, and superlative production values do a fair bit to have you coming back for more. Of course, it's layered with the usual accoutrements of many multiplayer games, including a wealth of unlockables and a progression system to give you something to play for.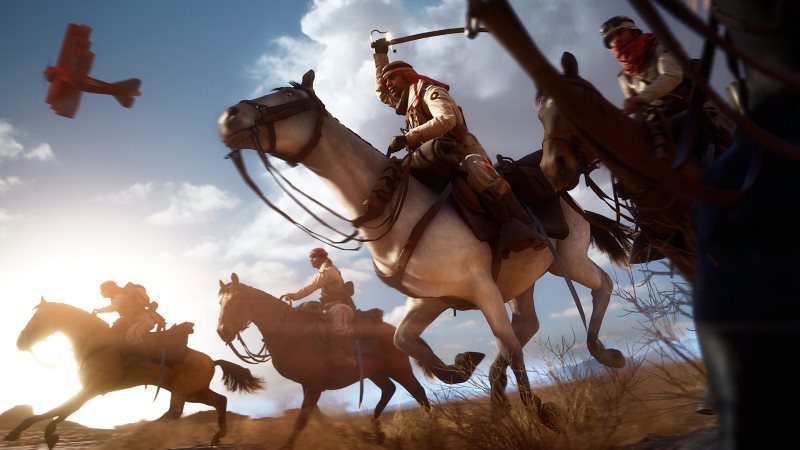 That said, we do have a concern. As we've seen with Battlefield 3 and Battlefield 4, Dice's track record of supporting its games is beyond question. However, with a road map of multiplayer downloadable content (DLC) planned, it makes Battlefield 1 a tough sell for first-timers. Reason being, to get the full experience, you'll be paying a lot more than the minimum of Rs. 3,375 particularly if you're in it for the multiplayer. The impact of not purchasing DLC means you would be cordoned off from what the rest of the community is playing, effectively reducing the number of people to play with. For now though, the base game is well worth the price of admission and we'd recommend waiting for deals on its Season Pass and other content before jumping in. 

All said and done, Battlefield 1 is slick, fresh entry in a franchise that helped pioneer the first-person military shooter genre. World War I has been thought of as the dawn of modern warfare and Battlefield 1 sets the standard of what to expect. 
 

Pros:
Looks great
Plays well
Interesting approach to single-player
Operations is awesome 

Cons
Fragmented approach to long-term multiplayer with added DLC cost
Single-player campaign pacing is inconsistent 

Rating (out of 10): 9 

We played a retail copy of Battlefield 1 on the PS4 and Xbox One. The game will be available from October 21 on the PC, PS4, and Xbox One from Rs. 3,499, Rs. 3,375, and Rs. 3,500 onwards.