Of all the games we played at Gamescom 2015, Battleborn stood out the most. After all, how many games put you in the shoes of a bowler hat and monocle-wearing robot that lets you bombard your foes with owls? Dubbed as Marquis, he's one of the 25 playable characters (or heroes as the game calls them) in Battleborn.
From a mushroom-like creature that wields poisoned knives to a birdman toting a rocket launcher, Marquis isn't the only unique hero in the game. The variety of characters is explained in Battleborn's backstory. All the stars in the galaxy have been destroyed and only one remains. This resulted in every species in the universe sending their chosen warriors to do battle against the Varelsi - the monster-like race responsible this calamity. It's a premise that allows mushrooms, robots, witches, and elves to go to war together.
Battleborn has been made by Gearbox Software, which is famous for developing the Borderlands games, and bears the companies hallmark cel-shaded visual style. Despite this, the game looks distinctive enough, and stands out from Borderlands. This is partly due to fresh character designs, interesting weapons, and varied environments. And then there's the tone; if Borderlands was a gritty graphic novel, Battleborn looks the part of a Pixar film in terms of art direction.
(Also see: The 7 Best Games at Gamescom 2015)

Furthermore, it sports some interesting gameplay mechanics under the hood. While Borderlands merged role-playing (RPG) with the first-person shooter (FPS) genre in a fantastic fashion, Battleborn merges FPS with multiplayer battle arena (MOBA). Yes, it's a shooter inspired by games like Defense of the Ancients (DotA) and League of Legends (LoL). What's more surprising, is that it works.
Our session involved a 30 minute cooperative match. Five players versus whatever alien monsters the game could throw at us in a mission that involved laying siege to enemy forces. What took us by surprise was how snappy and quick the pace of a match felt. By gunning down an assortment of bad guys, we leveled up and unlocked new skills, gaining new ways to slay our foes and aid our allies every couple of minutes. When we began, Marquis could snipe and launch a robotic owl. Towards the end we could slowdown time, unleash massive damage with powerful blast shots, and summon triple the number of owls we had to begin with.
Thanks to the fast-paced gameplay and quick levelling there was a sense of progress and achievement as the match wore on. In that sense, the game is a lot more immediately fulfilling than Borderlands, where the skill system can take several hours to unlock the same kind of changes in power. This perhaps is the biggest benefit of Battleborn layering first-person shooting with MOBA elements.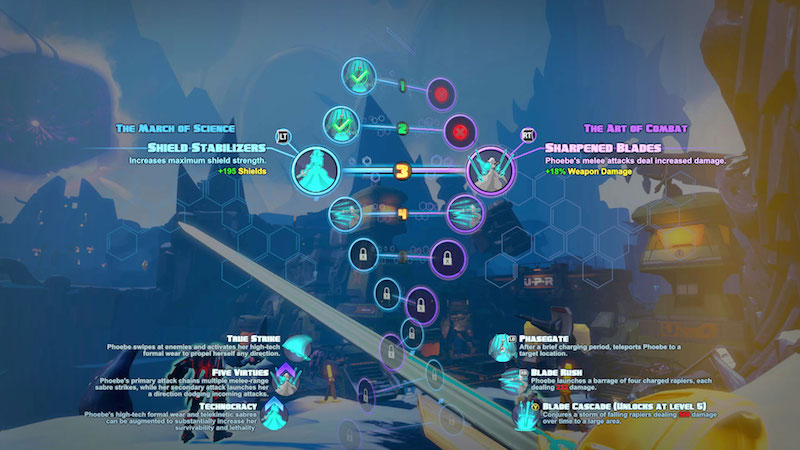 Much like how most MOBAs operate, at the end of a game you don't keep your skills. They are reset to the base value, and you do it all over again. There's an emphasis on team work as well. More often than not, we'd find ourselves slowing down enemies so other heroes on our team, like Montana - the game's equivalent of Team Fortress 2's Heavy - could rain down rounds from a gatling gun for massive damage.
In a presentation of the game prior to us checking it out, Gearbox's VP of Marketing Steve Gibson explained how learnings from Borderlands impacted Battleborn's leveling up and game systems.
"You probably chose, one , maybe two character classes in Borderlands. Did you play as all four? No. That's true for about 98 percent of the people who played Borderlands," he said. "They only played one to two characters. The reason for that is when you're playing through the story, you're five hours in, you don't want to switch classes and have to start over."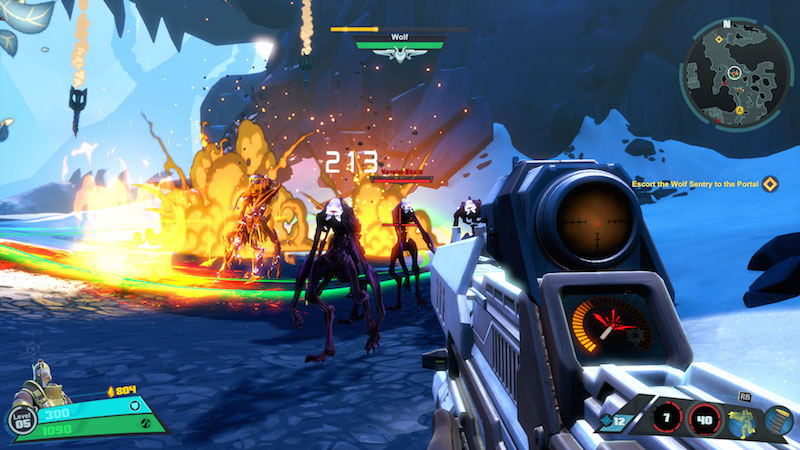 "You didn't actually get the experience all the character classes right? You got to experience the story but we kind of denied people the ability to play different classes," he added. "This is true for pretty much all of those action-RPGs. You're locked into your character. So we what we've done is we've actually tweaked that a little bit."
If our preview was anything to go by, it's a step in the right direction. With the game finally having a release date of February 9 next year, split-screen mode for PlayStation 4 and Xbox One, as well as a "narrative experience" you can play alone or with friends, it's shaping up to be one of the interesting shooters around.