If familiarity bred contempt, we'd be thoroughly sick of the numerous Assassin's Creed games over the years. Counting the various spin-offs, there are now over 20 games in the series. Despite this, Assassin's Creed Syndicate - the latest entry in the series - proves that there's still life left in Ubisoft's take on the open-world stealth genre.
The game puts you in the roles of Jacob and Evie Frye, twin assassins who are eager to reclaim London from the grip of the Templar Order. Similar to the first game in the series, you're not a rank outsider on the road to being an assassin, rather you already are one. This allows for a different narrative approach in comparison to the most popular games in the series, such as Assassin's Creed 2, and Assassin's Creed 4: Black Flag. Without spoiling much, developer Ubisoft Quebec has managed to weave a tale that manages to keep you interested from start to finish.
This is partially down to the fantastic set of characters you meet during your adventure. They range from the amusing, such as a pacifist cross-dressing policeman, to the historical, including Alexander Graham Bell. Syndicate's cast is its strength. The banter between Jacob and Evie goes a long way towards establishing them as likeable protagonists. In fact, they're good enough that you can overlook some of the game's rougher areas, such as its setting.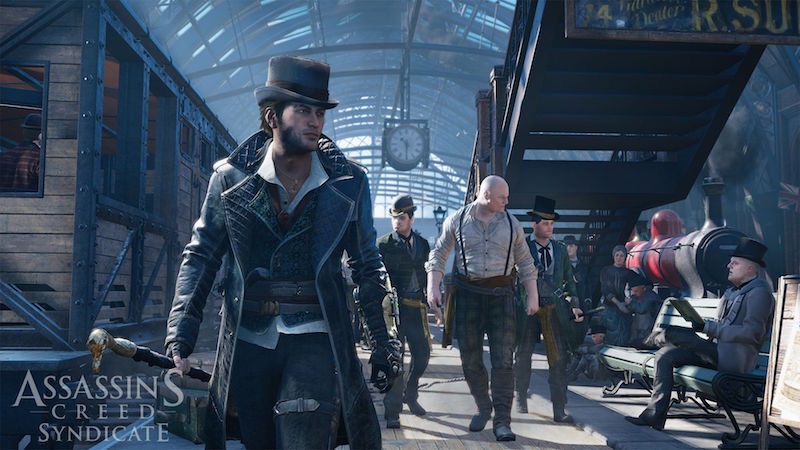 (Also see: Top 5 Assassin's Creed Games to Play Before Assassin's Creed Syndicate)
Much like its predecessors, most of Syndicate takes place in the past. This time you are in 1868 London. The city is in throes of the Industrial Revolution. You'll walk on cobblestoned streets, ride trains, and use horse carriages to get across what appears to be the biggest location for an Assassin's Creed game to date.
Syndicate builds on the scale of last year's Assassin's Creed Unity, what with its fantastic attention to architectural detail. However, while Unity's setting allowed for interesting ways to play such as social stealth wherein you could simply disappear into a crowd, you'll have very little of that luxury in Syndicate. This is because the non-playable character (NPC) count isn't as high as it is in Unity. Social stealth is a lot less viable now, and apart from this, the citizenry don't really stand out as individuals either. The streets of London feel barren and soulless as a result.
The sense of personality is absent and the art direction, while solid, lacks the vibrancy that was a hallmark of the previous games' environments. It's something that long-time fans will notice and it's a nagging point that will stay at the back of your head while playing Syndicate.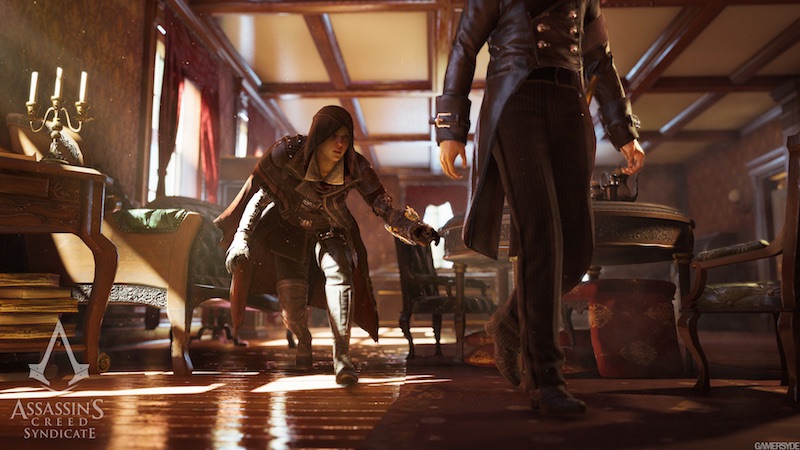 (Also see: A Tale of Two Assassin's Creeds)
Nonetheless, its failings in the setting are balanced out by some dramatic gameplay improvements. Traversal, stealth, and combat in Syndicate are all a lot faster than compared to earlier games in the franchise. Getting into cover is easy and getting out of it even more so, since you don't need to tap a button to exit. From one-button assassinations to zip lining across rooftops with a grappling gun, the moment-to-moment gameplay in Syndicate is quick, responsive, and a lot more fun than before. This also frees you up to experiment more in how you tackle the different missions.
And another plus is that there's a lot of variety in the game's main missions. Whether you're infiltrating an asylum, or fighting a gang war on a train, Syndicate pulls out all the stops. It's engrossing fare that will keep you playing. There's even an entire mission that's complete fan service for lovers of Assassin's Creed 4: Black Flag.
And, just like in most other open-world games, Syndicate sees you slowly unlocking and conquering territory to progress. You'll be conquering areas of London known as boroughs. To do so, you'll capture the highest vantage point, discover missions in the area and proceed to finish them one by one. These usually involve killing templar leaders, freeing child labourers, ridding choice locations of its gangs, or turning criminals in to the police.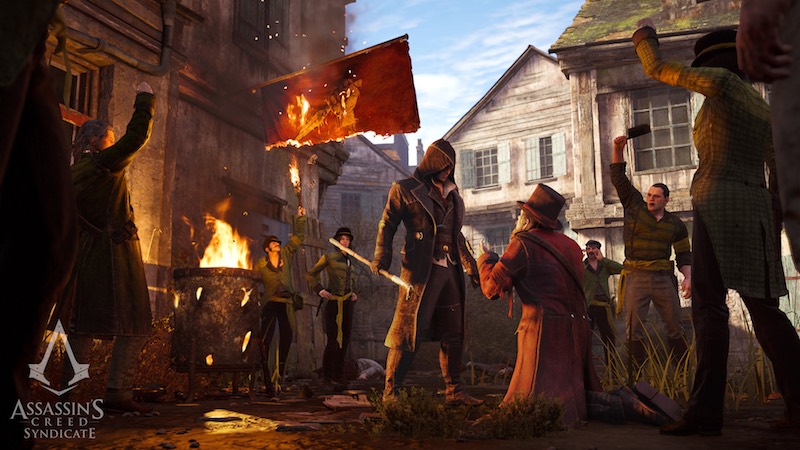 (Also see: Assassin's Creed Syndicate - 7 Things You Need to Know)
In contrast to the story missions, these missions to take over areas do tend to get monotonous after awhile, but they're crucial if you want to unlock some of the game's more powerful weapons and skills - which are specific to either Jacob or Evie. Both characters control slightly differently, with Jacob being better for for brawling, and Evie focussed more on stealth. It's evident in their fighting styles and traversal, and you're locked to either one of them depending on the story mission you're playing - you can't freely switch between them during a story mission, though you do get to choose between them for the various optional side-quests.
Thankfully, the differences between the two are not so drastic that you'll find yourself at your wits end thinking about how to beat a level, and the mission design is forgiving enough to give you with many ways to proceed by exploiting the environment. You could be releasing crates to cause unforeseen accidents, or shooting hallucinogenic darts at barrels of fire in order to turn an entire group of enemies mad, so there are enough options at your disposal.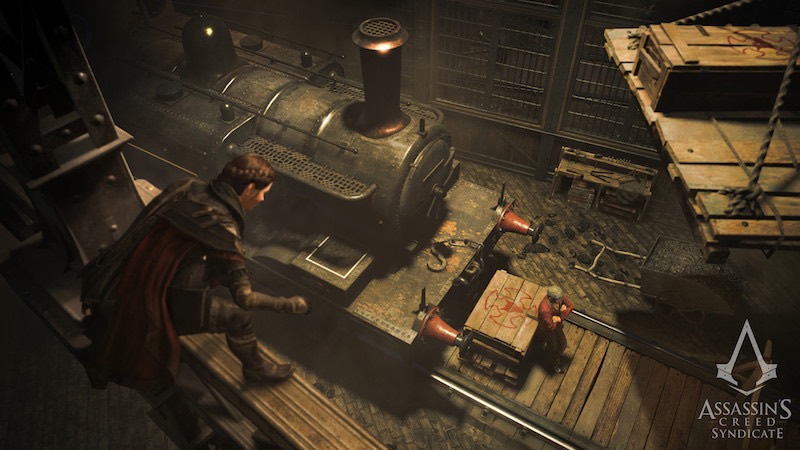 (Also see: Assassin's Creed Unity Review: An Almost Perfect Past)
One of the more interesting features of Syndicate is the ability to recruit gang members on various missions. It's handy when you want to complete an objective head-on or as a distraction, but by and large we found ourselves using subtler means of getting the job done, slinking around unseen.
In terms of performance, Syndicate holds up well. There was a single cut-scene that had Jacob and Evie missing, which we could not replicate as it worked fine on rebooting our console. This was after a 500MB patch and before another weighing in at almost 150MB. After applying the second patch there's very little that's overtly offensive in terms of tech. Usual suspects such as minor texture pop-in and a visible frame-rate drop in some of the game's busier areas were evident, and persisted through the game. Load times are long as well but there's nothing game breaking, which is a marked improvement over the early experience most people had with Unity.
All in all, Assassin's Creed Syndicate is welcome iteration in a series of open-world games that really should have overstayed its welcome by now. Improvements in the core gameplay and traversal, along with a host of great characters and compelling narrative offset its historical backdrop and technical concerns. It's not perfect, but its good enough to warrant a purchase.
Pros

Better moment to moment gameplay
Great characters
Compelling narrative
Varied story missions
Cons

London isn't as vibrant as other settings in the series
Glitches and long long load times
Rote side-missions
Rating (out of 10): 8
We played a review copy of Assassin's Creed Syndicate on the Xbox One. The game retails for Rs. 3,499 on PS4 and Xbox One. The PC version will be available on November 19 for Rs. 1,799