When the PS4 became first available, there weren't too many big budget blockbuster exclusive games to justify buying one. Rather, there were a handful of great digital games, and one of them was a voxel-based shooter Resogun from Finnish studio and long-time Sony collaborator Housemarque. It was a compelling enough reason to warrant switching on your PS4 long after the initial hype and hoopla of buying a new console wore off.
And while we can't say that the situation has rectified itself just yet, what with Sony's only big first-party exclusive game this year about a month away, you can trust Alienation to give you an excuse to dust off your PS4.
Much like its previous effort, Deadnation, Housemarque's latest is a twin-stick shooter. The game starts off almost immediately. There's little time wasted in exposition. Simply put, aliens have taken over the world and humanity has one chance to take it all back. In order to do so, you'll run and gun through a variety of scenic vistas such as the icy climes of Alaska to the jungles of Brazil, vanquishing anything that stands in your way. Most of the game's plot is an excuse to shoot aliens, so if you were expecting more in way of narrative, look elsewhere.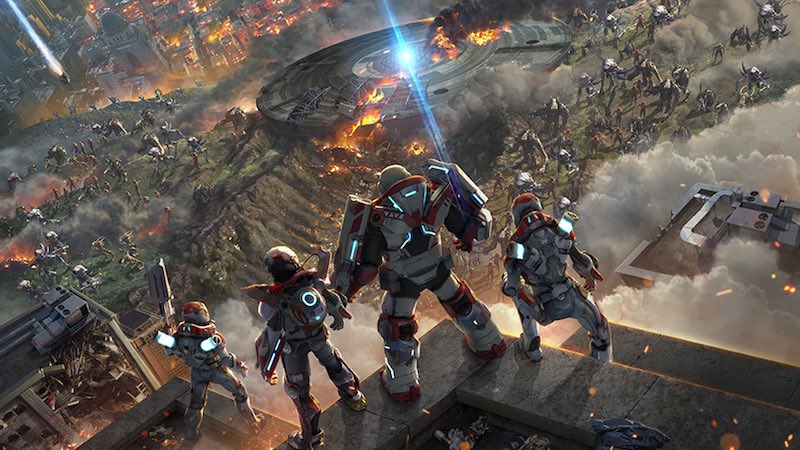 Thankfully, you won't be playing as common soldier. Rather you'll control one of three mechanised infantry suits, each with its own special skills and powers. There's the Tank, which focusses on sheer firepower and close-range attacks; the Saboteur, which can call in air-strikes and cloak itself from aliens; and the Bio-Specialist that uses nano machines to heal allies or decimate enemies from afar. Each of them play differently thanks to a suite of abilities at your disposal, making them worth trying at least once.
Along the way you'll wage war against seemingly infinite hordes of enemies. From lowly, expendable mutants, to spiders that explode into what appears to be molten lava, there's enough of a distinction in terms of enemy types to keep things fresh. It's complemented by well-thought out levels that ensure you're never too far from a power-up or a turret to help you stem the tide of war. To some, it might just be a top-down twin-stick shooter but it looks good too, with interesting looking enemies, neat weather effects, and a clean user interface.
All this would be for naught if the moment to moment gameplay was subpar. Thankfully this isn't the case here. The controls work as they should, movement is controlled with the left thumb-stick and aiming with the right. Tapping the right trigger allows you to unleash a barrage of firepower at your foes. It borrows from Gear of War with an active reload feature that lets you load rounds faster by clicking a button at a right time and there's a melee attack as well. But what's the most useful is the dash move. Tapping the left trigger allows you to blitz to or from a fire zone. We found this to be a lifesaver as the game has the tendency to throw an insurmountable number of enemies in your way. More often than it was handy to avoid being overrun. Layered over and above this are a suite of weapons and grenades along with surprisingly robust role-playing game (RPG) elements.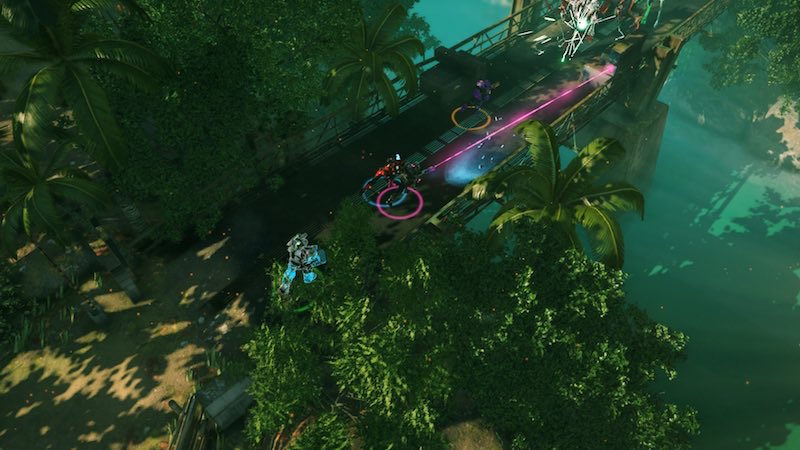 There are the aforementioned character classes, a levelling up system, crafting, and weapon upgrades. All of them go a long way to adding a significant amount of depth to the game, allowing you to be invested in crafting your character as you see fit. It's not as robust as say, Diablo 3 but there's more than enough to create something to suit your play style.
All of this comes together to deliver a barrage explosions. The game has a tendency to throw up fireworks every few minutes making things a lot more entertaining than they should be. Though the game does scale well enough if you plan to play it solo, you can throw in a few friends in co-op play too. Matchmaking was fast and online play was a lag-free experience. Inspired by Dark Souls, you can even enter someone else's game and cause all sorts of mayhem.
Alienation might appear like a fun little distraction but it's a lot more than that. With intuitive controls and a welcome sense of depth, it's an enjoyable romp that will keep you enthralled longer than you think you'd be.
Pros:

Great visuals

Interesting RPG mechanics

Explosions galore
Cons:

Rating (out of 10): 9
We played a review copy of Alienation on the PS4. The game is available for download at Rs. 1,498.