The last time we saw a flood of popular video game titles releasing for various platforms was in Q4 last year. Since then the industry has not given the gaming community much, with releases trickling out; we've had few major releases - the highlights include Assassin's Creed Unity, Assassin's Creed Rogue, Battlefield Hardline, Bloodborne, FIFA 15, The Crew, and a few others.
This year though, gamers can expect a deluge of titles, but the game I'm really looking forward to is Assassin's Creed: Syndicate. The series - developed and published by Ubisoft - has seen a number of huge hits, but annualised releases get a little predictable, and even boring. Syndicate, which releases on 23 October this year, could well break that trend.
Ubisoft has already announced the ninth main instalment of the Assassin's Creed franchise and has unveiled a gameplay walkthrough leaving fans like me super excited. The firm also released a new cinematic gameplay trailer at E3 2015 last week.
I'm not really an Assassin's Creed loyalist, and I haven't played all the nine games in the series. However, I have spent a huge chunk of my idle time playing many of them either on PC or consoles over the last few years.
Lead characters (plural!)
Assassin's Creed Syndicate has kept me excited for a several reasons. From what we've seen, the new game will have better animations, comes with more in-game features, weapons, stealth options, and a story that, according to me, stands out from what we have already seen in majority of the instalments.

Jacob Frye, the lead character of AC Syndicate, is also the first Assassin at the birth of the modern age in the year 1868, during the Industrial Revolution. What first stands out here, is that you can also play as Jacob's twin sister, Evie Frye (the first female player character for any of the mainline Assassin's Creed games). You might be thinking that we have already seen a similar setup in AC III, where users first play as one character (Haytham Kenway) in the beginning and a second character (Connor) in the later half. While that's true, you couldn't switch between the characters, and their stories didn't overlap freely; these were just two parts of the game. In Syndicate, you can play the characters "simultaneously", by choosing one of the siblings for each mission. The two also have their own unique missions, to keep things different and encourage you to replay the game.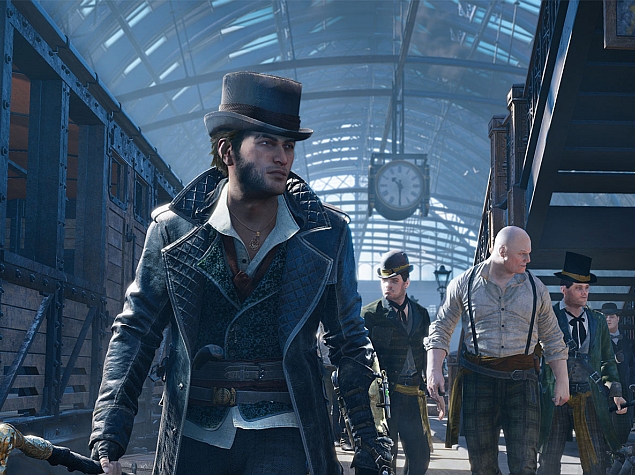 Graphics
Meanwhile, Assassin's Creed Syndicate's visual quality is likely to stay the same as AC: Unity and Rogue, as it is based on the same Anvil game engine. Despite this, Syndicate is visually superior to the previous versions, due to its very realistic animations.

Of course, the walkthrough video and the cinematic trailer seen at E3 2015 is the pre-alpha footage, which is not what users would finally see in consoles, but looking at the rotational weather dynamics and day/ night cycles, the overall viewing experience should be pleasing for the fans.
Even minor details, including character lip movements, reflections, and the smooth transition from a story animation video to the actual gameplay, make the game look surreal.
Story
Ubisoft has been doing a pretty decent job making Assassin's fight Templars across nine games. However, with Assassin's Creed Syndicate, Ubisoft this time has concentrated more on the gang wars and building an army of underworld gangsters to take control over a total of six areas or boroughs - Westminster, The Strand, The City of London, Whitechapel, Southwark and Lambeth - coveted by Templars. This is something different from the usual setup as the Assassin's this time only indirectly deal with the Templars.
The story also focuses on the struggle of Jacob and Evie to give the citizens back their boroughs from the Templar's rule. Even the side missions have been designed in a way that would reflect the fight for power in London, the hub of Industrial Revolution, and are cohesive to the main story of AC Syndicate.
Another reason that will give Syndicate edge over others in my opinion is the scale of the in-game world. London in AC Syndicate is supposed to be roughly 30 percent larger than the whole of Paris seen in AC Unity.

Features
What I am more excited about is how Ubisoft is going to use the tools of the modern age to introduce new features into Syndicate. There are a couple of things here I would like to try my hands on before anything else. First would be the new method of traveling faster using horse carriages. To me, what's more appealing is how the developers have made use of this particular feature.
While most of the times the carriages would be used just for travelling faster across destinations, gamers can also run them over enemies, hide inside them, or even jump from one to another while riding. Including carriages also makes perfect sense since the game map is larger than before and you don't want to reach every destination running, which can be a super turn-off for me at times.
Also, the rope launcher seems really cool, in more than one way. The rope launcher can be said to be an updated version of the "Lifts" feature seen in AC Unity that was only used to reach building tops. However, with rope launcher you can not only climb a building in nearly a second, but also zipline from rooftop to rooftop saving the time needed to crawl down and then up on the next building.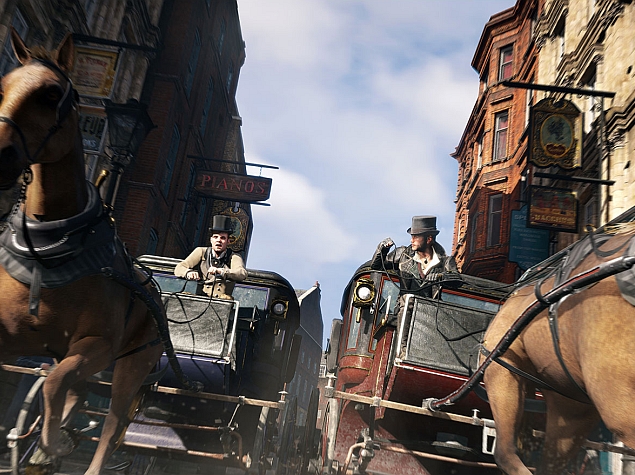 Lastly, the ability to use the environment to take out enemies is another one Ubisoft has introduced in Syndicate. We already have seen the feature in the walk through video where Jacob simply throws a knife on tied hanging barrels and make them fall on enemies standing below at the ground.
Final thoughts
Of course Ubisoft has not fully shown what it has got up its sleeve, and might do the same as and when the release date nears. For now, with October 23 as the deadline, Ubisoft has ample time on its hands to pack in more features and fixes in the final consumer version of Assassin's Creed Syndicate.
As for me, I hated the companion app feature in AC Unity and AC Black Flag and I'm delighted to see the same missing from AC Syndicate. Thanks to all these changes, I'm excited, and hope the title will do a good job of balancing stealth and action. I don't know about you, but I can barely wait for October.