As we reported, wrestling game WWE 2K16 is coming to PC next month. And while it's nice to see the game grace other platforms that aren't the PS4 or Xbox One, it's not coming in a form that many Indian PC gamers might find palpable.
Usually a retail release would imply that the disc would be available for purchase at a store. However it appears that all you will get when you buy WWE 2k16 at your local game outlet is a box with a Steam code.
"This is not anything new to be honest," a game store employee explains. "The publisher [2K Games] did this with their basketball game [NBA 2K16] as well."
It's puzzling considering the company's other titles like Borderlands 2, XCOM 2, and even the upcoming Battleborn will be available for PC on disc. In the past publishers like Valve have taken a similar approach to retail, forsaking optical media for printed codes. This could be worse - Electronic Arts for example, stopped releasing PC game discs for the region altogether and it doesn't sell printed codes either, forcing you to use its Origin digital storefront.
(Also see: PC Gaming Is Getting Better, but Publishers Are Getting Worse)
With simply a box holding a Steam code being all you get at retail, on the surface it seems like a poor deal for many a PC gamer. Even more so when it's available on Steam for Rs. 890. This makes buying it at a store more expensive by Rs. 109. Having said that, there's more to it.
"Have you looked at Steam's payment options?" an industry insider counters our question with one of his own before answering it himself. "It's still pretty bad. A lot of cards and methods aren't supported yet." This is a valid point.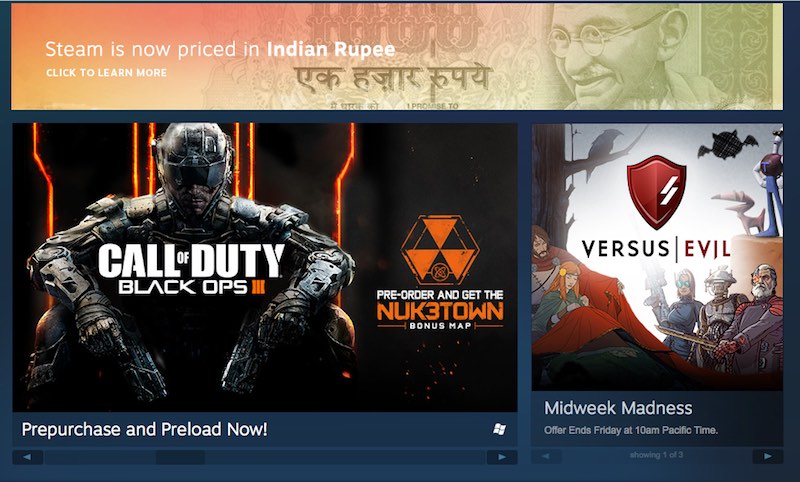 When you consider how poor Steam's support has been for payment methods, having WWE 2K16 available at retail as a code seems like a way to circumvent that. The WWE franchise is huge here as is organised retail. Boxed PC games are still a big deal in India as well. This is one of the handful of markets where a physical product still matters. But this alone does not warrant the cost of production of DVDs needed for a minimum order quantity we're told.
(Also see: Gaming Is a Niche in India Because Game Retail Is Broken)
It's a compromise of sorts that allows game stores to survive, while ensuring Steam has maximum reach and the publisher, lower costs in catering to a nation that's WWE crazy.
Smarter retailers though, are taking advantage of this, bundling in tangible freebies like T-shirts to sweeten the deal. Given the response to pre-order paraphernalia in the past, it's a canny way to ensure die-hard fans have a reason to not buy it digitally.
It also marks an interesting point in game retail and distribution in India. If WWE 2K16 manages to meet sales expectations, you can bet that others would follow suit. Namely forsaking discs altogether for a box with printed digits and hopefully, a little something extra.