The renewed interest in virtual reality was made possible thanks to the Oculus Rift, but we're seeing more and more headsets make public appearances today, and thanks to a Reddit user, we've now gotten a look at the latest VR headset from game maker Valve.
The headset looks pretty similar to the Oculus Rift (which was acquired by Facebook recently) and was being shown off at a virtual reality conference taking place in Boston on Tuesday.
Reddit user jonomf was one of the people attending the event, and shared detailed impressions and some pictures here. He is a game developer who is currently working on a game called CosmoKnots.
According to jonomf, Valve employees at the event talked about a VR experience for the popular game Dota 2, where you can see the game taking place on a table in front of you, "and you can bend down and inspect any piece of the action. They also mentioned a life-size Dota 2 experience where you're hanging out in a lane watching the heroes fight; they said it was very scary."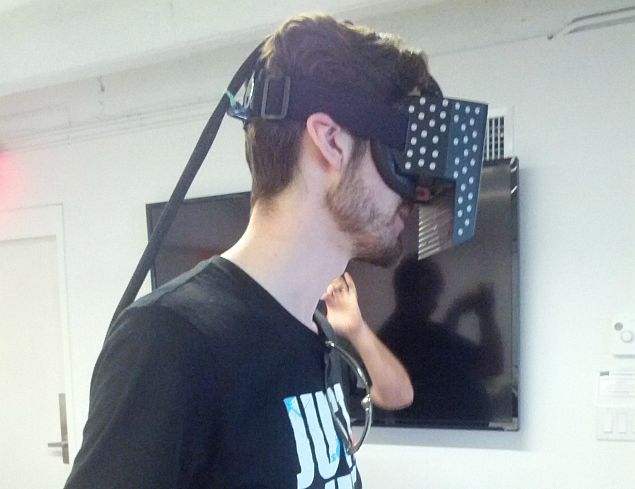 Valve was an early supporter of Oculus' VR efforts, and its own hardware is not expected anytime soon, but it was noted that the headsets use dual S4 OLED screens, running at a combined resolution of 2160x1280 pixels. The white polka dots on the shell are used to reflect infra-red beams, for accurate positional tracking.
There has been a lot of interest in VR lately, with Facebook acquiring Oculus being just one of the major developments. Sony has also unveiled a new VR technology it calls Project Morpheus and Samsung is reportedly launching a VR headset as well.
(Also see: Sony's Project Morpheus: Will 2014 be the year VR goes mainstream?)
All these developments will take some time to reach the market, and the Oculus Rift is likely to be the first commercial experience that most people will get to use. Oculus itself was not present at the Boston VR Jam, apparently because the company is now approaching deadlines to ship the next generation of developer kits. Hopefully, the road to bringing VR to consumers will also continue at the same pace - after all, it's only been two years since the company launched with its record-breaking Kickstarter project.
For the latest tech news and reviews, follow Gadgets 360 on Twitter, Facebook, and Google News. For the latest videos on gadgets and tech, subscribe to our YouTube channel.
Related Stories