Valve has announced SteamOS, going one step further towards bringing PC gaming into the living room. Said to be available "soon", SteamOS is an evolution of the Steam Big Picture interface, which made browsing the library / store, connecting with friends, and playing games easier for large screen users, and is the latest attempt to compete with Microsoft and Sony in what is traditionally the home console space.
SteamOS is described by Valve as a "free forever", standalone Linux-based operating system that's meant for the "TV and the living room." Valve on its SteamOS page says that in its efforts to bring Steam to the living room, it reached the conclusion that the "environment best-suited to delivering value to customers is an operating system built around Steam itself."
The gaming OS will be available as a freely licensable operating system for manufacturers as well, also inviting hardware similar to Steam Box set-top-box concept. Though the Steam Box is rumoured to be launched this week (September 25), Valve may not end up bringing the product itself to consumers, rather, it is expected to rely on partners' adoption of the SteamOS platform, via a hardware reference design.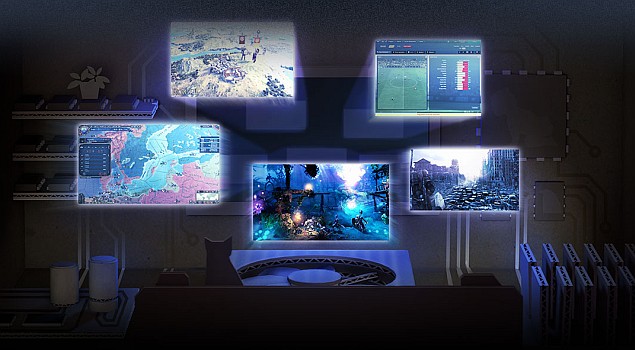 Valve mentions that developers are already embracing the SteamOS platform, with "hundreds of games already running natively" on it, and lots of AAA titles due by 2014. Specially optimized for gaming, SteamOS apparently provides significant graphics processing improvements compared to other OSes, and the company is working on audio performance and reducing input latency.
For those (thousands of) games that aren't designed for SteamOS, and work on Windows or Mac, Valve has introduced the "In-home Streaming" feature, which will be available soon for both Steam client and SteamOS. This will allow gamers to stream games from their computers to their SteamOS machine, which is connected to their TVs.
The Bellevue, Washington-based company has also unveiled three other new features for the Steam client and SteamOS, which will be made available soon. These include the much-anticipated 'Family Sharing' feature. Valve has not detailed this feature much however, saying "you can share the games you love with the people you love." It explains that family members can take turns playing one another's games, while each individual's achievements and game progress are saved to the 'cross-platform' Steam cloud. The "Family Options" feature will include the option to selectively display and share individual Steam libraries in the above setup.
To directly compete with the PlayStation and Xbox home console ecosystems, Valve is also working on bringing movies, music and TV content to both Steam client and SteamOS. This will of course be more relevant in countries like the US, where such digital content partnerships are more common. Valve says: "We're working with many of the media services you know and love. Soon we will begin bringing them online, allowing you to access your favourite music and video with Steam and SteamOS."
With its Linux-roots, SteamOS should be installable on an x86 system with the requisite minimum hardware (currently unspecified). We don't see many usable aspects of this feature though, unless you intend to use your laptop as a Steam Box-like device on the move, connecting it to any TV anywhere when you want to play your SteamOS games. For Windows / Mac games, you'll have to once again switch to the desktop client for the respective OS.

Of course, this setup would also allow the laptop to stream gaming and other content from your desktop to your TV, most useful if the desktop and TV are in different rooms, and you happen to have a laptop lying around.

On the other hand, if your desktop computer is close enough to connect to your TV directly, you might as well run Windows / Mac / Linux on it, and utilise the Steam client's Big Picture interface for large screen ease-of-use. Are the gaming-optimized performance gains of SteamOS sufficient cause to think beyond the x86 Windows + Big Picture setups? We'll have to wait and see on that front, for the first triple AAA titles to be made available for the new platform.

Valve had introduced the Steam client for Linux in early-2013. The Steam game distribution service debuted in 2003, and is today available in 185 countries and 25 languages. Valve calls Steam a "truly global platform", which along with SteamOS, will bring "entertainment to an audience without borders." The company asks users to stay tuned for more information. Check out Valve's SteamOS page for more details.
Affiliate links may be automatically generated - see our ethics statement for details.