Last week we reported that Uncharted 4's street date was broken in the UK what with the game available on eBay and CEX. Sony swiftly quashed any concerns with a post stating that copies of the game were stolen in transit.
With all eyes on Uncharted 4's impending release, we won't be surprised to see a street date break in days to come. And if some of the Middle East's more enterprising retailers are to be believed, the game will be available on May 2 or May 3, almost a full week before its May 10 release date.
The news comes via the Instagram account of a Dubai-based retailer by the name of gameguydubai. In the past he's been prolific in selling games ahead of their intended release date, having the likes of The Division and Far Cry Primal up for sale before publishers would want them to be.
His latest picture on Instagram advertises the availability of FPS-moba mashup Battleborn right now (it's out on May 3). Although comments from eager customers ask about Uncharted 4.
"I'm expecting on the 2nd or 3rd of May," he replied in response to queries regarding Uncharted 4's early release.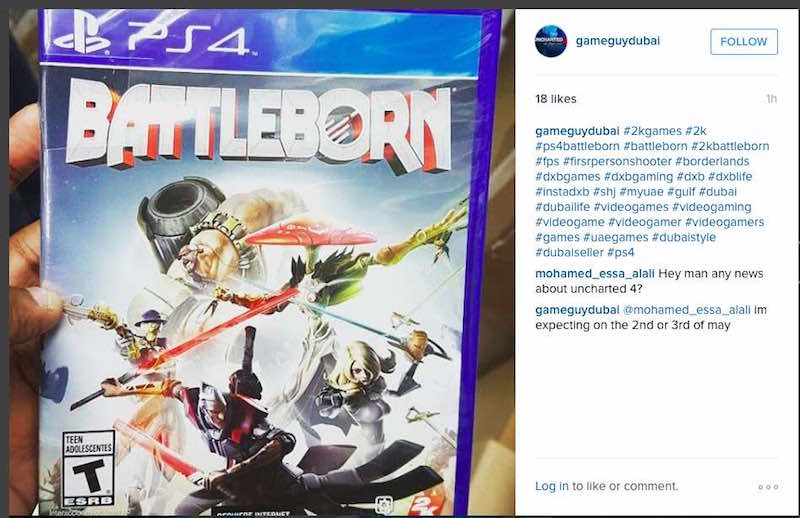 It's interesting to note though that his photo shows off a US copy of Battleborn and not a UAE copy of the game. This probably means his source isn't 2K's official distributor. However for Uncharted 4 it could go either way.
"All of it depends on the price. US copies have always been cheaper so they're preferred. But sometimes they aren't available as early [as the case with Battleborn] so you might see Uncharted 4 release ahead of time as PAL copies [stock meant for Europe, India, and UAE]," a local retailer explains to Gadgets 360.
In the case of high profile street date breaks such as The Division, early copies were indeed for PAL territories allegedly released ahead of time due to pressure to push sales. Something Sony doesn't seem to be worried about given that the embargo for Uncharted 4 lifts on May 4, six days prior to release as per OpenCritic.
What does this mean for you? Games from the UAE find their way into India often. There are more than 38 free trade zones in the UAE, making import and export of items a breeze.
Furthermore, Indian travellers to Dubai hit a massive 1.6 million last year. Combined with airfares that keep on dropping and it suddenly makes fiscal sense to send someone to pick up product on a regular basis. While it might sound outlandish for some, import duties in India as well as customs hassles leave a large number of mom-and-pop game stores pursuing this option, either directly or by obtaining goods from another retailer who does it regularly.
Unlike Sony's statement about Uncharted 4's early UK release being an outcome of copies being stolen, don't expect Sony to say much if a street date break in the UAE happens. In the past the company has turned a blind eye to such activities. So much so that Sony first-party games have seen street date breaks in the region since the days of Killzone 2. For retailers in the UAE, its simply business as usual. But for gamers elsewhere it begs the question, why even have a release date if its not adhered to?

Affiliate links may be automatically generated - see our ethics statement for details.