The Witcher 3: Wild Hunt was by far one of the best games of last year. So much so that it was the only game we awarded a perfect score to until this year's fantastic Firewatch.
Prior to the release of The Witcher 3: Wild Hunt, developer CD Projekt Red stated that there would be two expansion packs to the game in months to come. Since it's initial release we've seen one expansion pack in the form of The Witcher 3: Wild Hunt - Hearts of Stone. It contained a host of content that went above and beyond what usually passes of as downloadable content (DLC) these days. If a slip up on Amazon's US site is to be believed, we won't have to wait too long for the second expansion, The Witcher 3: Wild Hunt - Blood and Wine.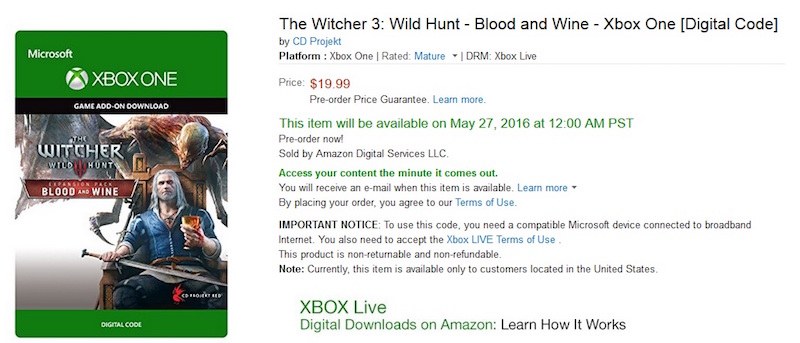 According to a listing on Amazon that's now removed (but reproduced above), you can expect Blood and Wine on May 27 for $20 on PC, PS4, and Xbox One. In the past Amazon's track record on release dates has been iffy. Most of the time the dates mentioned prior to an official announcement were almost always for the last day of the month or at the end of the year- placeholders if you will. In comparison, availability on May 27 appears accurate. For India you can expect to pay Rs. 369 for it on Steam (as that was what the previous expansion, Hearts of Stone was priced at) or $9.99 (approximately Rs. 666) on GOG.com for a DRM-free version.
Assuming CD Projekt RED stick to the same pricing of Hearts of Stone on the PS4 and Xbox One, expect to pay Rs. 832 and Rs. 760 respectively. But if you're the sort who prefers the entire game on disc, we won't be surprised to see a game of the year or enhanced edition of The Witcher 3 announced with all the expansion packs bundled along with the main game fully patched. It's something that we saw with the first Witcher game and The Witcher 2: Assassins of Kings as well.
The description hints at this being series protagonist Geralt's "last great contract". No surprise considering that the studio claimed The Witcher 3: Wild Hunt and its expansions wrap up Geralt's tale, it might revisit the Witcher universe at a later time. This might be sooner rather than later considering how well The Witcher 3: Wild Hunt sold.
For the latest tech news and reviews, follow Gadgets 360 on Twitter, Facebook, and Google News. For the latest videos on gadgets and tech, subscribe to our YouTube channel.
Related Stories