Steam Family Sharing feature is now available to all users, according to an announcement in the Steam Family Sharing group.
The announcement
says
, "Steam's Family Library Sharing is now released for all Steam users. Players who share computers can now also share their available libraries with one another, each earning their own achievements and saving their own game progress to the Steam Cloud. It's all enabled by authorising shared computers and the familiar accounts that log into them."
You may authorise Family Library Sharing on up to 10 devices at a given time, and for up to 5 accounts that may then use your game library on any of your authorised computers. This and other details are available on the
Steam Family Sharing FAQ page
.
There's more good news for Linux, PC and Mac gamers who eagerly await Valve's Steam Sales to be able to grab copies of much-desired, but normally too expensive game titles. According to a Steamworks Development Forum document shared by a Reddit user, it seems
Steam
is all set to allow its Steamworks developers to set up their own sales, likely giving gamers more sales in a year, as a consequence.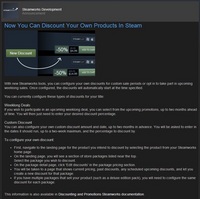 According to a post
spotted
by Reddit user Sharkiller, Steamworks developers can either set up their own discounts for custom sale periods, or opt-in to take part in upcoming weeklong sales. Once configured, the discounts will automatically start at the time specified.
The post shared on Reddit also details the types of discounts, and how to configure the discounts. As mentioned above (and seen in the image), two types of discounted sales can be chosen. For weeklong deals, developers can select an upcoming promotion, and set the desired percentage of discount.
For custom discount sales, developers will be able configure their own custom discount amount and sale dates (up to two weeks maximum), and choose the percentage of discount.
The rumoured update is a developer-centric one, but obviously has great implications for gamers as well, who will be able to enjoy discounts on a wide range of games, across the year.
Affiliate links may be automatically generated - see our ethics statement for details.