After
announcing
the
PlayStation 4
system software 2.00 update (codenamed Masamune) at
Gamescom
, Sony on Thursday detailed some more new features that will come as a part of the update that's due before the end of the year.
Sony had back in August revealed the upcoming PS4 Masamune update would feature the Share Play 'online local co-op experience', broadcast and video sharing, a dedicated app for YouTube, a What's New feature with a new real-time activity tracker and friends-of-friends suggestions, and real name search.
On Thursday, the Japanese electronics giant announced the upcoming PS4 system software 2.00 update would also come with a much-requested USB Music Player feature. Upon inserting USB storage media with music files, the USB Music Player will pop-up, and enable users to play music in the background and while playing a game. Supported filename extensions include mp3, mp4, m4a, and 3gp. Users still won't be able to save music to the built-in HDD, or use the player at the same time as Music Unlimited.
The PS4 system software 2.00 update will also bring the ability to change the background colour (seen below) of the home screen from the default light blue to one of seven new colours: gold, blue, red, green, purple, pink, and grey. Sony had announced support for Themes last month, a home screen feature that is also due with the Masamune update.
Also new with the PS4 system software 2.00 update is the 'Players You May Know' feature in the What's New section. Masamune brings improvements to PS4 live broadcasting as well, with the Live From PlayStation app now letting users select a Featured channel that will show official broadcasts from PlayStation, broadcasts from friends, and any game channel that the player has followed. Live From PlayStation will also get broadcast search filters, and support for archived broadcasts.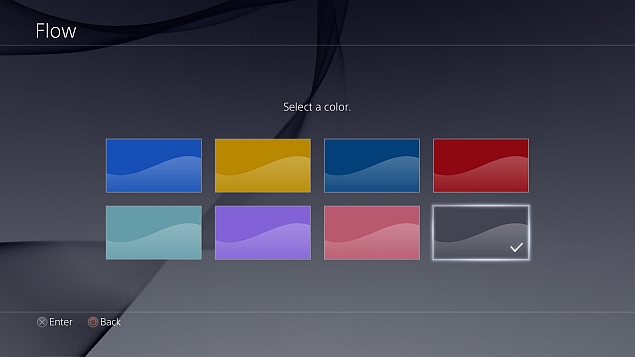 The Sony PlayStation 4 system software 2.00 update also includes a redesigned Content Area that is hoped to make it easier to quickly find and access content. It will shows 15 of a player's most used apps or games, and additional items will be added to a player's Library, which has also been improved with new filter and sort functions such as content type, name, recently used, or install date.
Sony's Masamune update for the PS4 also adds improved voice commands. Players can now say 'PlayStation' to begin commands, and 'All Commands,' to see a list of all voice command options available. New voice commands were added for live broadcasting, including "Start broadcast," "End broadcast," and "Find face."
Finally, in what is likely the biggest boon for those actively looking for monthly free games via PlayStation Plus, the PS4 system software 2.00 update will bring the 'Add to Library' button to the PlayStation Store, allowing users to add the game to the their library without actually downloading it to seal the deal.
The new features due in the PS4 system software 2.00 'Masamune' update were announced by SCEA's Director, Product Planning & Software Innovation, Scott McCarthy in a blog post on Thursday, who also revealed in response to user comments that DLNA support will also be coming at a later date.
Also announced on Thursday were updates to the PS Vita and PS TV systems, which will receive system software updates to version 3.35 at around the same time as the PS4 'Masamune' update. New features include four-player Remote Play support for PS TV, and the Live from PlayStation app that allows users to watch live gameplay streams from PS4 systems.
The company also revealed the PlayStation App 2.0 update for Android and iOS users that will also be released alongside the PS4 system software 2.00 update, adding a new layout for tablets, and a brand new home screen.