With E3 2016 less than a week away, eager retailers are already listing what you can expect to buy in the months to come.
Yesterday XCOM 2 was revealed on German retailer 4U2Play and now UK's Base has revealed when you can buy the oft-rumoured Skyrim remaster. The high definition re-release of Bethesda's open-world role-playing game will be out on November 23 this year if the date is correct.
(Also see: The Elder Scrolls Travels: Oblivion PSP Impressions - Could Have Been Epic)
Furthermore, much like Dishonored whose PS4 and Xbox One remaster was labelled as Dishonored: Definitive Edition, Skyrim seems to follow similar nomenclature as it is titled as The Elder Scrolls V: Skyrim The Definitive Edition. This could also imply that we'll see the game ship with all the downloadable content of the original as Dishonored: Definitive Edition did.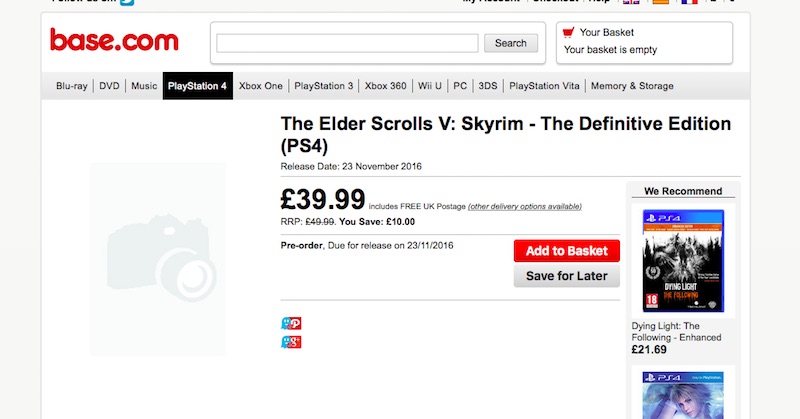 The price appears to be a point of contention though. Base has listed it at GBP 39.99 marked down from GBP 49.99. This could see The Elder Scrolls V: Skyrim The Definitive Edition be priced at $50. If so, you could expect an Indian price of around Rs. 3,000. A tad steep for a 2011 game.
The hype for E3 2016 - the world's biggest video game conference is alive and well. And like most events these days, information on what to expect has slowly been trickling in. While we predicted that Bethesda would remaster Skyrim for the PS4 and Xbox One much like it did with Dishonored, it appears that this is really the case.
Several sources have told Gadgets 360 that a Skyrim remaster is in the offing for the PS4 and Xbox One. While we haven't been able to independently verify their claims, it appears to be true if other industry insiders are to be believed.
Shinobi602, who let slip that Call of Duty: Infinite Warfare will be set in space, teased on the H.A.M. Radio Podcast that he expects "a remaster of sorts [at Bethesda's press conference]... for something."
Later on NeoGAF, a user by the name of Enter the Dragon Punch stated "it's real" and added that the Skyrim remaster will contain "mods, all DLC [and] improved visuals."
Furthermore, Eurogamer claims that the rumours of a Skyrim remaster are true, adding that The Evil Within 2, Wolfenstein 2, and Prey 2 will also be announced at Bethesda's E3 2016 conference. If so, it should put murmurs of a new Quake game to rest.
"Eurogamer understands this [Skyrim remaster] rumour to be true, and we've also heard Bethesda will announce The Evil Within 2, Wolfenstein 2 and re-announce Prey 2 during the conference," a post on the site reads.
With E3 a little less than a week away, we won't have to wait too long to see what the publisher has in store for us in addition to the already revealed Dishonored 2.