Hotly anticipated time-manipulating third-person shooter Quantum Break is exclusive to the Xbox One and Windows 10 PC. And in India it seems that the physical version of the game is exclusive to Flipkart.
The news comes via Flipkart's gaming page on Facebook.
"Play as Jack Joyce, a person with time manipulation powers in a world where time stutters, making everything freeze except Joyce - Preorder exclusively on Flipkart!" a post on the retailer's Facebook page reads along with a picture labelling it a "Flipkart Exclusive."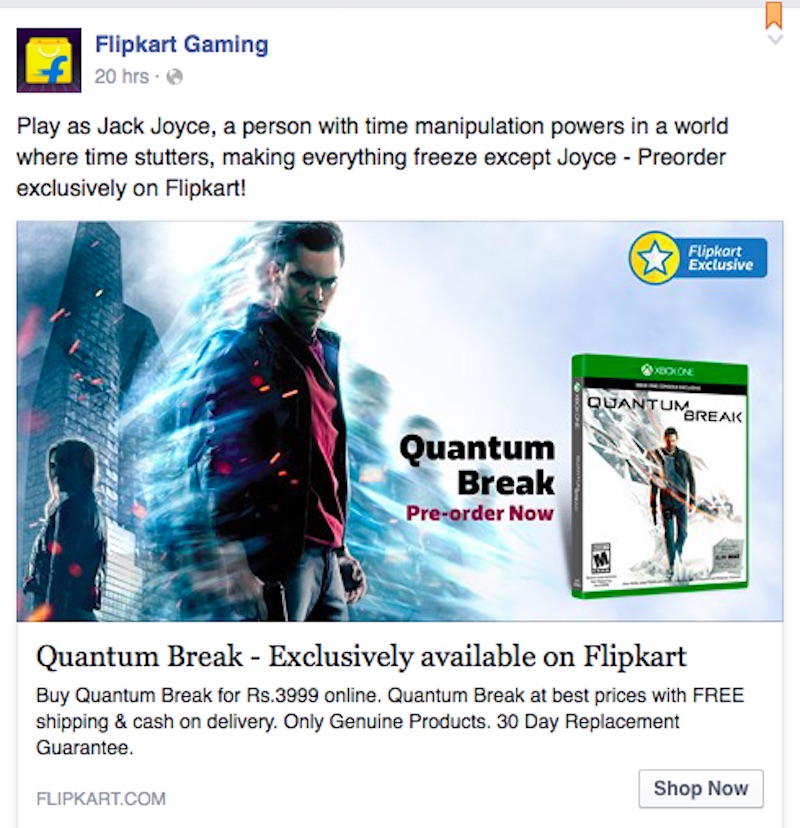 The game also has a price. It seems that Microsoft India has learned a thing or two about its misadventures with its pricing for Halo 5 and Forza 6, pricing Quantum Break on par with what you'd pay for PS4 exclusives like Uncharted 4 by setting it at Rs. 3,999. Keep in mind that there is no Windows 10 physical copy of the game. The listing is just for the Xbox One. Also of interest is that the seller for it isn't Flipkart's own WS Retail, rather one by the name of RetailNet.
We reached out to Microsoft India for comment and will update this story if we hear anything from them. For its part, Microsoft's preferred retail partner Amazon does not even have the game listed at the moment. It's an odd decision considering that Flipkart's focus on gaming has waned over the years.
Developed by the studio behind the original Max Payne and Alan Wake, Remedy Entertainment, Quantum Break lets you gun down enemies in third person in addition to manipulate time and duck behind cover. We were surprised with how good this Xbox One exclusive looks, sporting slick effects and gorgeous visuals. Will the gunplay hold up though? Hopefully we won't have to wait too long to find out.
Affiliate links may be automatically generated - see our ethics statement for details.
For the latest tech news and reviews, follow Gadgets 360 on Twitter, Facebook, and Google News. For the latest videos on gadgets and tech, subscribe to our YouTube channel.
Further reading:
Flipkart
,
Game Distribution in India
,
Game Retail in India
,
Quantum Break
,
Quantum Break PC
,
Quantum Break Price India
,
Quantum Break Xbox One
,
RetailNet
,
WS Retail
,
Microsoft
,
Microsoft India
,
Windows 10
,
Xbox One
Related Stories