Sony has announced that its PlayStation 4 online multiplayer service will be accessible by non-PlayStation Plus players for free over the weekend.
The free PS4 online multiplayer trial, or open weekend, will start on September 26 and will go through September 29. "PlayStation Plus open weekend will take place between 8.00am BST/9.00am CET Friday 26th September and 9.00am BST/10.00am CET Monday 29th September," confirms the Sony PlayStation blog post.
Some of the PlayStation titles that will be available to play during the weekend include Destiny, Diablo 3, The Last of Us Remastered and Watch Dogs. Notably, the Fifa 2015 will also launch during the same week and will also be free to play as a part of the free multiplayer service.
During the Open Multiplayer Weekend, all the Sony PlayStation 4 players would have access to cloud storage services, additional PS Store discounts, access to Monthly games section, and the online multiplayer section.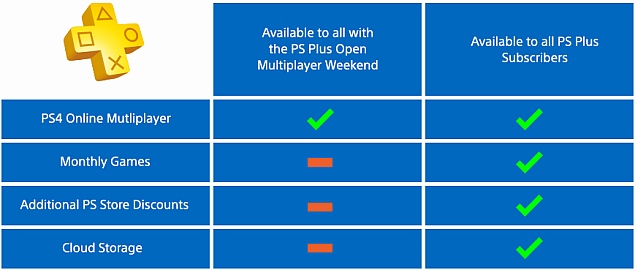 To recall, the online multiplayer service remains free for the PS3 players, however it was launched behind a paywall for PS4 players, like the Xbox 360 and Xbox One.
On a related note, the Sony PlayStation Network was last month taken down by a DDOS attack without compromising its 53 million users' personal data. The hackers behind the PlayStation attack said they had also targeted the servers of World of Warcraft video game-makers Blizzard Entertainment, whose website was down, and threatened to attack Microsoft Corp's Xbox Live network which was also experiencing problems.
However, the PlayStation Network was back online after one day with all the user data intact. A Twitter user with the handle @LizardSquad claimed responsibility for the attack afterwards.
Written with agency inputs.
For the latest tech news and reviews, follow Gadgets 360 on Twitter, Facebook, and Google News. For the latest videos on gadgets and tech, subscribe to our YouTube channel.
Related Stories