Blizzard's upcoming shooter, Overwatch has a release date if ads by the company placed on video game website IGN are any indication. You can expect to play the game on May 24. In addition to this, the ads state that pre-ordering grants you early access to the game's open beta from May 3.
Right now Blizzard has yet to confirm a date officially but considering that banner ads are visible, it's safe to say you'll be able to play the game earlier than expected. Reason being, it was slated for a June 2016 window as per a banner spotted on Blizzard's website late last year. The game is coming to the PS4 and Xbox One at the same time. In the past, its games have been exclusive to PC, with console owners having to wait for an extended period of time before Blizzard would even consider a console release.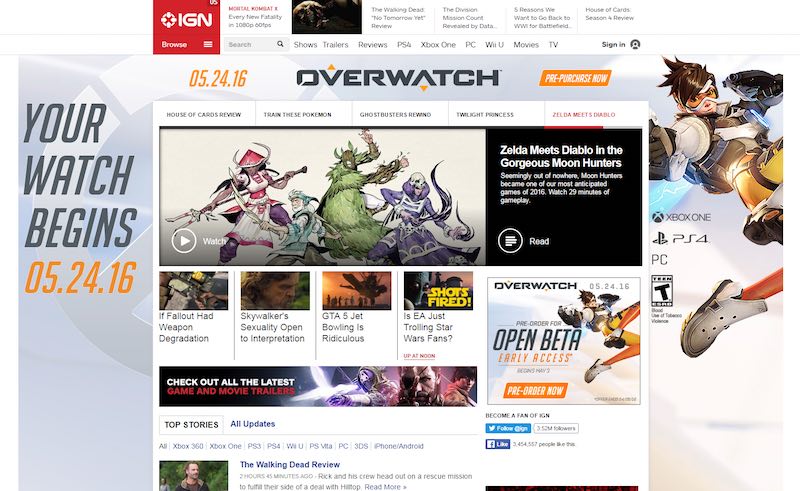 The retail disc version, dubbed as Overwatch Origins Edition, comes with 21 Heroes, and 5 Skins - Blackwatch Reyes (Reaper), Strike-Commander Morrison (Soldier: 76), Overgrown Bastion, Security Chief Pharaoh, and Slipstream Tracer.
(Also see: Overwatch Has the Potential to Disrupt the Multiplayer First-Person Shooter Space)
It also comes with Overwatch-themed content for several existing Blizzard games: Heroes of the Storm - Tracer Hero; World of Warcraft - Baby Winston Pet; StarCraft 2 Portraits; Hearthstone Cardback; and Diablo 3 - Mercy Wings.
According to retailers in the US, the game should cost $60 (around Rs. 3,950) at launch. You can expect an official announcement from Blizzard at its annual Blizzcon 2015 event this week. As for India, Activision-Blizzard distributor Worldwide CD ROMs hasn't been keen on bringing in Blizzard's games. The only way you could get your hands on Starcraft 2, Diablo 3, or World of Warcraft on disc in India is by importing them yourself or via the grey market. Chances are, you can expect Overwatch to receive the same treatment.
For the latest tech news and reviews, follow Gadgets 360 on Twitter, Facebook, and Google News. For the latest videos on gadgets and tech, subscribe to our YouTube channel.
Related Stories