Nintendo's next console, the NX seems to have had some of its features leaked. The information comes from Liam Robertson, a writer and YouTube content creator. He received a survey that is apparently being conducted by market research company GFK on behalf of Nintendo.
The survey details that the Nintendo NX will display games at resolution of 900p with 60fps. This would put it just about on par with the PS4 and Xbox One in terms of performance. Both consoles have multi-platform (and certain first-party titles) that are not too dissimilar in terms of resolution. The survey also suggests Nintendo NX will support 4K and 60fps video streaming.
(Also see: Watch the Super Mario Bros 3 Port for PC That Never Was)
In addition to this, the survey alludes to the Nintendo NX having both a home console and handheld component to it, stating that "gameplay flows between Nintendo NX console and Nintendo NX handheld". Furthermore, the Sensor Bar, which made its first appearance when bundled with the Wii, will also be sold with the NX. This is perhaps indicative that Wii games will be playable on the NX.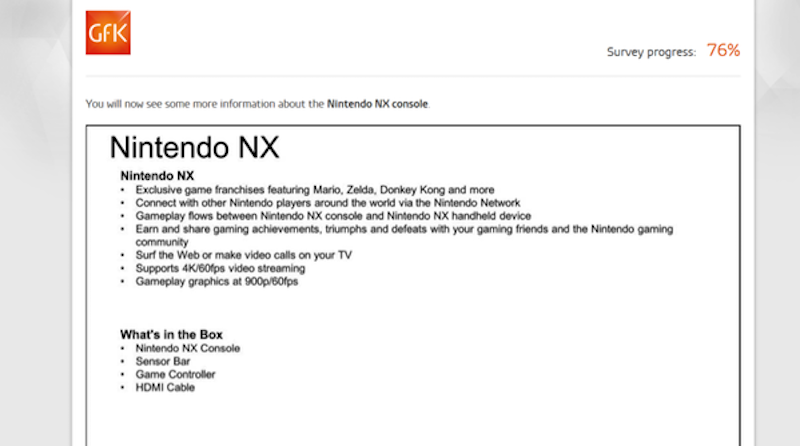 Nintendo itself has been tightlipped with what to expect from its next console. The Kyoto-based company's president Tatsumi Kimishima has stated that the Nintendo will release "details" on the NX this year. No surprise since it's been rumoured for a 2016 release.
In an editorial for Japanese newspaper Mainichi Shimbun (translated and tweeted by industry analyst Serkan Toto), Kimishima wrote that March is when you can expect the Kyoto-based company's smartphone game debut.
(Also see: Pokemon President Reveals Satoru Iwata's Vital Contribution to the Franchise)
From a financial standpoint, he wants to bring profits to 100 billion yen ($855 million) for the first time in several years. Keep in mind this would be four times the profit the company raked in last year. How much would the NX contribute to this will be a point of interest for the games industry and Nintendo fans as well.
For the latest tech news and reviews, follow Gadgets 360 on Twitter, Facebook, and Google News. For the latest videos on gadgets and tech, subscribe to our YouTube channel.
Related Stories