It's been over a month since Uncharted 4 was available in India. At the time Sony launched a console bundle to celebrate the occasion. Now it has launched another PS4 console bundle for prospective PS4 owners to choose from.
Earlier Rs. 37,990 would get you a 500GB PS4 with God of War III Remastered and The Last of Us Remastered as well as two DualShock 4 controllers. Now you can get a 1TB PS4 with The Last of Us Remastered and Street Fighter V.
(Also see: How Capcom Is Making Street Fighter V for Newbies and Hardcore Fans Alike)
Considering that Street Fighter V is a game you'd play with friends in front of a TV, a second controller would not have gone amiss. With Street Fighter V available for Rs. 2,999 and The Last of Us Remastered going as low as around Rs. 1,500, and a 1TB PS4 available for Rs. 33,990 if you can find it, the savings on this bundle are sparse.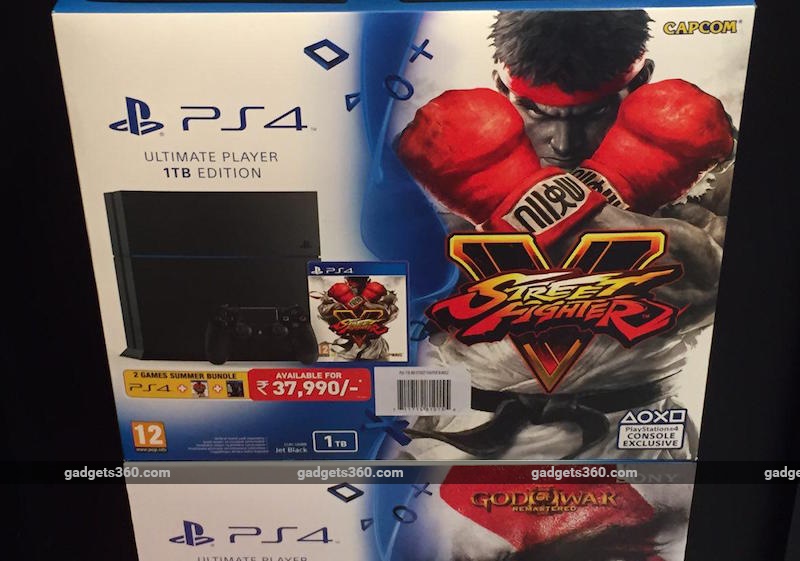 And it's not only the money saved that's limited. According to multiple sources at retail, this specific bundle will be short supply. So much so that many are opting not to list it online due to the scarce quantities made available.
This could also explain why Sony India itself has not officially announced this bundle, opting to simply make it available in stores instead.
Don't expect it to be Sony's last bundle to feature a game not developed by the company either. We've been told that there will be more third-party bundles from the company in the months to come.
Nonetheless, we've requested Sony India for comment and will update this piece if the company responds. For now though, if you're looking for a PS4 to buy, this is another bundle to consider.
For the latest tech news and reviews, follow Gadgets 360 on Twitter, Facebook, and Google News. For the latest videos on gadgets and tech, subscribe to our YouTube channel.
Related Stories