It appears that Microsoft is looking into the possibility of letting its Xbox One users sell back their digital games on the console much like they would with physical discs at a game store.
According to an Xbox One customer survey that surfaced on Reddit, it's considering to buy back your downloaded games in exchange for store credit.
"If the console digital games store for the console you owned offered customers the option to "sell back" their digital games to the store for 10% of the purchase price in store credit, would you be interested in such an offer?" the survey asks.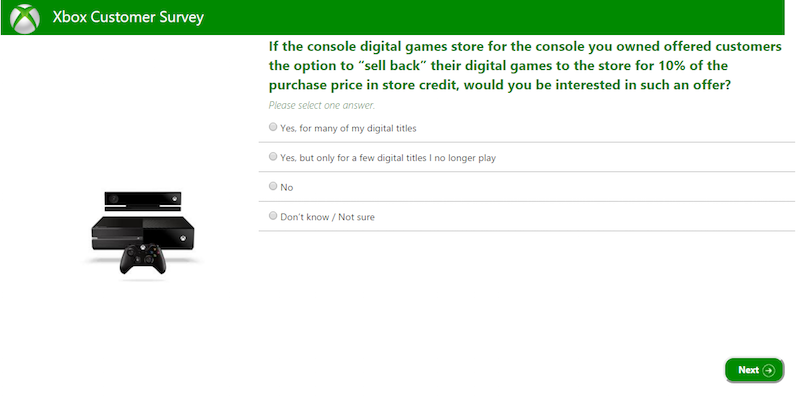 (Also see: How to Get Xbox One Games for Cheap)
This would not be the first time a digital games service allowed for such an option. When online video game store Green Man Gaming launched in 2010 it allowed customers who downloaded specific games via its Capsule games client to trade them in for credit to be used on the site. Certain games using Securom DRM could be traded in as the necessary code would be deactivated. These were resold as pre-owned digital games. Right now it's unclear if this is how it would work on the Xbox One Games Store.
If this decision does see the light of day, it could have interesting ramifications to how platform holders like Microsoft pay developers and publishers for their content. Assuming Redmond-based company resells digital games much like Green Man Gaming did, are game makers paid for the second digital sale of the same game or do all the profits go to the storefront? Chances are it could very well mimic how the used game market works for discs.
(Also see: Before Trading in Your Old Games, Read This Guide)
Given how frequent Xbox One digital deals are, this could end up being a shrewd move to have more customers buy digitally. However we have our reservations of the proposed 10 percent purchase price being final. Simply put, it's lower than what most gamers get when selling their physical games to brick and mortar retailers or via sites like eBay.
Would you sell your digital games if you could? Let us know in the comments.