One of the better games at Gamescom 2015, Mafia 3 finally has a release date. You can play the latest instalment of the long-running open-world crime series on October 7. To celebrate the announcement, publisher 2K and developer Hanger 13 released a new story trailer. It shows protagonist Lincoln Clay building a new family after his mob was betrayed and hunted down by the Italian Mafia in New Bordeaux.
"Mafia 3 introduces a true open world, rich with its own criminal ecosystems to the franchise, while still upholding the strong narrative storytelling and immersive setting that the previous Mafia games are known for," said Haden Blackman, studio head and creative director at Hangar 13. "New Bordeaux in 1968 provides a unique and powerful backdrop for our hard-boiled story of crime, betrayal, loyalty and revenge."
(Also see: Mafia 3 Is Out in 2016. Here's Everything You Need to Know.)
If anything you can expect a strong story for Mafia 3. Blackman's credits include Star Wars: The Force Unleased and The Force Unleashed 2, both have surprisingly good narratives.
In addition to this, standard, deluxe, and collector's editions of the game will be available. The Mafia 3 Deluxe Edition includes both the game and access to additional, post-release downloadable content (DLC), including the Season Pass at additional savings. It costs $80 (approximately Rs. 5,322).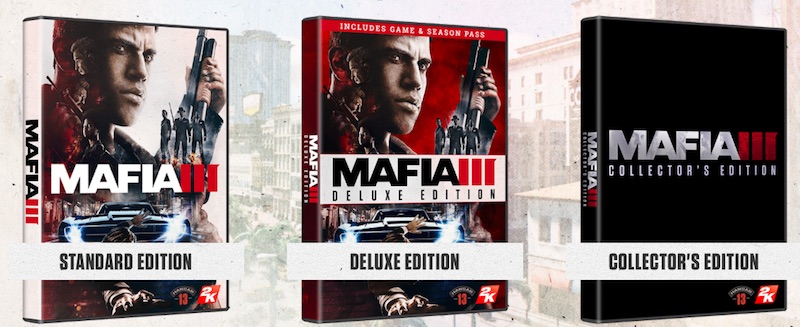 The Mafia 3 Collector's Edition is packed with physical and digital items, including all content found in the Mafia 3 Deluxe Edition plus the original game score on vinyl, a collectable art book, art prints and more. It's priced at $150 (around Rs. 9,980). Pre-ordering standard, deluxe and limited collector's editions of Mafia III from participating retailers will receive the Family Kick-Back, which includes three exclusive lieutenant-themed vehicle and weapon gifts available to players at launch.
As for India, we only have the price of the standard edition of the game at the moment, and that too on consoles. No PC price has been announced just yet nor have any of the special editions. You should be able to pre-order the standard edition of Mafia 3 for Rs. 3,499.