As we reported earlier, de facto online PC digital distribution service, Steam would be implementing pricing in Indian rupees (INR). The move was slated for November 3 but only took effect early morning on November 4. Indian users on Steam were greeted with a large banner linking to some frequently asked questions (FAQs) explaining the fate of the USD amount in your Steam Wallet (which is now converted to INR as per market value at the time of conversion) and that no changes have been made to the existing games in your library.
The FAQ goes on to state that most games that were earlier priced in USD are now available in INR but "an occasional product may be missing until it is priced in INR."
A cursory glance at Steam reveals something completely different altogether. Games from publishers such as Bethesda (barring Fallout 4 and Quake Live), Disney, and Konami (except for Metal Gear Solid V: The Phantom Pain DLC) are unavailable for purchase.
(Also see: Steam May Soon Support INR, Here's What It Could Mean for You)
This isn't all. In the past, Steam's adoption of local currencies has resulted in lower priced games. While this holds true for vast swathes of indie titles such as Undertale and Else Heart.Break() at Rs. 369 ($9.99 when it was priced in USD) and Rs. 619 respectively (compared to the $24.99 price in USD), there are some notable discrepancies.
Fallout 4 is nowhere close to its local retail price of Rs. 3,299. The post-apocalyptic RPG will cost you Rs. 4,299 on Steam. The ever popular Grand Theft Auto V is now Rs. 2,937 versus the Rs. 2,499 you pay at your local outlet. Batman: Arkham Knight, Dying Light, and Mad Max are all just as poorly priced at Rs. 2,750, Rs. 2,999, and Rs. 1,179 respectively. Looking to snag Call of Duty: Black Ops 3 or Transformers Devastation? Well, you can't because they don't have an Indian price. Amusing since Black Ops 3 is upfront and centre on Steam right now.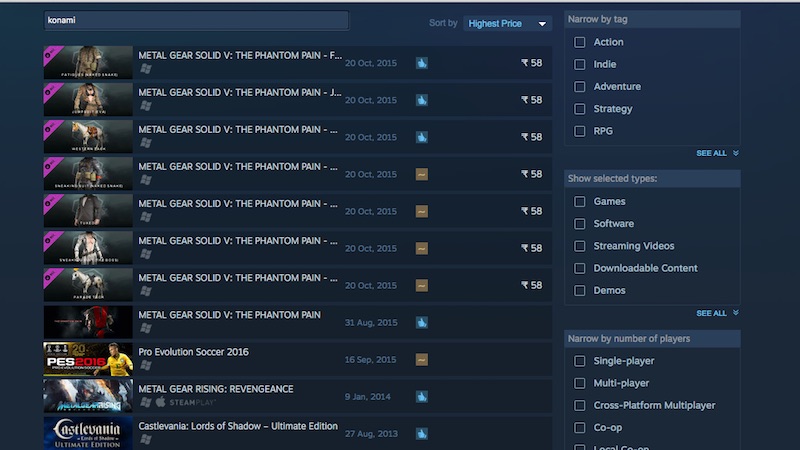 Even if you find something you want, you'd be wise to check if it is region locked on the Steam Database. What this means is, if you want to play a game on Steam and are outside India, you will not be able to. And if you're relocating permanently, you might want to check with Valve's customer support if they can refund you or give you a global key. Furthermore, you can't use Amex, ClickandBuy, and PayPal as payment options either.
All of this can lead to knee-jerk speculation that publishers are protecting their distributors by pricing higher, or in Black Ops 3's case, not priced at all. Rather, this seems to be a case of market dynamics in play. After all, India constitutes close to 0.1 percent of global Steam Traffic, that's easily outpaced by countries like Chile, Kazakhstan, Peru, and Turkey, forget about heavyweights like Russia (10 percent of global Steam Traffic) or even China (3.5 percent). Though the rest of the world has adopted digital distribution for PC games, India is one of the few markets where physical disc copies sell more than digital due to bandwidth constraints.
"Our PS4 and PC quantities have been neck-in-neck for awhile now, and we don't see this impacting our order numbers," a sub-distributor said when asked if the higher Steam pricing on popular AAA games would result in higher local sales. It's a sentiment echoed by many in the industry we spoke to.
"Sales on PC games have been the same through the years," a retailer explained. "This changes nothing for us."
(Also see: Steam Set to Show Prices in Indian Rupees From November 3)
So, who does the new INR price on Steam benefit? Right now, no one. Consumers have fewer games to choose from with the ones they want at higher prices while the Indian game distribution and retail channels remain bearish on its prospects of growing this part of the business. If at all, this situation only serves to assist third-party key sites that may not be sourcing their game keys through entirely legitimate means.
Nonetheless, in the long term, it would be fair to expect that pricing does normalise and all our favourite games make it back to Steam as they should. As for now though, we'd recommend holding off from buying on Steam.
Affiliate links may be automatically generated - see our ethics statement for details.