When Ghost Recon Wildlands was unveiled at E3 2015 we felt it was the strongest title on display with the Tom Clancy brand. Of course the other two are the recently released The Division and last year's Rainbow Six Siege. Since then Ubisoft has kept mum on what to expect from the game, that is, until now.
Ghost Recon Wildlands has resurfaced with three special edtions. There's the Deluxe Edition which contains a map, soundtrack, several bits of in-game extras as well as the game. Then there's the Gold Edition. This has the game's season pass along with the game. Finally there's the Calavera Collector's Case Edition. It's exclusive to Ubisoft's own storefront and includes all the contents of the Gold and Deluxe Edition along with a pair of headphones and a painted skull.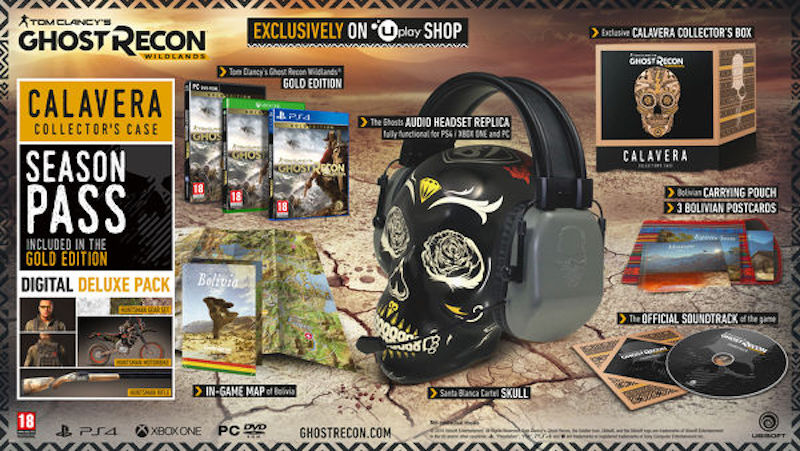 Safe to say, you can expect the Deluxe and Gold Editions to make it to India in one form or another. In the past we've seen Amazon India bring in the Gold Edition of The Division (possibly via Amazon UK as Ubisoft did not make it available here), while specialist stores like Games The Shop have stocked collector's edition variants of Ubisoft's games such as Far Cry and Assassin's Creed in the past (which were brought in officially by Ubisoft).
In addition to this, there was a trailer which appears to contain trace amounts of gameplay merged with the all but obvious pre-release visual goodness we've come to expect from a Ubisoft trailer. Given how the trailers for The Division and Watch Dogs were, you'd be best served by tempering your expectations for the final product, at least in terms of graphics.
Having said that, in pure conceptual terms, it appears that we'll be receiving a game that will probably share the same open-world tropes we've seen in Assassin's Creed and Far Cry albeit set in the Ghost Recon universe.
Last year's Assassin's Creed Syndicate proved a fresh setting could infuse some life into open-world mechanics that have been done to death. Will this be the same with Ghost Recon Wildlands?
Considering this announcement also included information on its special editions, we won't be surprised to get a release date closer to or at E3 2016.
With heavy hitters in the form of Call of Duty: Infinite Warfare and Battlefield 1 dominating November and October respectively, we won't be surprised to see Ghost Recon Wildlands hit the shelves in September.
For the latest tech news and reviews, follow Gadgets 360 on Twitter, Facebook, and Google News. For the latest videos on gadgets and tech, subscribe to our YouTube channel.
Related Stories