The last couple of weeks have seen e-commerce giant Flipkart's preferred retailer partner, WS Retail, slashing prices of a host of recently launched video games. Titles like Call of Duty: Advance Warfare, Far Cry 4, and Pro Evolution Soccer 15, among others, have been available at up to 60 percent discounts in some cases.
None of these sales were advertised leaving many a gamer being caught unaware. However smaller, agile retailers, had a field day, preying on discounts to stock up on products to be sold offline at a higher rate, all while giving consumers perceived value.
"We managed to book 200 units of Call of Duty from Flipkart by placing multiple orders" an independent store owner told NDTV Gadgets. "We plan to do the same for other games."
Usually, Flipkart sets a limit on the number of units of a game you can buy at once. Evidently that was not the case at the time, though we could not independently verify this claim. This could lead to a host of titles being re-exported to other countries at a healthy profit by the more enterprising sellers.
Amazon also seemed to join in the discounting via its preferred merchant Cloudtail, even price-matched certain offers, allowing gamers to get their fix on the cheap.

That sounds like just another day in the world online retail, but it's unusual for the latest gaming titles to be available at such huge discounts. Video game distributors usually control prices to an extent be it via outright ultimatums or indirect means by constricting supply. This is because the total market size for games is paltry at best, and there's little to be gained by offering discounts to people who'll likely buy the product in any case.
Further, it's been proven time and again that lower prices don't necessarily mean higher sales. Rather, games find themselves re-exported to other markets. Due to this, there exists very little reason to start a price war. So what's the story here?
Speaking to credible sources in the distribution channels, NDTV Gadgets has learnt that Flipkart - or rather WS Retail - plans to stop selling video games, and the sales were a means of clearing excess inventory, which means that only third-party retailers will now be selling games on the Flipkart marketplace.
While WS Retail and Flipkart are legally separate entities, for all practical purposes they are seen by consumers as the same company. WS Retail was born when Flipkart switched from being an online retailer to a marketplace that could accept foreign investments under Indian laws, with the former taking over the retail duties. Since then most users have come to regard buying from WS Retail as the 'core' Flipkart experience, so any move to exit the gaming retail business will be seen as a disappointing move by the country's gamers.
Call of Duty
Not too long ago, WS Retail and Flipkart were celebrating snagging Call of Duty: Advanced Warfare (CODAW) as an online exclusive from distributor World Wide CD ROM. While the deal helped the retailer and the marketplace move a lot of numbers, ironically, it's the same title that may have hastened the exit.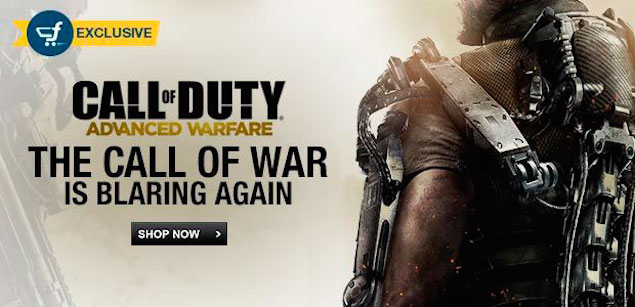 "From what we know, they [Flipkart] bought inventory of the new Call of Duty of around 10,000 units across platforms," a sales manager at a local distributor told NDTV Gadgets. "While they sold 7,000 units. They're saddled with 3,000 units as excess inventory." He further claimed that the company has not bought any games from distributors or sub-distributors for the last three months.
As it stands, sources say Flipkart is saddled with a lot of excess inventory to the tune of 12,000 to 15,000 games. Of this gigantic inventory, a sizeable chunk belongs to CODAW.
While these may sound like ridiculously small numbers, when you consider that the entire India install base for the FIFA franchise, the most popular title in the country alongside GTA, is just 50,000 units, you get an idea about how small the Indian market really is. Given that, an inventory in double-digit thousands is toxic for any retailer in a country that's been slow on the uptake to video games as a form of entertainment.
Insiders say the reason for the high quantity was to compete with Amazon in every possible metric, be it user acquisition or the number of copies of a game. If a distributor was unwilling or unable to source the numbers Flipkart required, the e-tailer simply sourced copies from multiple suppliers in the channel.
A mistake often made
While it's easy to blame poor market uptake for Flipkart's misery in the category, from the outside it seems we are reliving history all over again.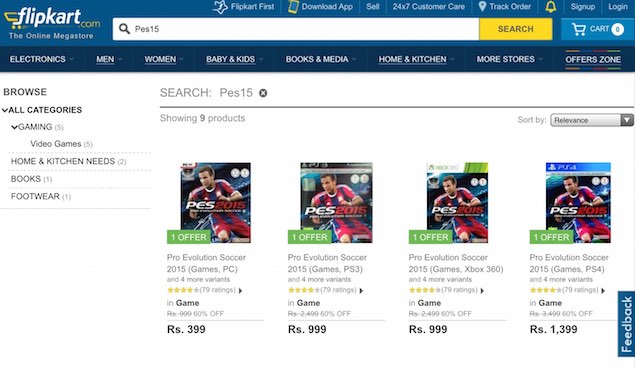 Pro Evolution Soccer 15, one of the many games discounted on Flipkart.
It's a scenario that's repeated itself often enough at offline retail as well as online. Flipkart wouldn't be the first time company to have overvalued India's appetite for gaming without being aware of the market realities. Consumers who pick up a game at launch price are few, unless its a popular franchise like FIFA or Grand Theft Auto V and even then, the numbers are small compared to the rest of world.
All attempts by NDTV Gadgets to get in touch with Flipkart/ WS Retail for the story were met by a standard non-response.
"Flipkart purely follows a marketplace model with thousands of sellers selling products across categories. WS Retail is one of our active sellers offering a range of products, and their business decisions are not something we would like to comment on," said Ankit Nagori, SVP of Marketplaces at Flipkart.
But multiple sources have told NDTV Gadgets that company's exit from the gaming retail business is imminent.
Pre-orders lead to no orders
Distributors told NDTV Gadgets that while Flipkart will continue to take pre-orders for upcoming games, their availability will be a concern. They say WS Retail has been eyeing an exit since December, and before Flipkart's fire sale on games, the company met distributors asking for flexibility on pre-order quantities.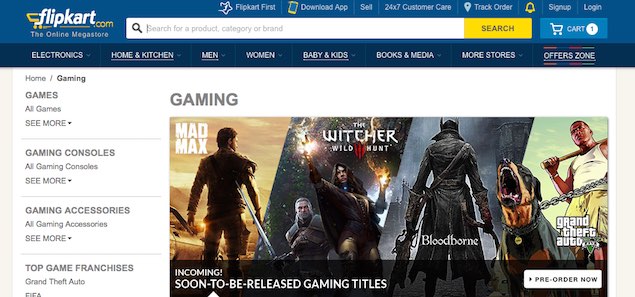 While the site still lists pre-orders, don't expect WS Retail to fulfil them.
"They said they will put games up for pre-order but will only let us know how much they would be buying from us a week before release. It's not something we can support because order numbers for games are locked in a few months in advance," a business development executive at a distributor divulged.
It appears as if Flipkart wants to gauge customer response to pre-orders as well as the hype prior to release before committing to an order number. While it's a sound idea in theory, in practice it amounts to a logistical nightmare for the supply chain that more or less ensures distributors are stuck with stock if Flipkart does a volte-face on its pre-orders.
Betting big on a marketplace
However don't cancel your pre-orders just yet. Flipkart has notified certain distributors that they would be allowing for pre-orders to continue, to be fulfilled by smaller merchants.
"They have told us that they're exiting the category and going to a new system where other retailers can sell their games. This new system will allow for pre-orders as well," a product executive of another distributor told NDTV Gadgets. He went on to say that Flipkart saw greater revenue potential operating only as a marketplace in this category.
One of Flipkart's first deals was on Crysis 2 in March 2011 where PC gamers could pre-order the game at half price, followed up with a string of discounts or freebies across platforms and genres, culminating in a debacle of a Grand Theft Auto V launch in 2013.
Since then the online store has been quiet in terms of aggressive deals and discounts. That is until it managed to snag online exclusivity to CODAW late last year in retaliation to Destiny being an Amazon India exclusive. Destiny has been widely acknowledged as a sales bust what with being a game that requires you to be online all the time. History has shown us such games don't traditionally do well in India.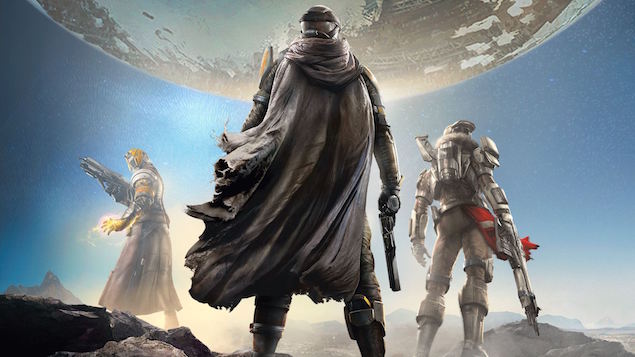 Sources claim that Amazon is stuck with inventory in the range of around 10,000 units. As for CODAW on Flipkart, moving 7,000 units is no mean feat but after the initial hype, sales tapered off. It's interesting to note that both had an initial MRP of Rs. 4,299 which is steep by local standards. The failure of these two high profile titles also means that in the future, supply and variety of other games available would be impacted.
"Flipkart was around 20 percent of the business [for most distributors]. That was before Amazon launched. After that, it was around 30-40 percent between the two. So yes, it's a big concern that they're exiting," an industry insider familiar with the situation told NDTV Gadgets.
What does this mean for gamers?
With Flipkart being a huge chunk of the business, its exit would make games a little more harder to come by. Reason being, distributors would be forced to reduce their order quantities. Secondly, collector's editions of upcoming games would be tougher to buy as their presence is usually a function of how many normal copies a retailer takes for sale.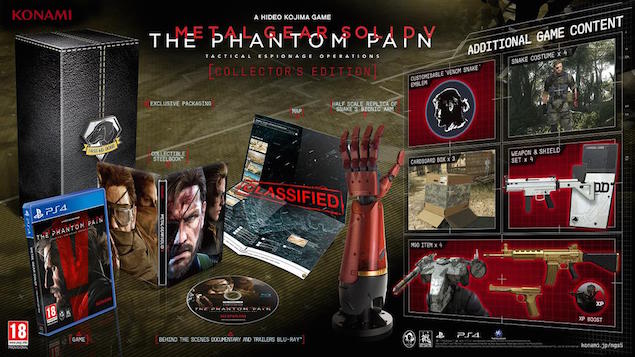 Metal Gear Solid V: The Phantom Pain has a collector's edition that may make it here, but Flipkart will probably not stock it.
More importantly users end up losing out on one of the better retailers in terms of customer experience for games. It has reached a point that an item on Flipkart bearing the WS Retail moniker was a symbol of accountability that's still hard to come by in the online space.
It also means that the online video game retail space is in the hands of other players such as Games The Shop and Amazon. While Games The Shop and Amazon deliver solid customer experiences, the former at least is not in the same league as Flipkart when it comes to delivery or post-sales redressal.
Aside from this, Amazon is facing its own surplus stock issues thanks to Destiny and the Xbox One underselling. To the point where sources tell NDTV Gadgets that no new stocks of the console have come in since the Assassin's Creed: Unity bundle.
Though Flipkart would still exist as a marketplace, it will be interesting to see how many consumers would move over to other options, and the impact, if any, on the overall gaming economy of the country.