It appears that hotly anticipated Japanese role-playing game Final Fantasy XV has a release date after almost 10 years in development. According to a video leaked by Gamespot with footage provided by Square Enix, the game will hit the PS4 and Xbox One on September 30, proving earlier rumours true.
In addition to this, there will be a new demo available to everyone, not just those who purchased Final Fantasy Type-0 HD. The demo features the younger version of the game's protagonist, Noctis. Unlike the previous demo, Episode Duscae, the new demo will show off the game's final visuals and combat system.
"This will let you control a younger Noctis as he travels through a dreamscape," the video says of the demo. "If you finish it, you get an exclusive Carbuncle summon, the only way to unlock it in the full game."
(Also see: The Ups and Downs of Final Fantasy VII Remake Are Giving Me a Heart Attack)
At the moment the video has been pulled from Gamespot's YouTube page. No surprise since it went up a day before Square Enix's big Final Fantasy XV event called Uncovered: Final Fantasy XV. Nonetheless, we managed to get a screenshot of the important bits of information, courtesy gaming forum NeoGAF.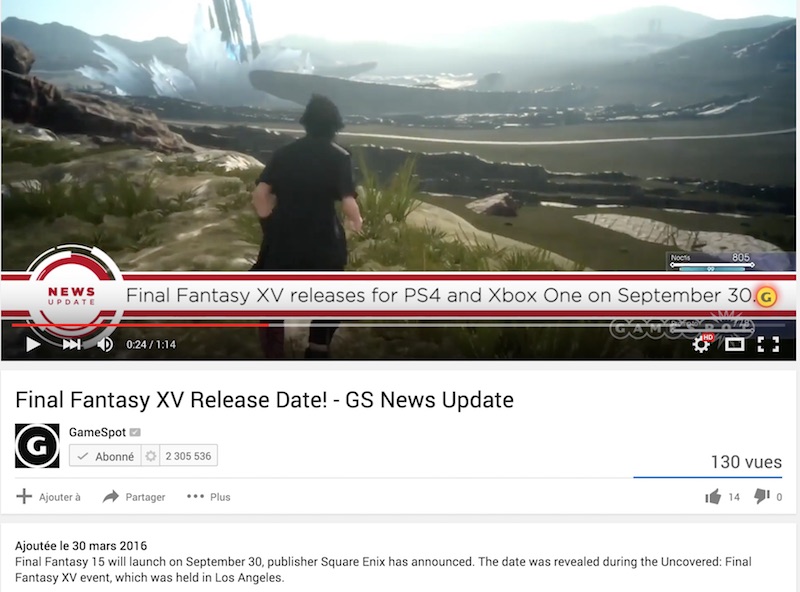 Hopefully, the new demo will showcase the game in better light. We found Final Fantasy XV Episode Duscae to be a tedious, long-drawn affair that was unenjoyable.
While a large number of fans will undoubtedly be happy that FFXV finally has a release date, there seems to be a glaring lack of context. Since the game's 2006 announcement, we've seen three Elder Scrolls games, three Fallout games, the rejuvenation of the once dead Persona series of Japanese RPGs, and three Witcher games. Will it live up to the hype? We'll have to wait until September 30 to find out.