Earlier in the month, video game publisher and recent Dice Game of the Year winner Bethesda announced that first-person shooter Doom is slated for a May 13 release date. It also announced the Doom Collector's Edition as well. Indian retailer Games The Shop has finally it listed on its site with the price marked as "TBA".
To jog your memory, this version of the game costs $119.99 in the US (around Rs.8,100). With it you get a 12-inch statue of one of the game's demons- The Revenant (not to be confused with the Oscar contender of the same name). There's an an LED-lit base that features a slow moving turbine.
Unlike Bethesda's special edition for Wolfenstein: The New Order, you get the game and that too in an exclusive metal case. The Doom Collector's Edition has been made in partnership with noted collectible maker TriForce so the quality should be on the sturdier side. There's no PC version on Games The Shop though. Only PS4 and Xbox One. Odd considering the franchise is known for its PC roots.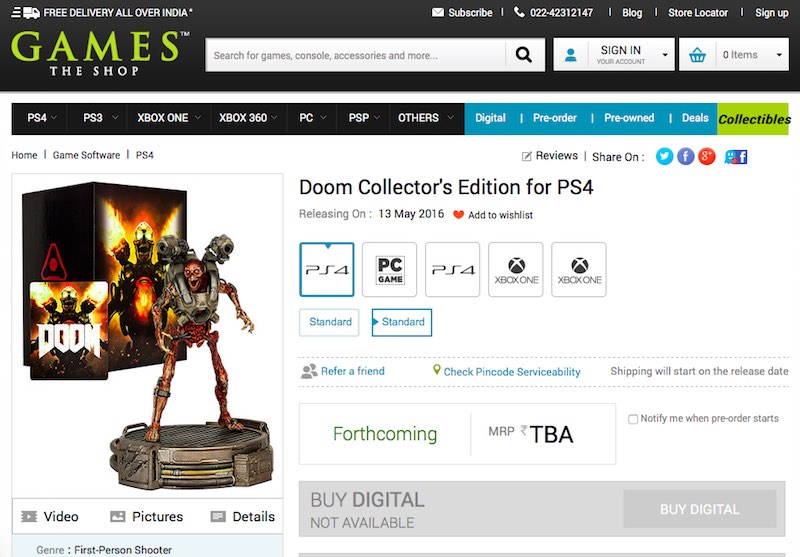 (Also see: Doom Is (Finally) Out This May. Play These 5 Games First.)
Nonetheless, this isn't the first time Games The Shop has listed a special variant of a game from Bethesda before announcing on a price at a later date. Last year, it had the Fallout 4 Pip-Boy Edition up almost a month and a half prior to release with pricing finalised barely three weeks before it was due on the shelves. We're guessing the same tactic is being followed to gauge pre-order interest before zeroing on a specific price.
But if you're looking to save up, expect to have around Rs. 12,999 at the very least. This is because both the Doom Collector's Edition and the Fallout 4 Pip-Boy Edition share the same price of $119.99 and 119.99 Euros in the US and Europe respectively. This resulted in Fallout 4's special edition being priced at Rs. 12,999. Safe to say, the price of the Doom Collector's Edition would be in striking range of what the Fallout 4 Pip-Boy Edition was in India. Much like it, expect to pre-order it via net banking, debit or credit card instead of cash on delivery. Ostensibly to cut down fraudulent orders.
Although it retails for $120 (around Rs. 8,100) in the US, that doesn't count the cost of shipping and weight if you were looking to import it. Even if you get a relative or friend to bring it in, the contents are bound to raise a few eyeballs at customs. A cursory check at our Amazon US pre-order of the Doom Collector's Edition with shipping to India works out to almost the same price of Rs. 12,999 without factoring customs, making local availability cheaper by at least 30 percent if it's priced inline with the Fallout 4 Pip-Boy Edition.