Mad Catz, maker of arcade fight sticks and controllers, has announced the L.Y.N.X. 9 controller at CES 2015. Though it might simply look like a quirkily-designed piece of kit at first glance, the sci-fi, almost Transformers-esque look is intentional. Reason being it sports a host of features that make it quite possibly the Swiss Army knife of controllers.
Aside from working as a portable controller, pulling the MadCatz L.Y.N.X. 9's handles makes it a full-sized controller. Also, it has a clip for you to put your Android smartphone into (much like the Razer Serval). If buttons and analogue sticks aren't your preferred input mode of choice, it sports a mini-keyboard and a microphone as well as a mouse sensor on top of the controller. And if this was not enough, it expands into a tablet holder and works on PCs.
The L.Y.N.X. 9 ships in March and costs $300 (Rs. 19,025). It's almost three times expensive as most other peripherals but it if you're craving all the functionality you can harness from one device, there's very little else to choose from. It's something Mad Catz is aware of.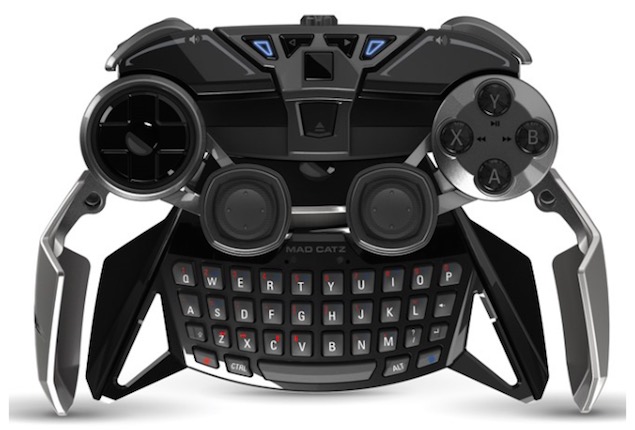 "We believe the L.Y.N.X. 9 represents a generational leap in mobile game controllers. Today, gaming is commonly format agnostic, with most of us playing games across a variety of platforms and locations. The L.Y.N.X. 9 is designed to offer a premium gaming experience in almost any situation. Traditionally a mobile controller meant that comfort had to be sacrificed, unsuitable for sustained play and complex software now being introduced to mobile. Thanks to the ingenious design of the L.Y.N.X. 9, Mad Catz has produced a truly portable controller that delivers a full size, uncompromised gaming experience," said Darren Richardson, President and Chief Executive Officer of Mad Catz.
The L.Y.N.X. 9 is constructed of hard-wearing metal and premium components including buttons that are rated to withstand one million presses. There's a software angle to it as well, as we've seen with others in the space, with the free L.Y.N.X. app that helps tune sensitivity and controls as per the game being played.
For the latest tech news and reviews, follow Gadgets 360 on Twitter, Facebook, and Google News. For the latest videos on gadgets and tech, subscribe to our YouTube channel.
Related Stories