Hot on the heels of its announcement of Sid Meier's Starships, 2K Games has announced Borderlands: The Handsome Collection for the PlayStation 4 and Xbox One.
It's a compilation of Borderlands 2 and Borderlands: The Pre-Sequel, along with a host of downloadable content (DLC). The Handsome Collection will release for the PlayStation 4 (PS4) and Xbox One on March 27 this year.
Much like every game that's seen a re-release on this generation of consoles, it sports updated graphics - though there's no indication as to what has been updated in particular. Furthermore, it comes with all the DLC of both games well as the ability to transfer your save file from your PS Vita, PlayStation 3 (PS3), or Xbox 360, provided you stick to the same family of consoles, i.e. PS3 to PS4, Xbox 360 to Xbox One.
In a first, four-player split-screen gaming comes to the series in this remaster. This means four friends can play in split-screen on a single TV with The Handsome Collection, in Borderlands 2 or The Pre-Sequel.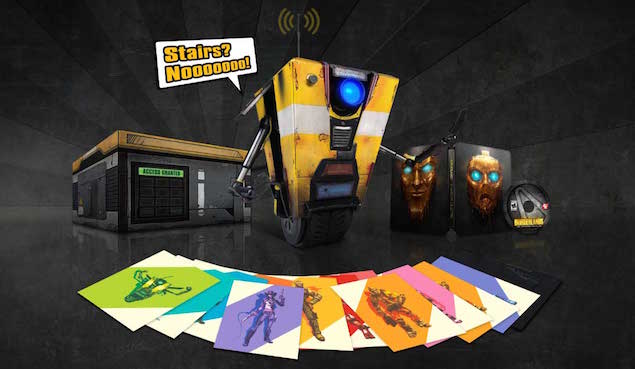 While there's no price out for India yet, it's safe to assume it would be available for Rs. 3,499, which would be in-line with remasters such as Grand Theft Auto V given that the amount of content on offer is rather staggering.
Also, the company unveiled a $399 (around Rs. 24,610) special edition known as Claptrap-in-a-Box Edition (pictured above). Named after the series' titular robot Claptrap, it features a remote-controlled robot fashioned in his likeness (that you can control via iOS or Android smartphone through a companion app), 12 exclusive lithographs, and a collectible steel case. Limited to 5,000 units the world over, it's safe to say that this edition will not make it to India. And if it does, it will probably be only for promotional purposes.
For the latest tech news and reviews, follow Gadgets 360 on Twitter, Facebook, and Google News. For the latest videos on gadgets and tech, subscribe to our YouTube channel.
Related Stories